The last bit of Europe: reunions, resorts and reflections
The first thing that struck me when entering Spain was how nice it was to be able to speak the language without any major problems. My French is still very basic, so coming here felt like a relief. Barcelona was only two cycling days from the border. Here, I met up with my old friends from university, Martin and Nicklas. They have worked with IT here and in Madrid for several years now and it was interesting to hear about the technologies they use and the amounts of data that they handle.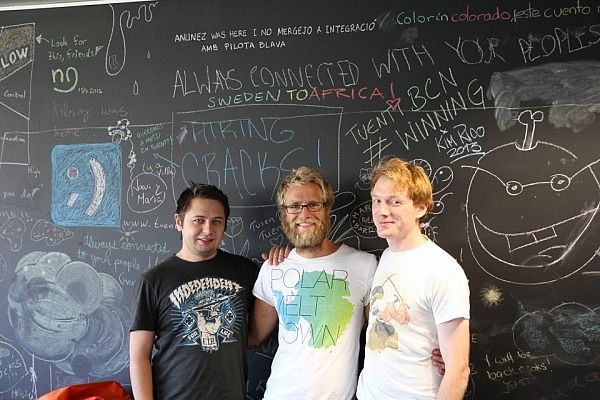 I didn't stay many days in Barcelona because I was going to come back here later… As always when you are on a bike, it is easy to enter a big city by just following the signs to the center. However, exiting is harder and this time I got escorted by the police because I ended up on a highway where I was not supposed to cycle, hehe.
Following the east coast south was kind of a disappointment. The coast is simply too exploited with tons of tourist resorts and hotels and the roads are very busy. Moreover, the railway that runs parallel to the sea acts like a barrier and it was sometimes hard to get down to the beach and finding good camping spots. The Spanish people on the other hand are lovely and generous. When I bought one fruit, I often received two or three plus a smile saying "good luck".
When I passed Valencia I decided that I had had enough of the coast and instead headed inland. The same day, I came across a group of 15 road cyclists who I joined. We did around 35-40 km/h on the flat roads and as soon as there was a slight incline, two guys (Ivan & Samuel) pushed me from behind so that we wouldn't lose the group. After an hour or so, we came to their club "Penya Ciclista La Forca" in Aiacor for some sweaty greetings, beer and crisps. Thanks guys, you made my day!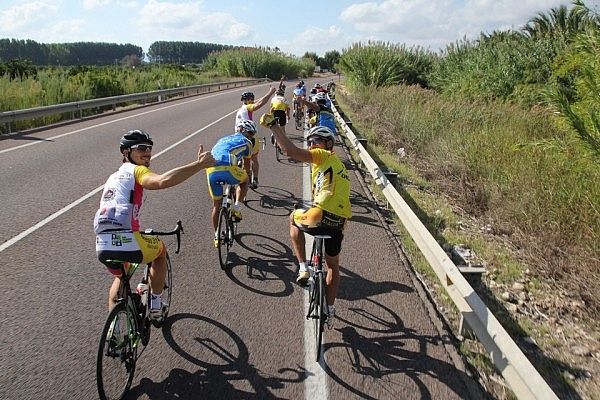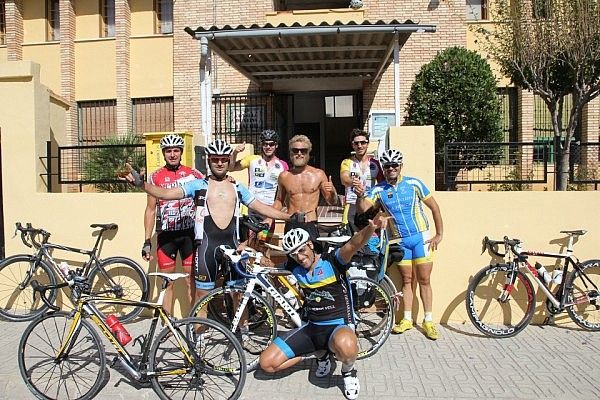 The Spanish inland often reminded me of northern Argentina. Perhaps because of the dry and barren mountainous landscape with old extinct volcanoes, perhaps also because of the season and the approaching winter, with the same kind poplar trees turning yellow and dropping their leaves. It gave me nostalgic flashbacks from the silent and empty municipal campsites that I often stayed at when I was there. Not really much to do, but good times for reflection.
I cycled 1,000 km's from Barcelona to Granada in 9 days without a rest day. Unusually fast for being me, but I had a flight to catch… In Granada, I stayed with Eloy and Pilar and their son Jose Carlos from WarmShowers. Such a nice family! Eloy introduced me to his homemade solar panels for heating up the water for the shower and floor heating. Ingenious! Granada is situated at the foothills of Sierra Nevada, a mountain range with continental Spain's highest peak. The beautiful city has an old Arabic history, with the impressive Alhambra-palace built in the 9th century being the main attraction.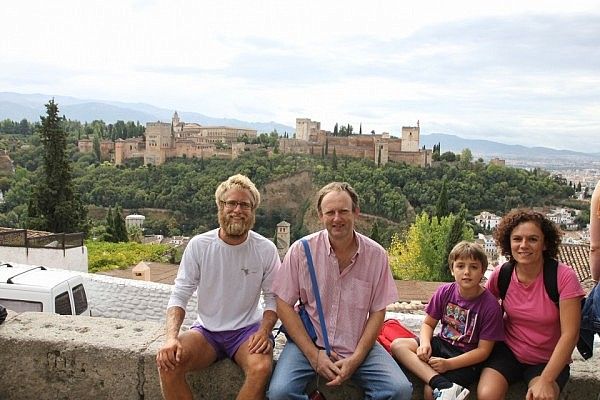 Lots of good things are cultivated along the roads: olives, grapes, almonds, oranges, figs, pomegranate and even some rice, avocado and the amazing fruit cherimoya. Even more exotic was the discovery of Swedish pickled herring in a supermarket in Nerja.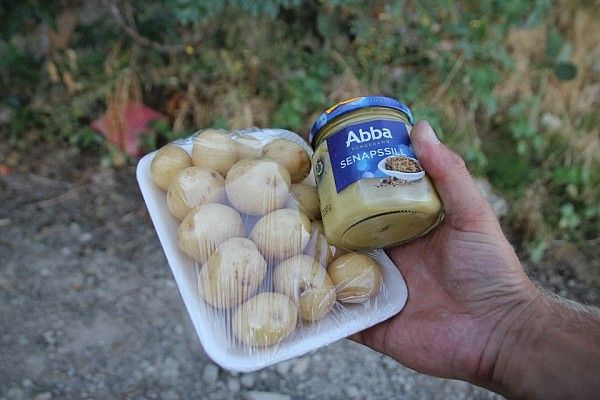 After three months on the road I have as you might have noticed grown a quite beautiful beard. I find it extremely interesting how people react when they see me. Some people almost seem distant and disgusted, especially if you're sitting on the ground outside of a LIDL- or ALDI-supermarket and eating a baguette with greasy hands. On the other hand, I sometimes get respectful and sympathetic nods from homeless people and other bearded men. A highly recommended experience :-)
My mother wanted to come and see me in Barcelona, and my friends Löviss & Rebecka and Tobbe & Annica were going there as well. Somewhere in France I came up with the idea about surprising them. I took a flight from Málaga and met my mum, and two days after, with the help of a couple of discrete text messages with Tobbe, we found them having lunch outside of a restaurant. I had disguised myself like a hippie and walked around among the tables while playing on my flute. At first, they avoided looking at me, just like people do when street musicians come to disturb the dining experience. A couple of incredibly funny seconds passed before they realized that it was me and we all burst into laughter, haha!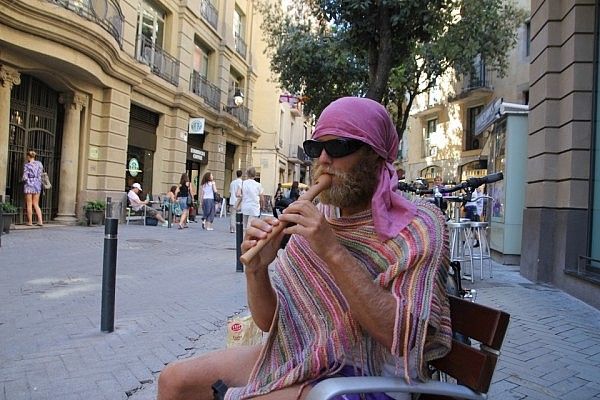 Reuniting with my mother and my friends was very nice; it almost felt like I hadn't left Sweden! We did all the usual touristic stuff and walked around the city. One day we found a place serving great pinchos, small pieces of toasted bread with deliciously combined toppings. We are all crazy about good food so this was a treat!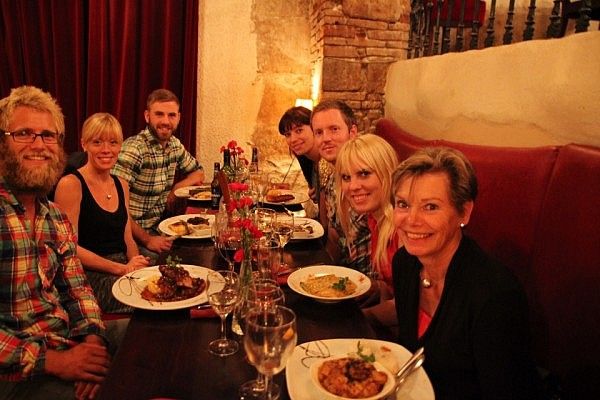 I had two packages waiting for me in Barcelona with some medicine, books, new tires and other things that I had not bothered cycling through Europe with. I had also ordered more spare parts that I realized I would prefer to carry instead of having to wait maybe months for in Africa. One day I weighed all my equipment and it's now 32 kg's, excluding the bike, food and water.
It was a bit sad and emotional to say goodbye a second time, but it felt good to get out of the busy city and back to the simple life of the road again. I flew back to Málaga and cycled up to one of Spain's most famous climbing areas El Chorro while munching on Swedish candy that Tobbe had brought with him (thanks again!). There's a tall and narrow gorge here with a famous via ferrata called "El Caminito del Rey", which used to be a kind of service path built to access the hydroelectric installations on the mountain. In many places, the path has fallen apart and is full of holes, and sometimes you have to balance on iron bars 100 m above the ground.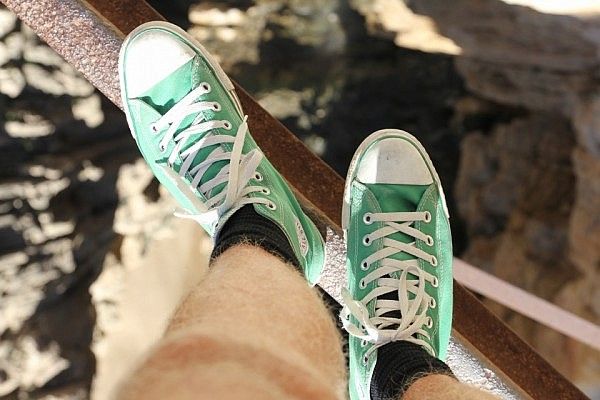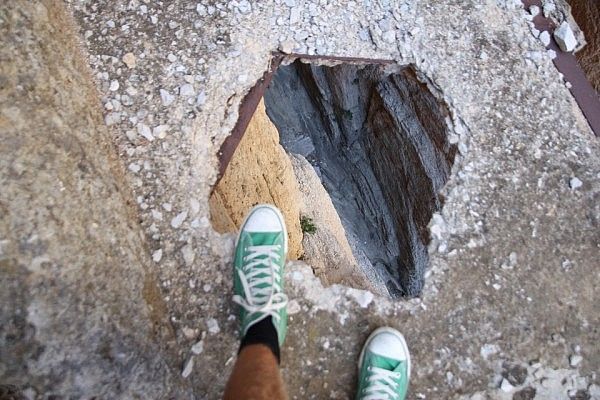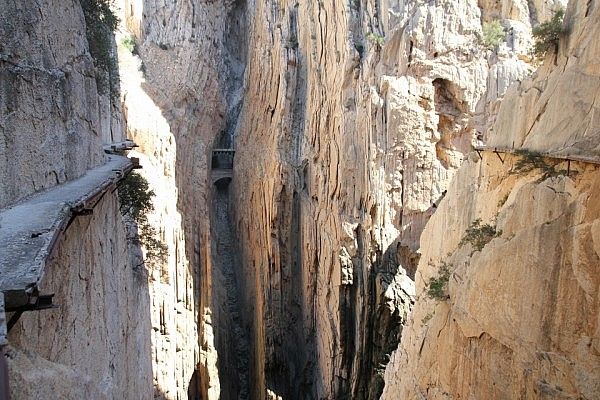 This YouTube-video gives you a good feeling of how it was to walk it:
After two more days I arrived to Gibraltar and got the first glimpse of Africa. The idea that I will be spending the next 1.5 years or so there gave me goose bumps. It was weird to find a piece of England here, and I didn't pay Gibraltar more attention than eating fish & chips before I turned around and headed to the surf town Tarifa, the last destination before taking the ferry over to Africa and Morocco.
Before I started this trip, I was thinking about flying directly to Morocco but in hindsight, I'm very happy about having cycled all the way from home. Europe has been great! Perhaps not the cycling itself because there are a lot of cars and urbanized areas, but I've met many good friends and seen beautiful places that are not that far from home. That's all from Europe, see you later!