Namibia Part 2: A road trip with mom
When I came to Namibia's little capital Windhoek, I installed myself and my tent at The Cardboard Box, the first backpacker hostel I've come across on the whole trip. I enjoyed the atmosphere, although it was both noisy and dirty. One day, somebody tapped my shoulder and held up a sticker with the Togolese flag and said: "I have saved this one for you". It was Marek from Germany, who I met 8 months ago in West Africa. I was very surprised to see him here! He didn't get the visa to Nigeria so instead he had taken a flight to Kenya and cycled the east coast down.
After a few days I went to the airport to pick up…my mother! It was almost 1.5 years ago since I saw her in Spain, so it was really nice to reunite again, this time on the African continent. She was going to stay for 3 weeks and we were both excited about our upcoming road trip in the country.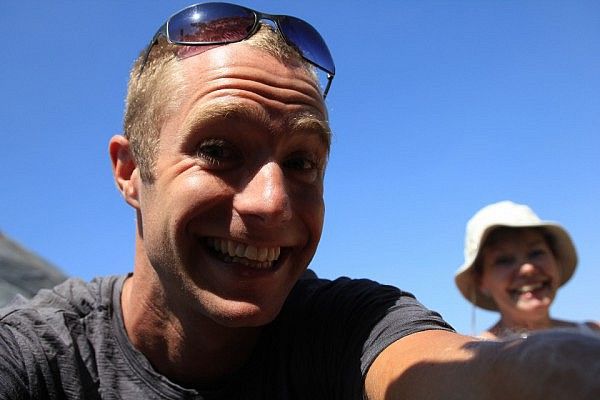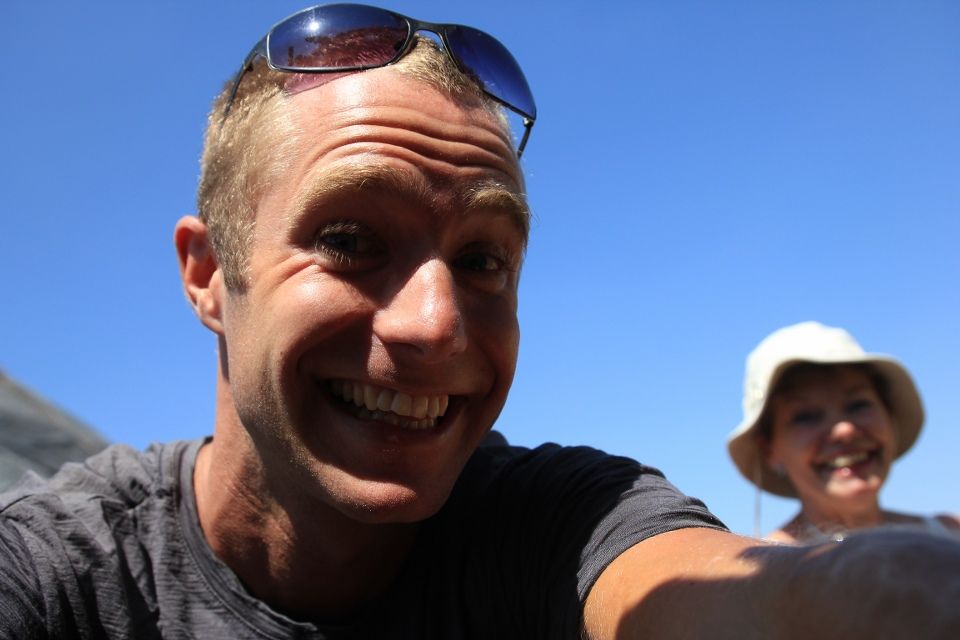 I had already done some research on car rentals and the next day we decided to go for a Toyota Hilux 4×4 (double cab, with canopy) that provided good clearance but perhaps even more important some extra suspension, compared to a small car. Unfortunately, I didn't have my driver's license with me. Moreover, it would be expired by now and my mom had not been able to find it anyway. I felt bad about this but luckily Namibia is a sparsely populated country full of long gravel roads without police controls, so I was going to drive anyway.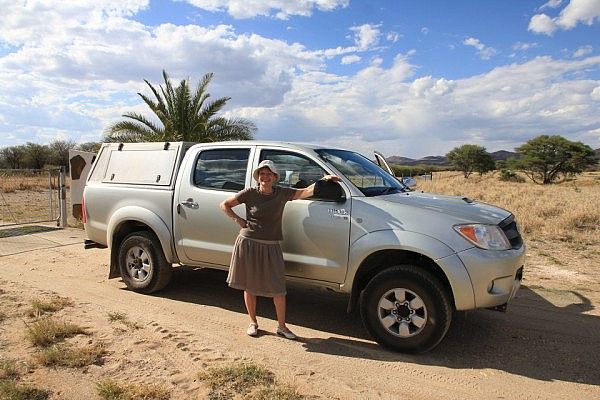 We made our way on the "wrong side" of the road through the capital's midday traffic and joined the highway heading north. As we passed Waterberg, a lush plateau mountain whose introduced wildlife is cut off from the plains below, a group of giraffes next to the road made for a nice photo stop. We found a great lodge in Kombat where we stayed for the night. The next day we were invited for a braai with Carsten, a Danish man I had met in Windhoek the week before. As we were waiting for him in a bar, an old man walked up to us, shook our hands and wished us a happy new year (even though it was almost March). It turned out that the man was Dr. Sam Nujoma, the founder and the first president of Namibia!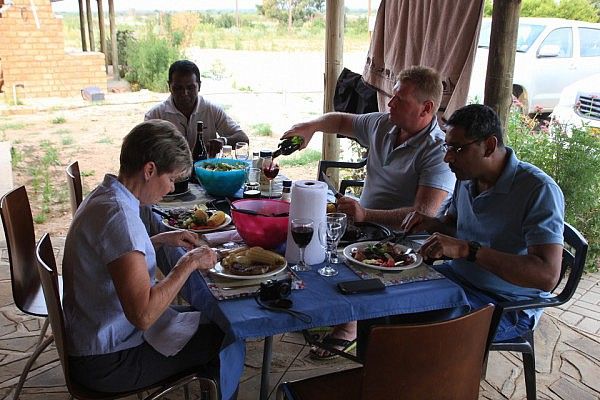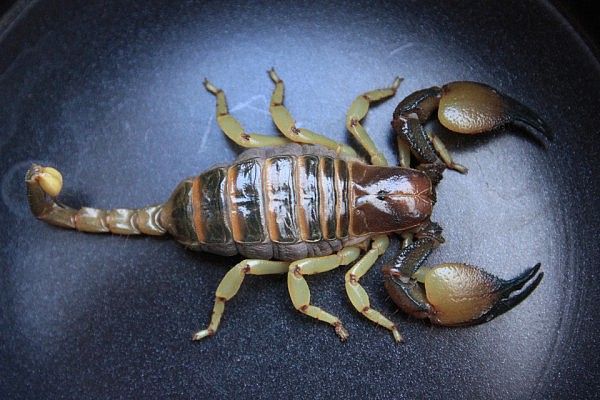 Next up was one of the highlights of our trip: the Etosha National Park that is famous for its abundant wildlife. We stocked up on food in Tsumeb, an old mining town well-known among geologists because almost 200 different minerals have been found here, making it one of the most prolific mineralogical sites on earth. We entered Etosha through the eastern gate, pitched our tents at the campsite and took a ride to a nearby waterhole just before sunset. We saw something very big and tall in the distance and my mother exclaimed "That has to be a dinosaur!", but we weren't that lucky, it was a good old giraffe. Three elephants were playing in the water while more giraffes, zebras, and springbocks patiently waited for their turn. It was a delight to see such an activity!
Day 2 was pretty much the same. We drove to the waterholes and saw plenty of wildlife. It's funny how fast you get used to seeing animals though. Giraffes and zebras were no longer of "interest", instead we were keen on spotting new species. Kudus, impalas and hartebeest were some of the new animals we saw. We also saw an elephant with a giant boner staring at a group of zebras…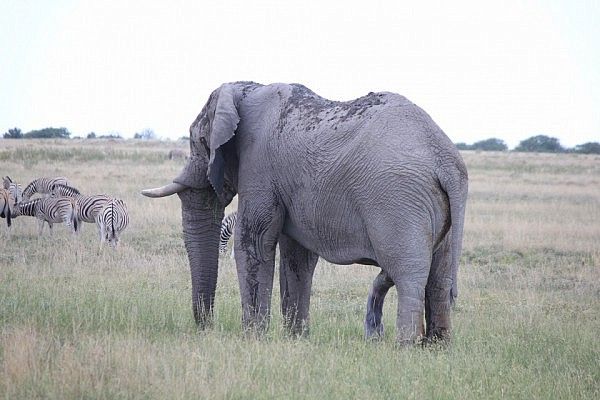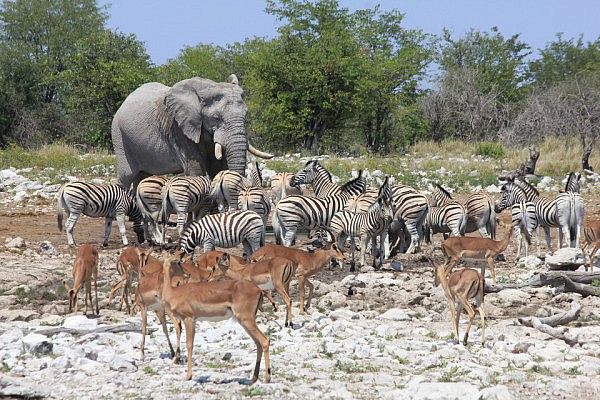 It was not a lot of cars in the park, but I'm glad that we were not here during high season. Sometimes it was handy though, if you'd see a car standing still you knew there was something to see. One time this made us spot a lion resting underneath a tree!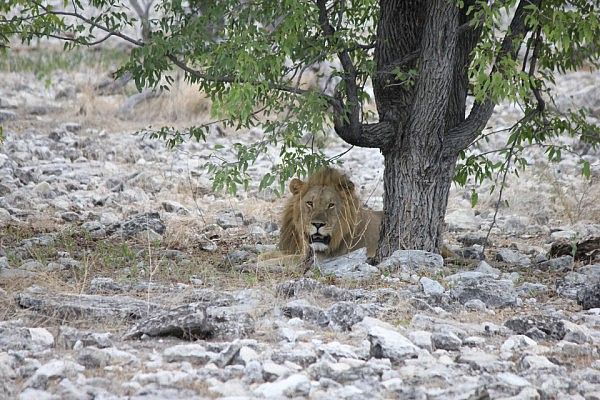 We had to do a lot of driving the third day in order to exit at the western gate. On the open plains, herds of oryxes and wildebeests walked together in the search for water. We came across a family of hyenas that had made a road drainage their home.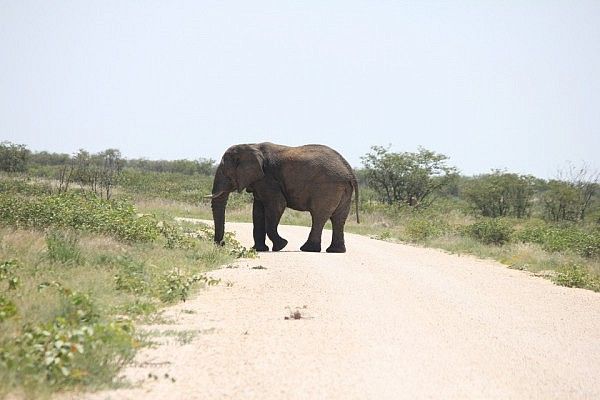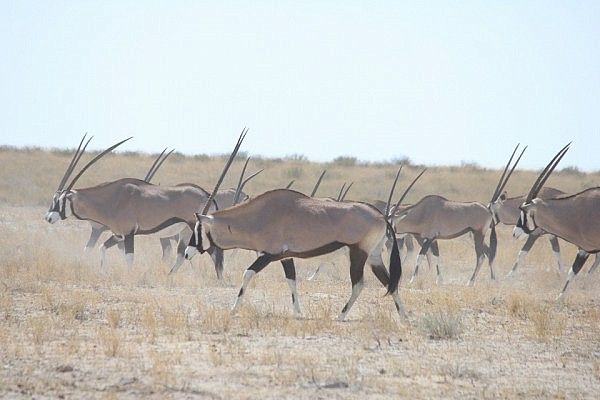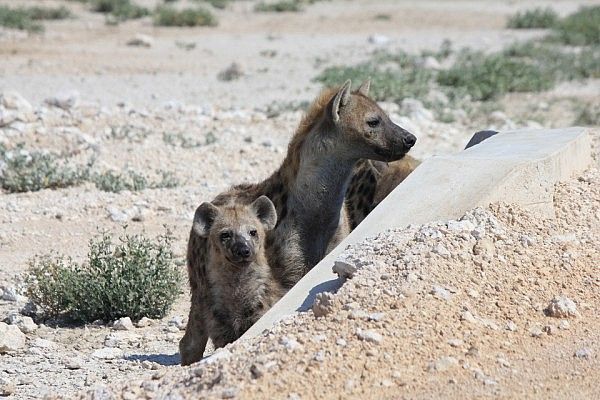 When we reached one of the very last waterholes, our jaws dropped. In front of us, more than 30 elephants were swimming, cooling off and playing with each other. It was amazing to just sit and admire this scene! As we were about to leave, a young male started coming towards us while flapping his ears. My mom got uneasy, and so did I, so we took off just before he reached the car.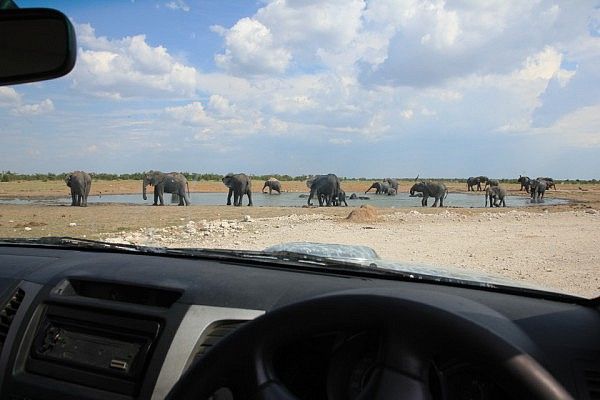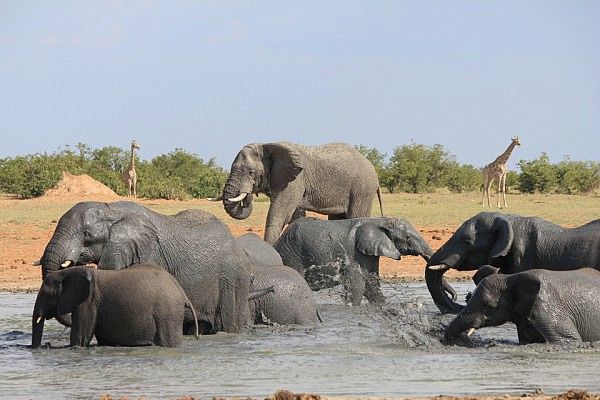 Shortly thereafter, a lonely rhino resting inside the bush made our experience in Etosha complete, with leopard being the only animal we would have liked to see but didn't. And no wonder, leopards are among the most difficult animals to spot due to their discretion, camouflage and nocturnal habits.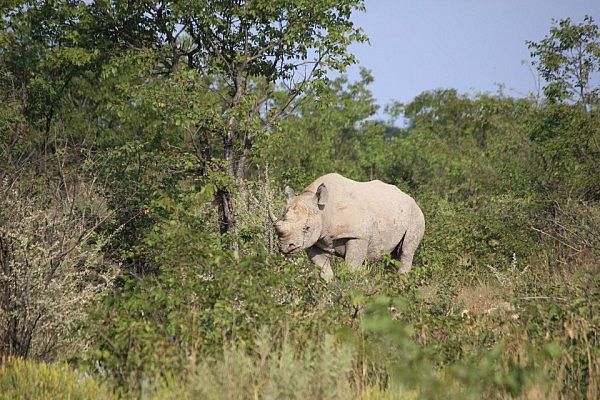 Our next stop was Opuwo where I had been a few weeks earlier with the bike. We visited a Himba settlement and my mom was fascinated by their culture. For me, it felt a bit awkward to approach random people with a car instead of a bicycle though. The kids were adorable!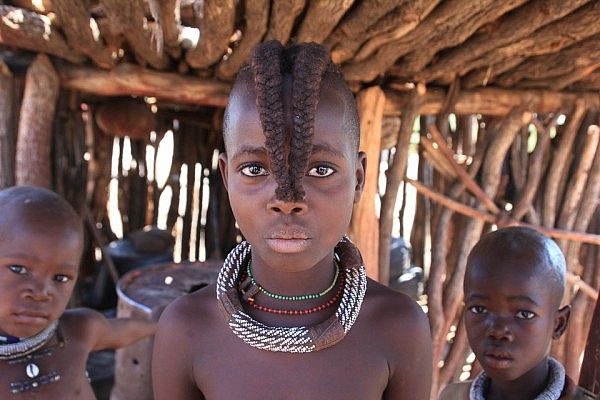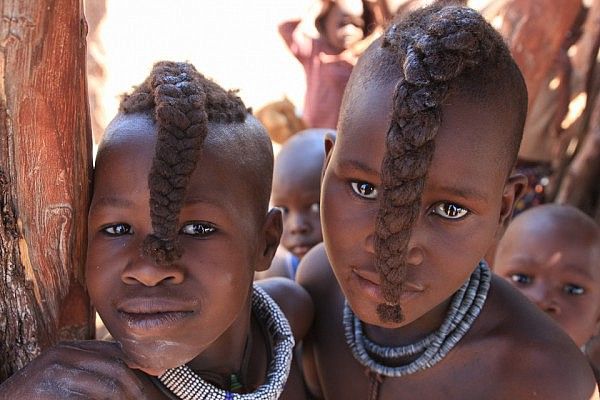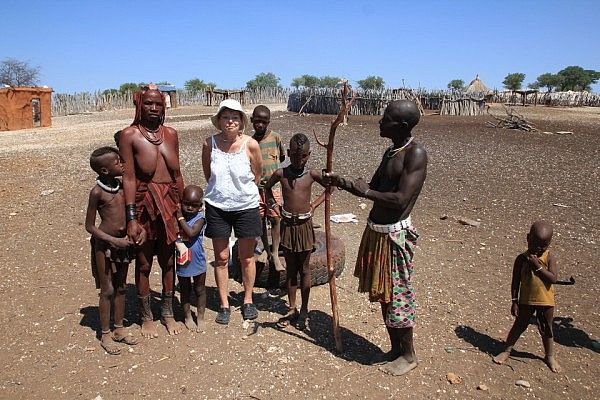 We continued south and visited a waterfall, a petrified forest and finally the rock engravings at Twyfelfontein before bush camping in front of Brandberg mountain. The next day, we continued to the actual mountain where we after an hour's walk arrived to the famous 2000-year old rock paintings and "the white lady" – a peculiar painting of a person that is actually thought to be a medicine man.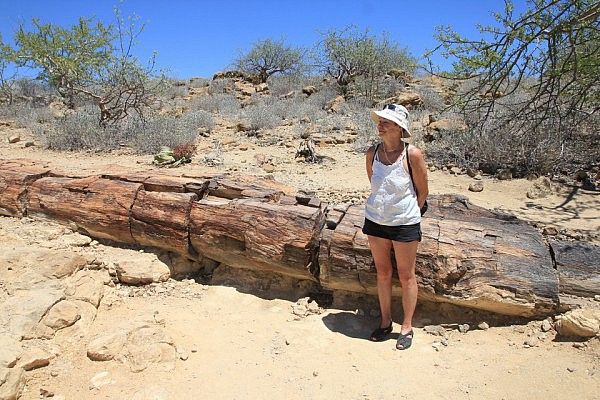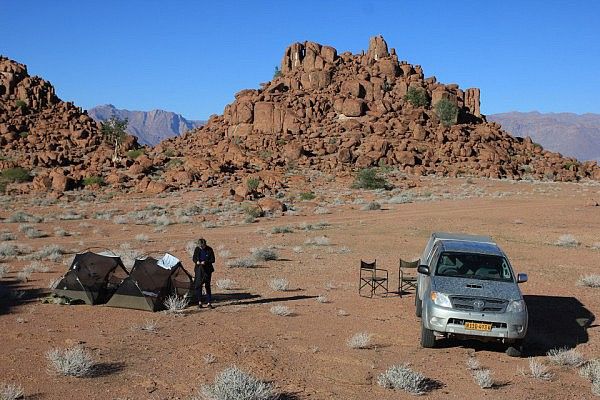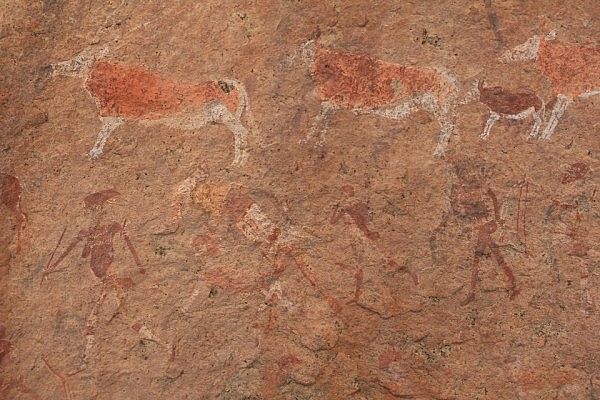 Then it was time to hit the coast and eat fresh fish, something both of us were craving for. We found a great restaurant in Swakopmund called Fish Deli. It was nice for a change with a cooler climate because of the Atlantic Ocean, but the sandy Namibian coast itself is very boring. We visited the Crystal Gallery where Namibian mineral specimens are on display, together with the largest quartz crystal cluster in the world, weighing in at 14,100 kg's!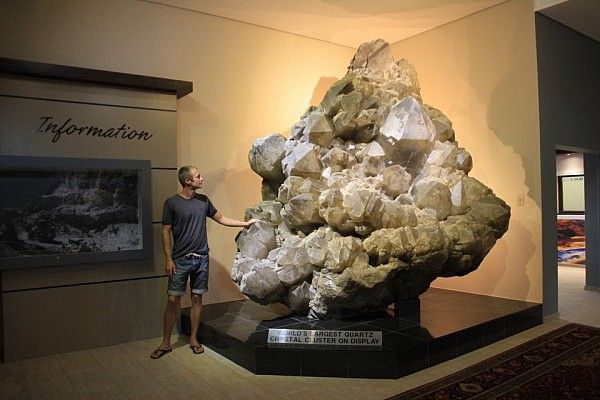 Leaving the coast behind, we drove inland a bit and then south towards the sand dunes at Sossusvlei. Some of these magnificent red sand dunes are among the highest in the world at almost 400 meters. We stopped at Dune 45 where I walked to the top, and then we continued to where the paved road ended. We forgot to deflate the tires and not surprisingly got stuck in the sand. A guy helped us and I deflated them a bit, but apparently not enough because we soon got stuck again. This time mom insisted on joining a tourist truck, which was a wise decision because the worst thing that could happen would be to burn the clutch. The truck brought us closer to the most photogenic part of the area, Deadvlei, which is an old white clay pan with dead trees scorched black by the sun. A surreal view among the red dunes!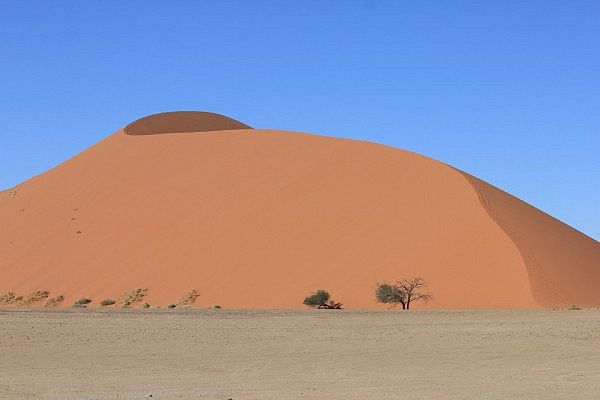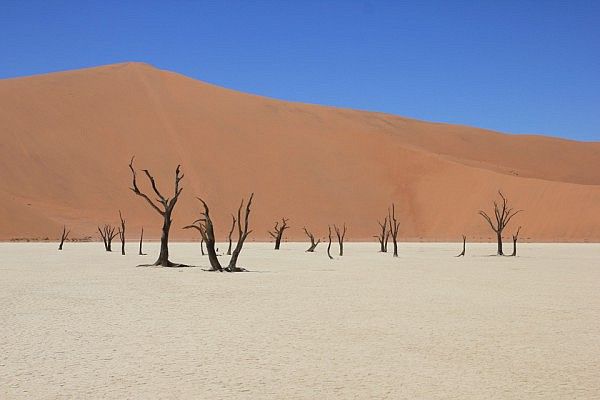 When we returned to Windhoek after three weeks we had covered more than 3,000 km's. It had been a great road trip with mom and I'm so happy that she wanted to come and visit me and experience the beautiful country of Namibia. We had our last dinner at Joe's Beer House before she left and I moved back to The Box where I spent some time before hitting the road again.
After an hour or so of leaving the capital, I was on a gravel road with the quiet bush surrounding me. As I crossed the Tropic of Capricorn, I stopped to take a picture of a bird's nest from social weavers. These birds build rather impressive straw nests on everything from trees to utility poles. Snakes are known to systematically raid these nests, and just as I was standing underneath it to snap a picture, a highly venomous Cape Cobra emerged!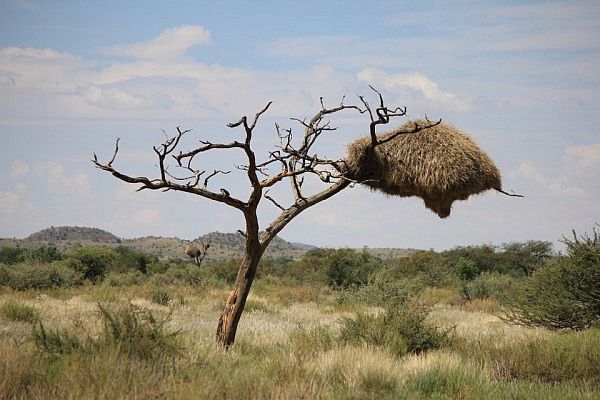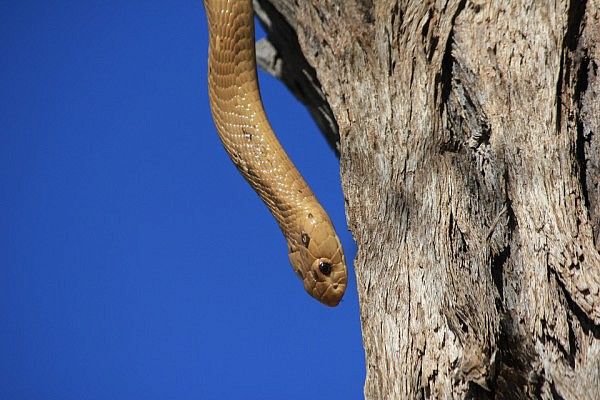 I went over the scenic Spreetshoogte Pass and watched as the Namib Desert revealed itself 1,000 meters below. Just like the Van Zyl's Pass in Kaokoland, this is a place where you find yourself exclaiming "wow" when you get around the last bend and see the view, but it's hard to capture the beauty and vastness in a photograph.
A car overtook me on the road and I was surprised to see that it was Alette, a Danish girl I had met in Windhoek a month earlier. She had a friend visiting and they were going to Sossusvlei for the weekend so we agreed to meet at their lodge. Meanwhile, I stopped for the night in Solitaire to try the famous apple pie. I saw heaps of oryxes when I entered the Namib-Naukluft National Park. These antelopes, which I think are the most beautiful, were posing for me on countless photos in front of the Naukluft Mountains acting as a backdrop. I reached the luxurious Wilderness Safari's Kulala Desert Lodge just before sunset, where Alette and her friend were staying. We had a dinner full of laughter, followed by Amarula shots and more laughter and I fell asleep feeling very happy.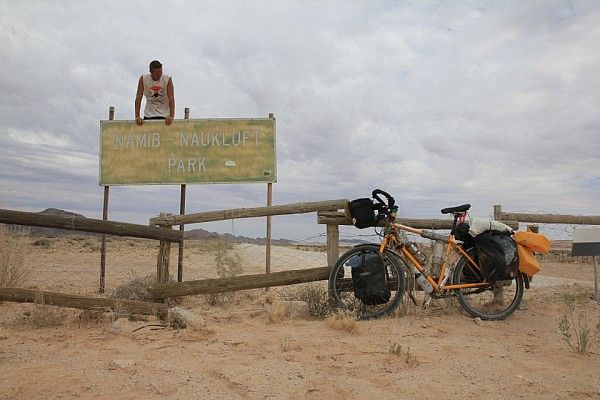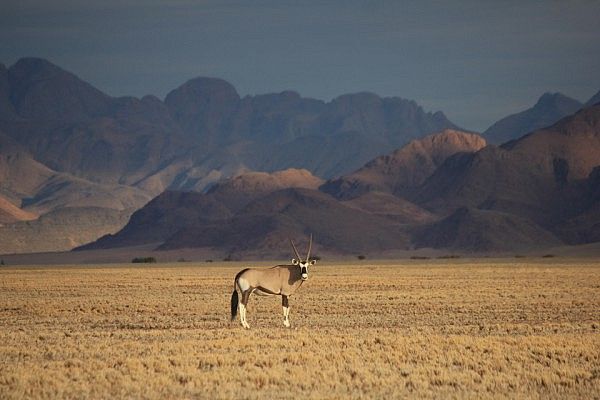 The road south took me through the NamibRand Nature Reserve that is full of infinite landscapes, colors and wildlife. I don't know how many oryxes I saw but it must have been hundreds! I found a dead one and took its horns, so together with a curly kudu horn I had found earlier, I now cycled around with three antelope horns only hoping for them to pass South African and Swedish customs.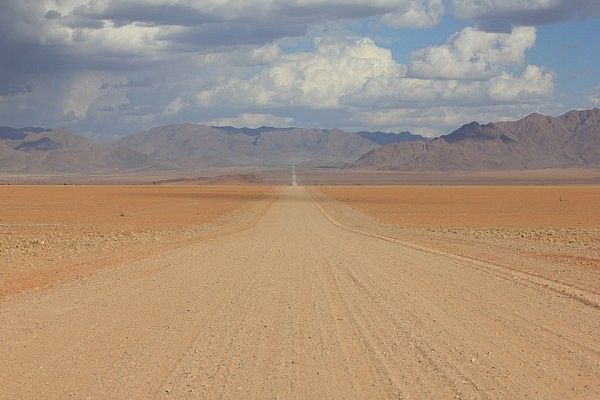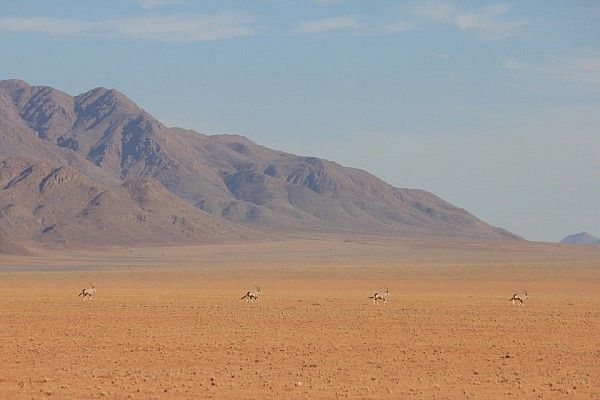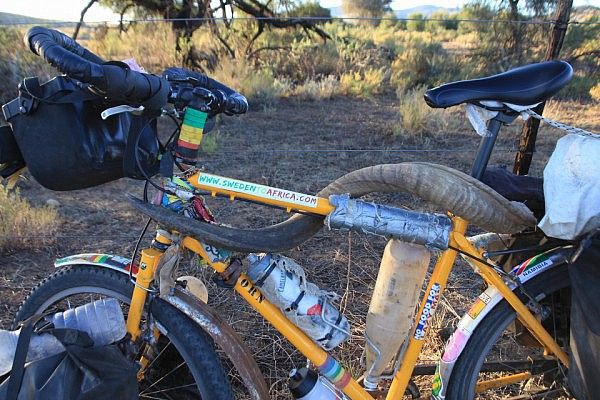 Through millions of years, the Fish River has carved into the ground creating Africa's largest canyon, the Fish River Canyon. At 160 km's in length, 27 km's in maximum width and up to 550 m's in depth, it makes for an impressive sight.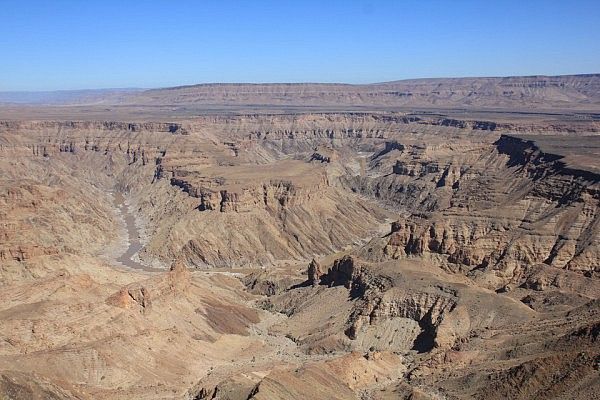 I descended down to the hot springs of Ai-Ais for a well-deserved rest day before returning and continuing to the Orange River. This tree-lined river cuts like a green snake through the landscape and works like a natural boundary to South Africa. The Orange River is responsible for bringing diamonds from Kimberley out to the ocean and I couldn't resist the idea of testing my luck and pan for some. Not surprisingly, I didn't find anything. Most diamonds are deposited in the old gravel beds, but many such places have probably been mined for over a century now. I gazed across the other side of the river and hoped that just like Namibia, South Africa would be a jewel.