Namibia Part 1: Kaokoland and Damaraland
I had only cycled a few hundred meters in Namibia when, to my surprise, I saw road signs aimed for tourists informing about restaurants and accommodation lying ahead. What a difference from all the previous countries, here it seemed to be organized! And right after the first hill, I spotted a group of kudus (large antelopes) running next to the road. I already knew it, but now I got proof that Namibian wildlife was abundant!
I stayed a few nights at the Kunene River Lodge and spoiled myself with some luxury after the tough cycling in south-western Angola. The manager invited me for white-water rafting in the crocodile-inhabited river which was great fun. I fell out a few times but that didn't matter, although one time a baby croc swam right past us!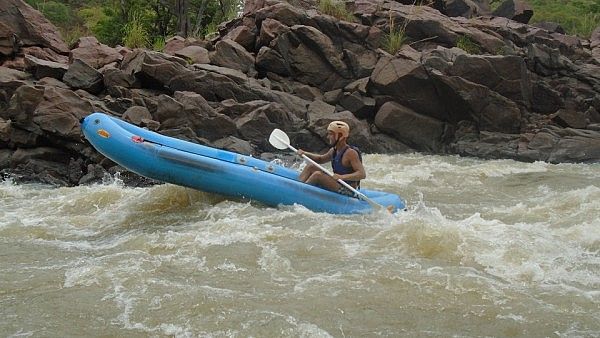 When I came to Opuwo, the "capital" of the Himba-rich part of the country called Kaokoland, I stocked up on food supplies for the north-western corner that I had decided to reach. It was a delight to stroll around in the big super market, not only because of the range of food articles, but also because of the rather unusual sight of seeing bare breasted and ochre-covered Himba women mixing with ordinary people at the shelves and in the queues.
The road leading west towards Etanga was good apart from a flooded river that I had to wade across. After this, I encountered some sandy parts but made it to Otjitanda the second day just before dark. I met a westernized Himba who was here to visit her family and she taught me some words in their language, like the simple phrases for "Hello! How are you? I'm fine." which in Himba is "Morro! Perivi? Nawa.". I pitched my tent inside their kraal, a very iconic part of every Himba settlement which is basically a circle-shaped fence created by logs put down in the ground. This is a way to gather and protect their cattle for the night, but the huts are sometimes also built inside the kraal. In the middle of it all is another inner circle and this is where the calves are kept, so that they can be separated from the cows.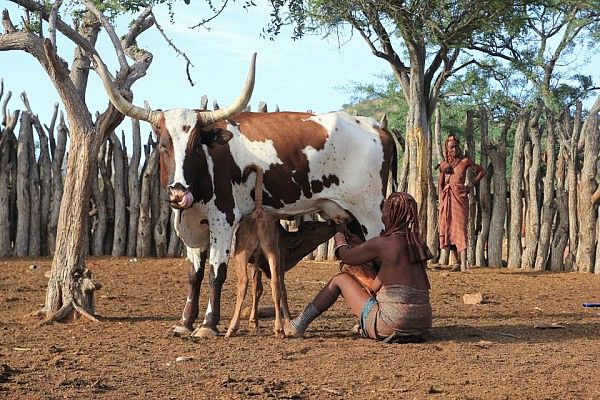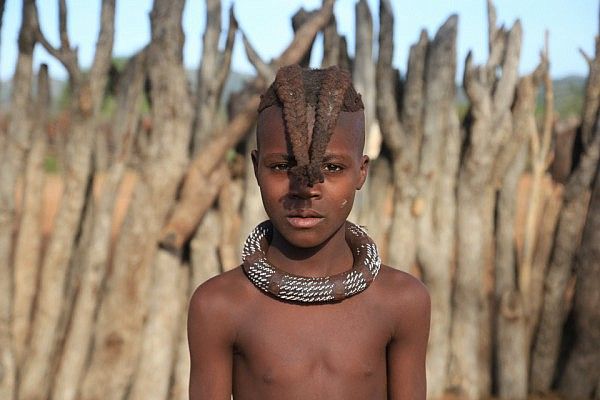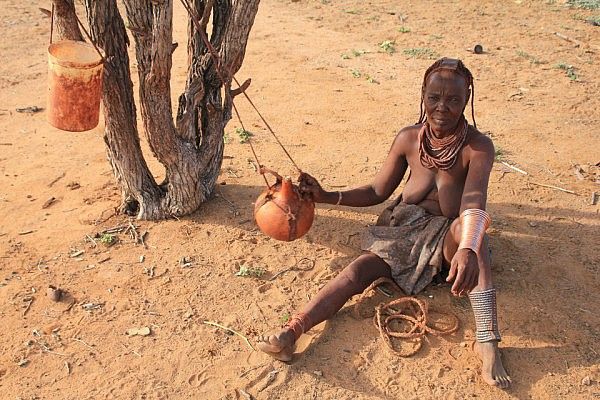 The next morning, I took off early because I had an exciting day ahead of me. I was heading to the remote Marienfluss valley and in order to reach it I first had to cross the legendary Val Zyl's pass. In the last village, I filled up all my water containers and ended up carrying 25 liters (!). Together with all the food, the bike had never been this heavy before and given the steep roads of unimaginable quality, I could barely cycle at all.
The condition of this "road" was by far the worst I had ever seen. The rocks were huge and sometimes I was just riding on the mountain itself, with sharp layers of rock protruding at steep angles. The geology of the area was interesting with plenty of different colors. Finally, there was an opening between the mountains where I could see into the stunning Marienfluss valley. What an amazing view!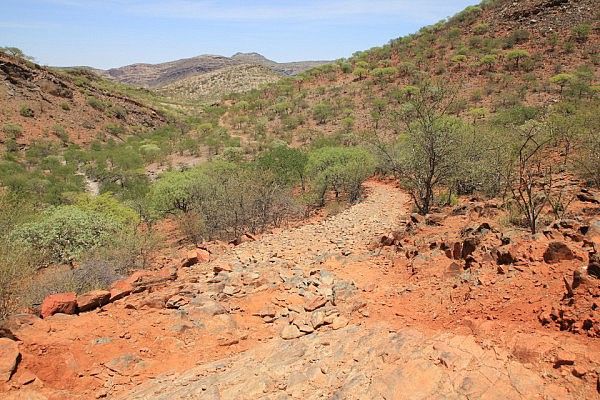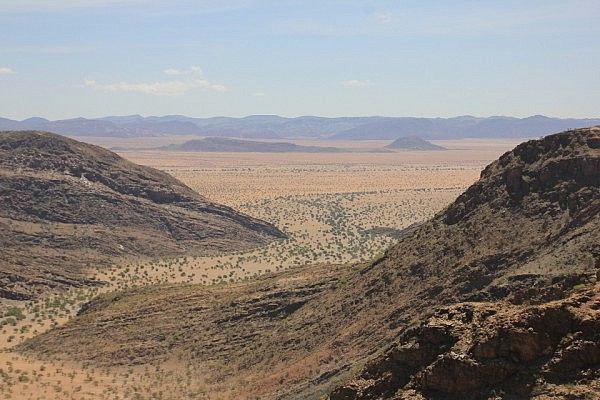 Now, I only had to descend through the most famous part of the Van Zyl's pass, a short but incredibly steep section that goes over bare mountain with a vertical drop on one side. Torn-off pieces of tire rubber scattered across the rocks witnessed about 4×4's going over the pass. Later I heard that if you come here in a rental-car, you can forget about being covered by the insurance. I could not imagine doing this by car, it just seems too dangerous. I was mostly walking down the pass but when I did sit in the saddle my forearms almost started cramping because I had to brake so hard.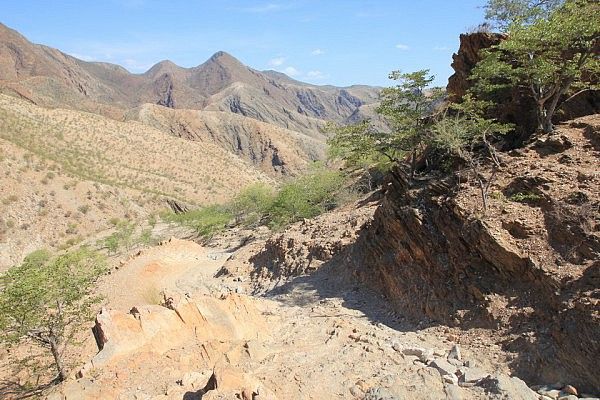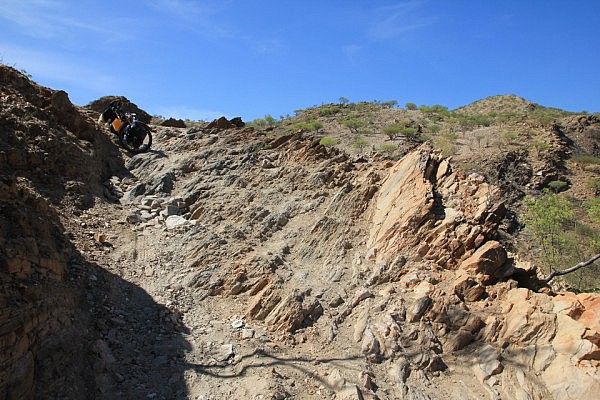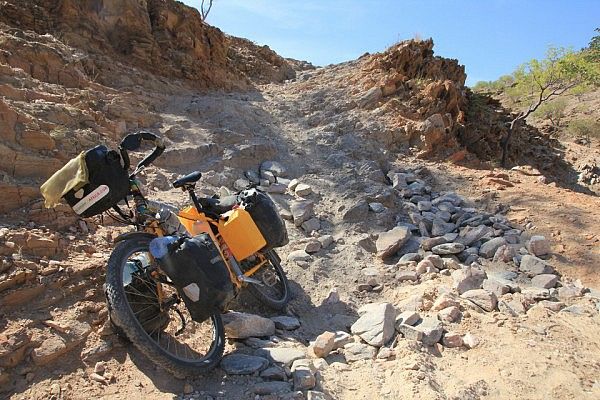 When I arrived at the bottom of the small side-valley, I saw several man-made holes in the dry riverbed. At first I thought that they had been looking for water, but then I realized that they were mining for gemstones. I had heard that the valley was rich in tourmaline and aquamarine. Since I'm an old hobby-geologist, I couldn't refuse the idea of climbing down into one of the holes and have a look. This was probably one of the most stupid ideas I've got on this trip. The hole, more looking like a well, was 5 metres deep and if the tree acting as a ladder would have snapped, I would be smoked. People rarely pass by here and although it was a bit cooler at the bottom, I was still sweating and the dry air would quickly leave me dehydrated. A shiver went down my spine as I carefully balanced my way up the old tree and back to safety.
The tracks were sandy so I had to push the bike a lot and it got even worse once I reached the big valley, but man, this place was beautiful! The flat-bottomed valley is covered by sand, dry grass and some trees, framed on the sides by mountains covering the whole spectrum of blue. I saw groups of springbocks and oryxes (two antelope species) grazing in the valley. My low average speed this day ended at a new record: 6.9 km/h.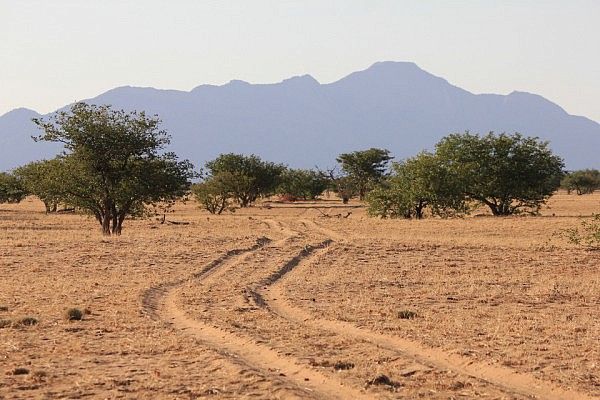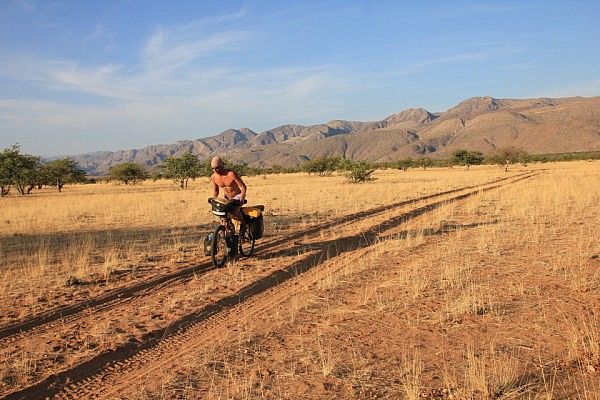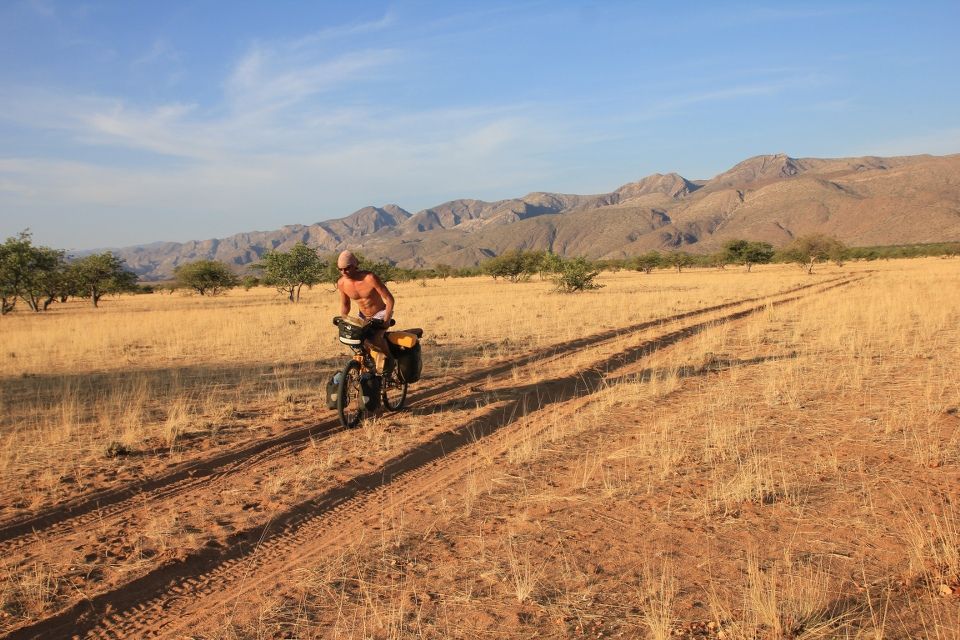 The Marienfluss, together with other places in Namibia, is known for a natural phenomenon called fairy circles. A fairy circle is a perfectly round barren patch of sand scattered among otherwise vegetated land. Scientists have still not been able to explain the formation of these patterns, but I reckoned that if I pitch my tent and sleep on top of one, then maybe I will solve the mystery in my dreams. I didn't, but I had one of the most quiet and peaceful nights of the trip that night, sleeping in my million-star hotel.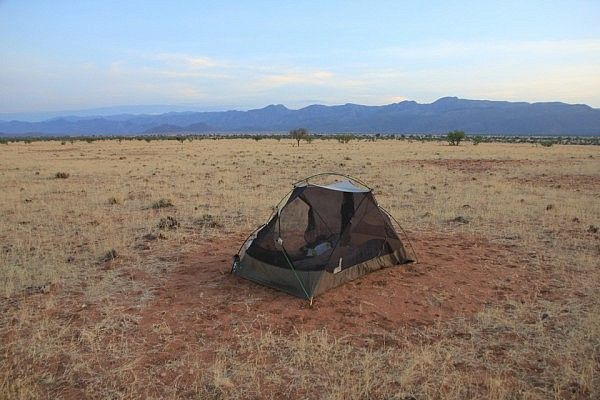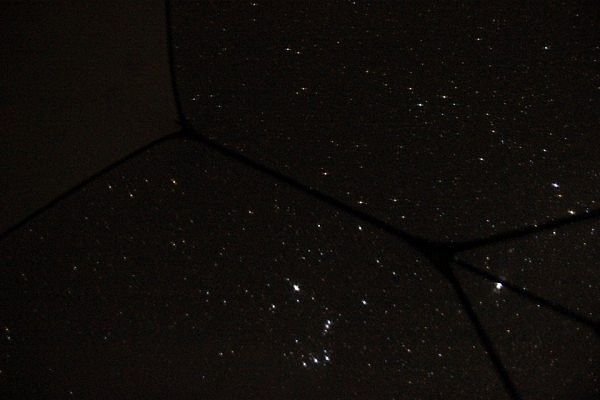 The next day I continued to cycle and push the bike to the southern end of the valley. I came across a lonely borehole but it was completely dry. A bit further, I had a settlement-marker on my map with a place called "Red Drum". I thought it was a joke, but this junction only had a red-painted oil drum with GPS-coordinates written on it. Nothing else was there. How on earth can you mark such a place on a map? I felt relieved about having brought a lot of water with me, but finally I made it to Marble Camp where they had water.
I was constantly fighting the desert flies that tend to be extremely aggressive. I don't know why but I guess animals are so rare that when something passes that they can suck moisture from, they go crazy and unless you are sweating, they aim for your nostrils, eyes and mouth. After Orupembe, I started getting a cool coastal breeze that kept the flies away. But then I faced a new obstacle, a really badly corrugated road, the worst washboard I had ever seen. There was no way I could do more than like 8 km/h unless I wanted the whole bike to fall apart, so instead I started cycling off-road and it was fine because the surface was hard and the rocks small. I started cutting distance across the open landscape and got so far away from the road that I instead navigated using the mountains. I soon realized that the area was crisscrossed by animal trails and when the surface was looser and more rocky, they made for convenient and fun cycling. They didn't always go in the direction I was hoping for because they only connected water sources in the mountains. So I was zigzagging my way through the valley, sometimes being 20 km's away from the road.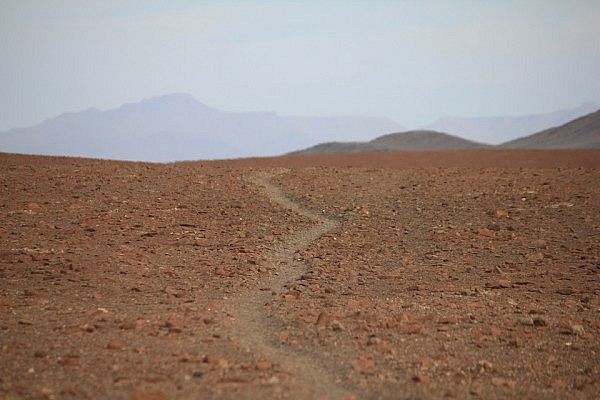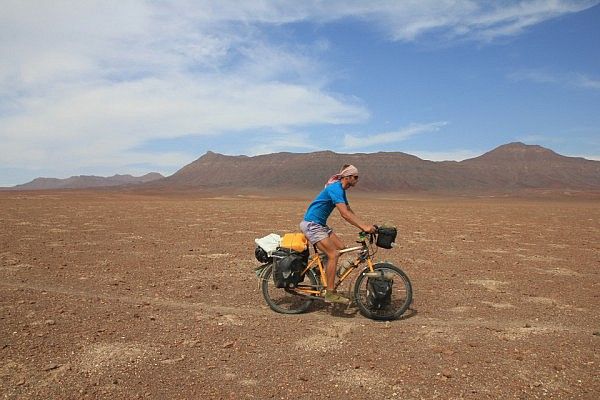 The next day, I misread the surroundings and got a bit lost so I had to leave the trails and instead cross large fields of rocks. I was hoping to spot giraffe and desert elephants that inhabit the bigger riverbeds in the area but I didn't have any success.
I came to Purros, a small settlement located in a beautiful valley at the Hoarusib River where I filled up water at an exclusive luxury lodge called Okahirongo Elephant Lodge that even had its own airstrip. It was an elegant place where architecture, choice of colors and materials felt in harmony with the surrounding nature. Too bad that it didn't fit my budget.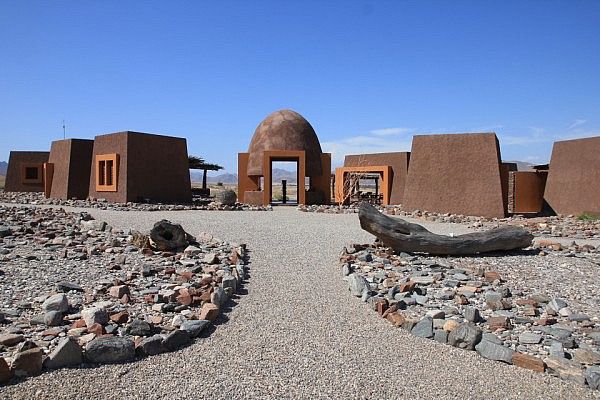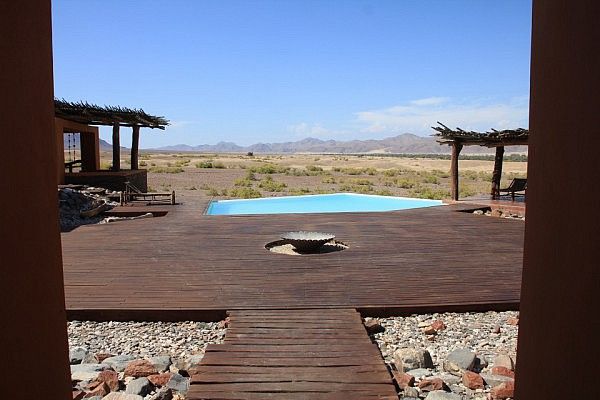 Leaving Purros, the locals kept telling me that there were lions in the area and advised me to keep a fire going throughout the night, so that's what I did.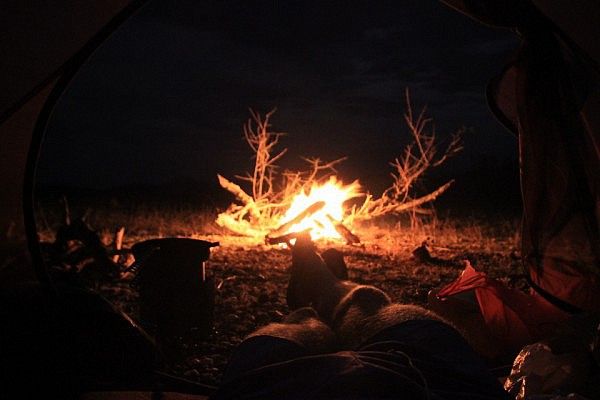 The next day, I came to another open valley that looked more like savanna and I saw herds of animals: springboks, ostriches and giraffes. I was surprised by the height of the giraffes, these guys are really tall! When I reached Palmwag, I put my tent across the road because the lodge was too expensive. At night, I could hear the hyenas howling nearby and zebras walking on the road. A guide at the lodge had also heard a lion's roar during the night. It felt exciting to suddenly be surrounded by so much wildlife!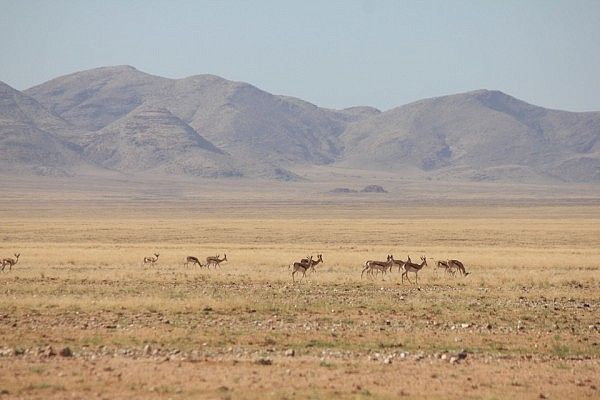 Next up was Twyfelfontein, a UNESCO world heritage site containing southern Africa's largest collection of rock engravings, some of which are up to 6,000 years old. It was mostly animal figures depicted on the rocks and bushmen are believed to have made these engravings as a part of their rituals. This area is called Damaraland and the people here have inherited their language from the click language of the bushmen and it's fascinating to hear how they speak, using the distinct click sounds.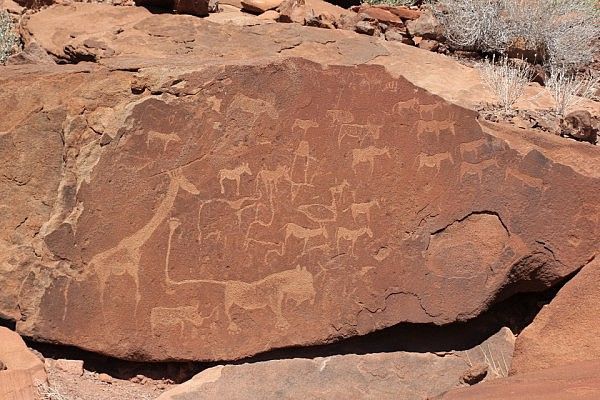 I cycled past south-western Africa's highest mountain Brandberg before I came to Uis and the Brandberg Rest Camp where I had my first rest day in two weeks. I indulged myself in hamburgers and red wine before continuing on towards Spitzkoppe, another scenic mountain. This area is very rich in pegmatites (a mineral-bearing rock) and I saw several people selling stones along the road. Tourmaline (even watermelon-colored), aquamarine, topaz, garnet and quartz to name a few minerals. At Spitzkoppe, monolithic granite peaks rise 700 meters over the surrounding plains and present some amazing formations. I was hoping to do bouldering here, but unfortunately the rock was extremely sharp and porous on the smaller boulders.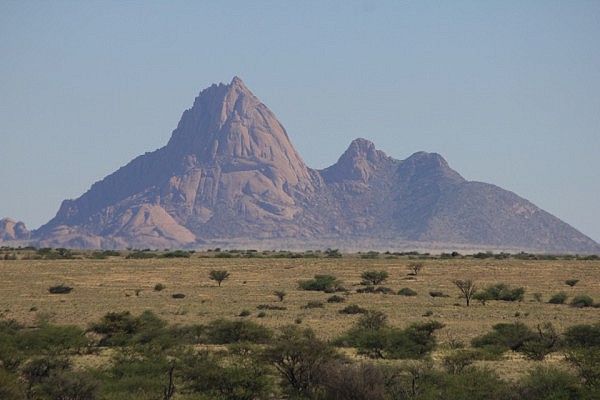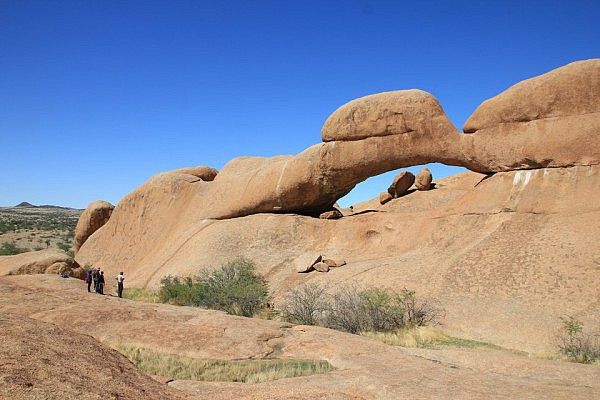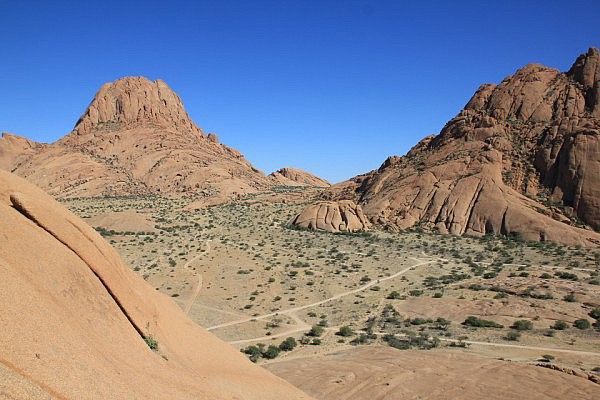 When I reached the paved road near Karibib I had cycled almost 2,000 km's on continuous gravel since I left Chibia in Angola! So now I went flying and pushed myself to cover a long distance only because I was able to. I consciously refrained myself from drinking when I was approaching a supermarket in Okahandja where I would quench my thirst eating cold grapes and drinking 1.5 liter of apple juice in one go. Ahh!
Joining the national road lined by fences, it was hard to find a place to camp so I stopped and asked at a farm. When I started talking to the owners they exclaimed "Are you also from Sweden!". It turned out that Emma Vånemo, another Swedish cyclist also had stopped here and asked if she could pitch her tent two years back. Just like her, I was met by an incredible hospitality and got my own room. Irmela, Bruno and Mark were so kind that I stayed for several days and charged my batteries.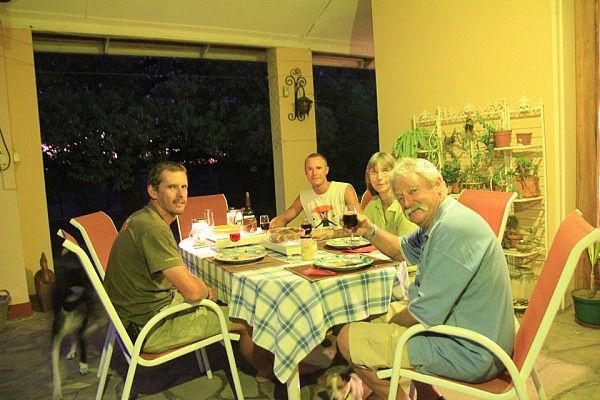 Mark showed me around on the farm and I was surprised to see how much free-roaming game there was, once you got away from the noisy main road. One day we went hunting for oryx and after having searched for an hour or so, we spotted a small group. Mark took a shot but tough as the oryxes are, it took off into the bush so we started tracking it. The blood trails became less and less visible but at times we spotted the animal, which looked very strong. After hours of walking, we lost track of it. We all felt bad about that it got wounded, but at least we could see that the shot had not made any serious damage and the animal would survive. On the way back, we spotted an injured kudu that turned out to be a victim of poaching, so we shot this one instead. Later in the evening, we had a game braai (bbq) consisting of oryx, kudu and wildebeest – all delicious and very lean meat.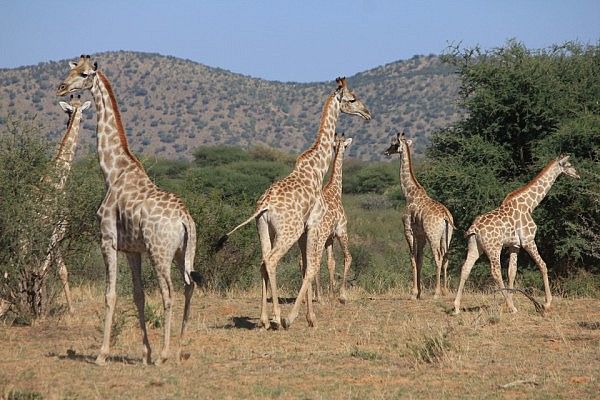 I want to point out that hunting and eating game in Namibia is normal, just like we hunt deer and moose in Sweden. There is an abundance of these antelopes and the meat can also be found in supermarkets and restaurants. Namibia is a country with what seems to be sustainable hunting regulations and more than 44% of the country is under conservation management. That is higher than any country on earth!