South Africa: The End
A small motorized ferry took me across the Orange River and onto South African land. I had been racing to catch it before the immigration office closed for the day and made it just as the clerk was about to leave. She gave me a stamp without asking any questions and I continued to the store next door downing three cans of juice in a row. First then did I have time to relax and realize that I had just made the last border crossing of the whole trip. It felt a bit strange. I bought some canned food and went out of the village to find a place to camp for the night.
The area surrounding the mouth of the river was full of diamond mining activities. It was a bit sad to see how this lucrative industry had changed the landscape. Enormous piles of processed gravel were lined up along the river. Apparently, almost the whole population living in Alexander Bay, which is the coastal town, work with diamond mining. The landscape looked the same heading south – 90 km's of restricted areas surrounded by fences because of the mining – boring. Riding along the coast was cold and windy and I already missed the hotter interior of Namibia.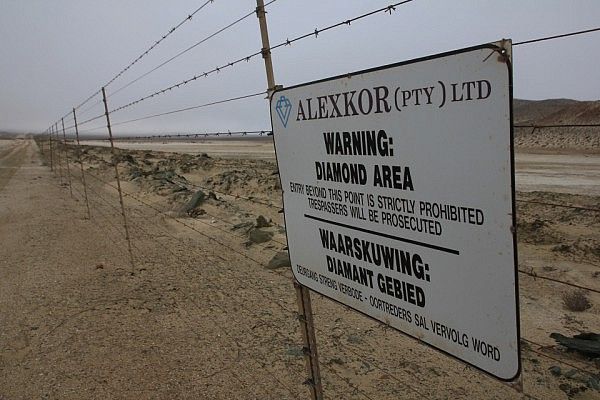 In Port Nolloth I paid a visit to the town's museum where I met George, an old man who was a fantastic storyteller. He used to work here as a diamond diver (when he was not surfing) and told me stories about the rough seas and the rough stones. Vast quantities of diamonds have been sucked up from the ocean floor throughout the years here. Today, the diamond company De Beers, who have a kind of monopoly in the diamond trade, use specially built ships crawling the coast with a capacity of hundreds of tons of material per hour. I also met a local woman who expressed her disgust of these pretty stones, and when I asked why, she told me that her ex-husband used to swallow and smuggle them, and she was the one who did the dirty work. This was apparently before companies started x-raying their employees.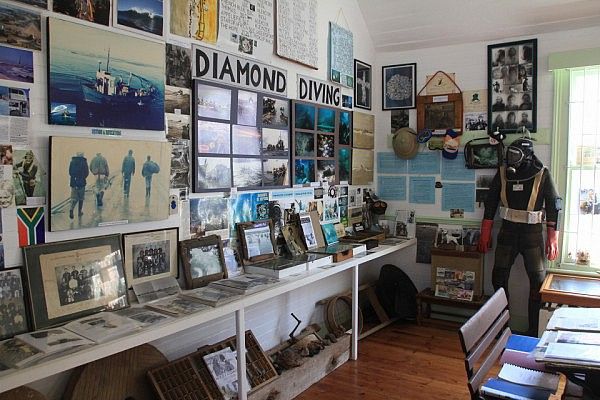 I turned off the coast and headed inland to the N7 national road. This part of South Africa was very barren with nothing to see, so I pushed on towards my next highlight of the trip: bouldering in Rocklands. On my way I found a very nice family-driven lodge called Hardeveld Lodge in Nuwerus. The owners, Kobus and Fey, introduced me to South African hospitality and spoiled me for a couple of days.
In Clanwilliam, I stocked up on a week worth of food and started the ascent towards the Pakhuys pass and Rocklands – a place that is world famous for bouldering. Cool rock formations and boulders started appearing everywhere and I got very excited about climbing again for the first time since I left France. On the other side of the pass, I descended down to De Pakhuys campsite where I had heard most of the climbers usually stay. I was well received by the owner of the place and got a can of homemade Kalamata olives as a welcome gift. The campsite, given its surroundings, was probably one of the best I have ever seen. There was Wi-Fi, fridges and even a bar during high season. Just around the corner was a small lake to swim in. And a few kilometers away was a beautiful waterfall. And of course, scattered around the whole area were the boulders. Thousands of beautiful yellow-reddish boulders with all kinds of shapes imaginable!
I had just missed a highline-event with more than a hundred participants but there were still some people at the campsite. I joined a group of South African climbers for a couple of sessions, mostly at night because the days were a bit too hot to send any projects. We went to both The Wall and Roadside and I was shown some of the classical problems in those areas. The gravity was quite high for most of us but we had many laughs, haha!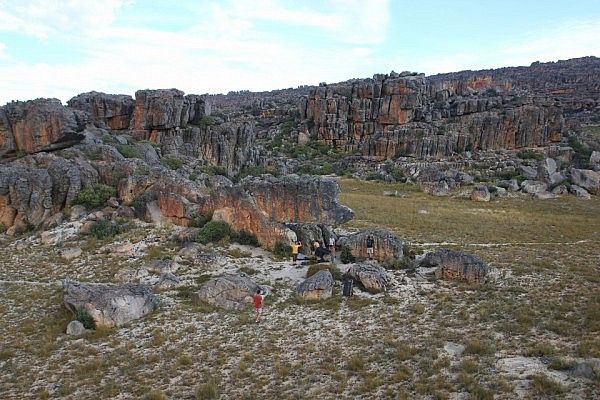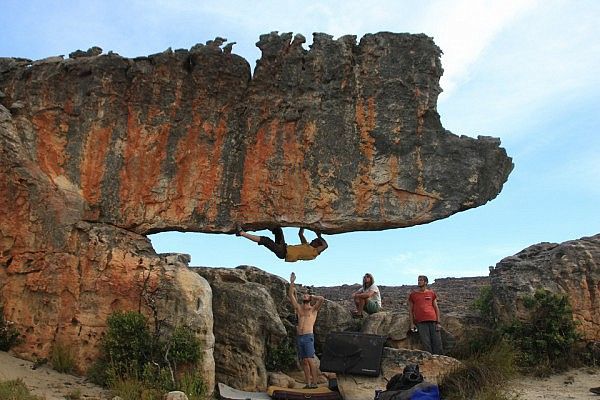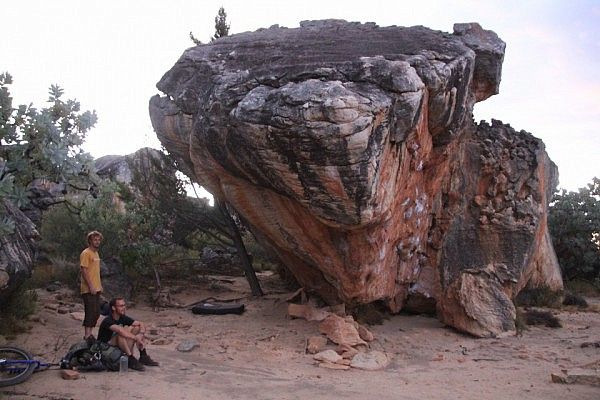 Apart from bouldering, there are also some bolted crags, and one day I went sport climbing with a group from Cape Town.
I also met another traveller, Jay, who had been here before and we spent many hours talking and cooking. So the days were pretty much awesome. I bouldered a bit, slacklined a bit, sat on a crash pad and watched movies until I had enough and went swimming. I ended up staying a week in Rocklands and the area was so beautiful that I could just walk around for hours.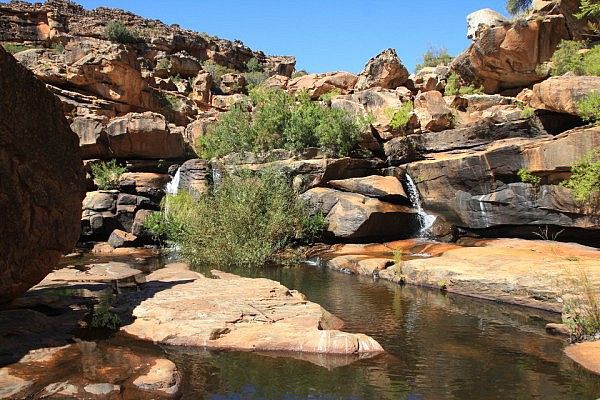 I was now very close to Cape Town, about 200 km's to be exact. But I felt that I had not seen much of South Africa coming from the north and I had heard a lot about the Garden Route on the south coast, so I decided to make a detour. I cycled to Citrusdal that is famous for its citrus tree plantations and went over another pass into a valley referred to in the local Afrikaans language as being cold. I asked at a farmer's house if I could pith my tent but they said it was indeed going to get very cold so they gave me a room instead. During the night, we had frost. The more I pronounced this word, the more foreign it sounded. I had not experienced such temperatures since I left the mountains of Morocco more than a year ago. Although these places can get occasional snow during winter, houses in South Africa are not adapted. Insulation is poor, windows are single glazed and there is no central heating. I was shivering under the blankets!
Apple and pear plantations gave way for vineyards as I descended down to the warmer wine valley of Robertson. Fences and agricultural land had made wild camping difficult in the past days of cycling, so I was now used to the routine of stopping at a farm asking if I could pitch my tent somewhere. Almost every time, I was instead given a room with dinner and breakfast. What an incredible hospitality, I felt so moved when it happened day after day after day!
The racial differences of South Africa also became apparent these days. All farmers I met were white and the workers either coloured (term used for people of mainly indigenous Khoisan descent or mixed origin) or black. When I stayed with locals, we often discussed problems that the country was facing. Many issues had been on the news recently, and I found most people to be a bit concerned about the future. Load shedding (planned electricity blackouts due to lack of energy supply), crime, violence, internal conflicts with foreign workers and racism were some of the things I saw. I remember that I met some white South Africans in Namibia who said that the country was not what it used to be. And of course it isn't. During the apartheid regime, which officially ended as late as 1994, whites and blacks were separated on most levels in society by the apartheid laws. Racial differences existed in for example voting rights, living regions and use of public transport and public facilities. It takes a long time to recover from such a system, and Nelson Mandela did a great job in trying to unite the divided country. But ever since his death, the country seems to be lacking a visionary leadership, which is one of the reasons behind the current situation.
Despite its problems though, South Africa is indeed a beautiful and diverse country. In terms of cycling, it's very comfortable. I often stopped to have lunch at wine estates and farmer's markets. A delicious lunch with a glass of local wine and a dessert became the highlight of each day.
When I reached Swellendam, I camped two nights up in the forest picking mushrooms before getting a ride east all the way to Jeffrey's Bay near Port Elizabeth. I wanted to see the Garden Route, but there would be no point in cycling it twice. In Jeffrey's Bay, I tried the surf but just like in Ghana I realized that surfing is not my thing. Instead I went to see the more skilled surf dudes at the world famous break called Super tubes, where international competitions are held during the winter each year when the big swells come.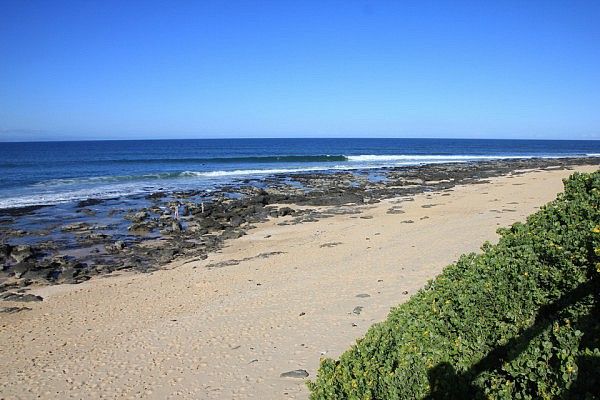 Now following the so called Garden Route, I cycled back west towards Cape Town along the coast. I passed scenic places such as Storms River and Nature's Valley before reaching Sedgefield where I visited my friend Linnea and her husband Lyle, who's running the backpacker hostel Afrovibe, as well as supporting local communities with the help of NGO's. It was great to meet them and cook some Swedish food like kanelbullar and korv stroganoff together. Lyle arranged an interview with the local newspaper The EDGE who later published an article (click here to read it). Then we cycled together all the way to Mossel Bay accompanied by Ben, a local cyclist, who showed us a nice back road through Wilderness and a cool place called Map of Africa, where a small river had cut the landscape into such a shape.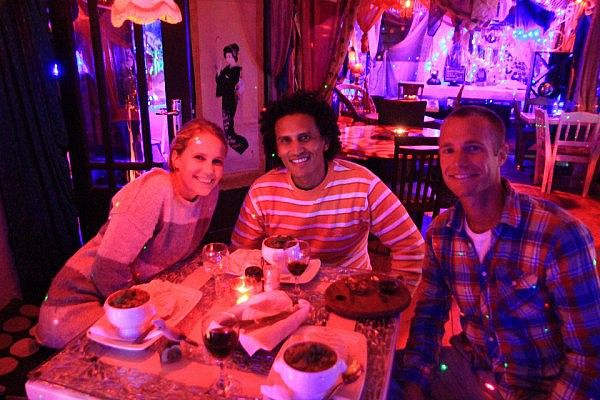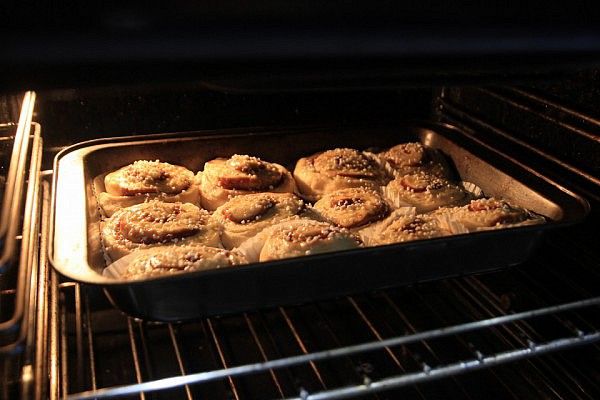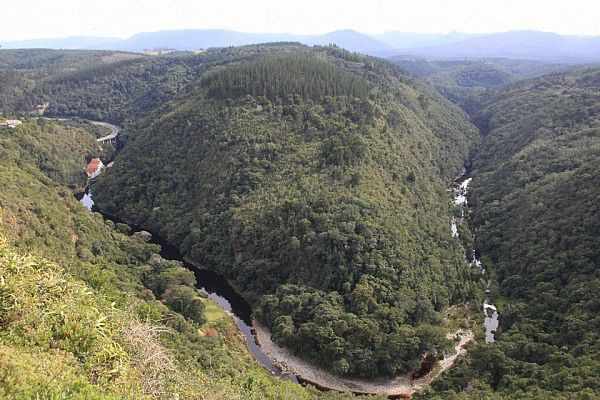 I thought about my return home during these days but failed to get the same feeling that I got in South America when the end was near. I took this as a sign that I felt ready to go back and that I was happy about all that I had seen and experienced during the past two years. I took a rest day in Hermanus, a very pretty town famous for whale watching and great white shark diving. After that, I rounded the mountains and got a first glimpse of the Cape Town peninsula.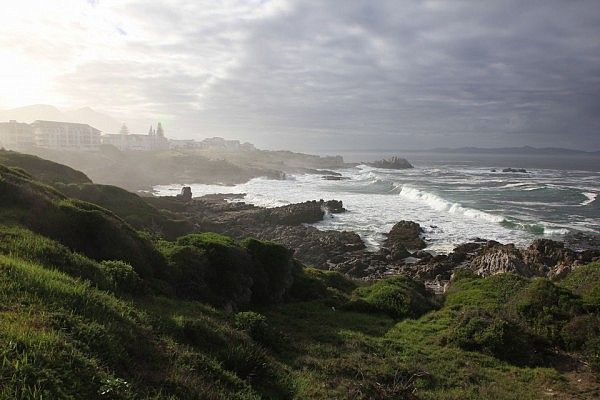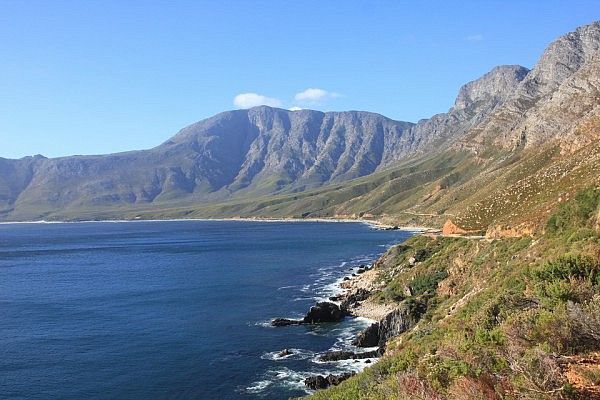 I also went to Stellenbosch to visit the famous vineyards. Early next morning, I entered one of the oldest estates called Vergelegen where I tried their flagship wines, but honestly I couldn't taste much difference at all. I think the grading "nice wine" and "nicer wine" is sufficient :-)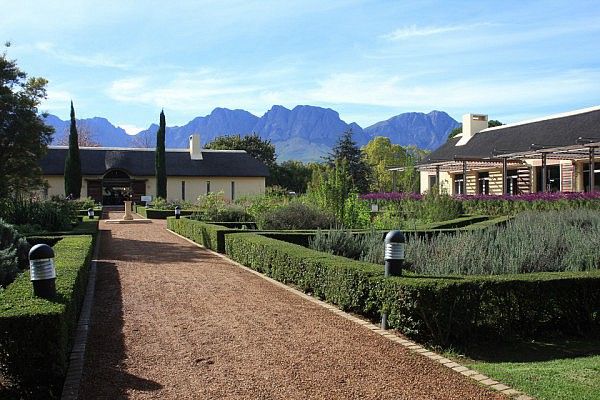 After the wine tasting at 10am, my gastronomic pursuits continued. Based on a recommendation from a friend, I went to have lunch at the Delaire-Graff estate situated at the top of the pass leading to Franschhoek. Both the food, the wine and the views were excellent!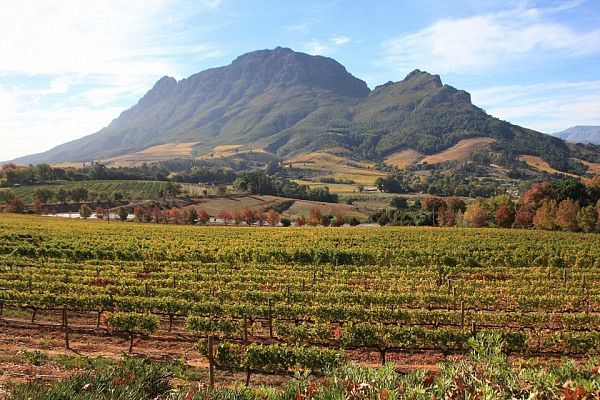 Starter: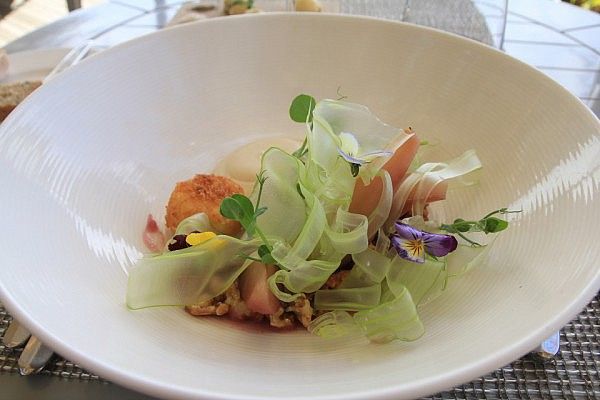 Main dish:
Dessert:
I descended down into Stellenbosch town, a lovely place, and three pretty women sitting at a microbrewery invited me on a glass of rosé. Before they left, they even ordered a beer-tasting for me. There was no end to this culinary day!
The following morning, Table Mountain came into view. From this side, Cape Town's biggest township Khayelitsha stretches as far as the eye can see: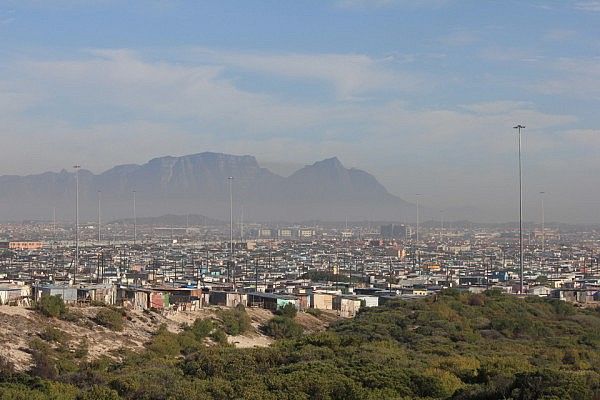 And from the other side of the mountain, luxurious houses make up the beachfront of Camps Bay: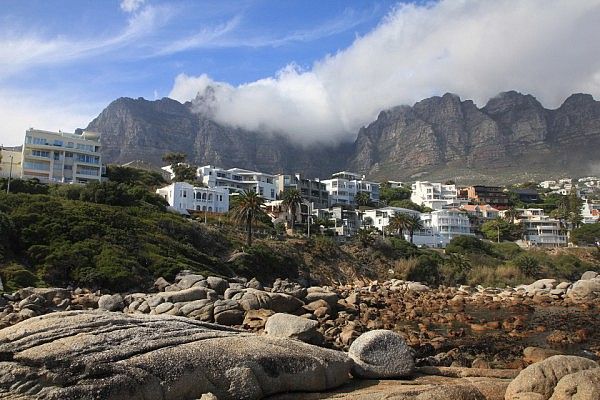 But before reaching Cape Town, I first went all the way down the peninsula to Cape of Good Hope, the most south western point of the African continent. When I got there, I felt…nothing in particular! Only slightly uncomfortable. Neither glad nor sad. A feeling of emptiness somehow. It felt strange and I kind of asked myself "is this it?". It's funny how one reacts to the end of such a long journey!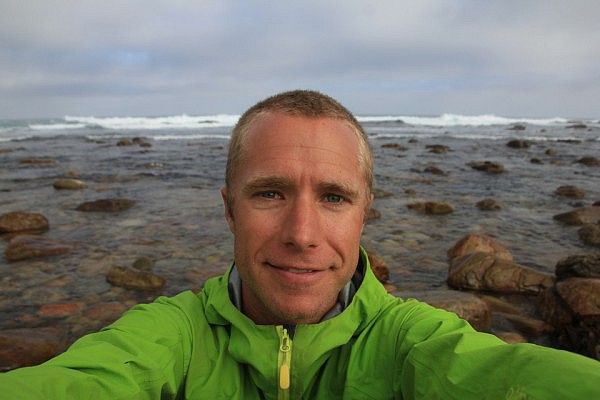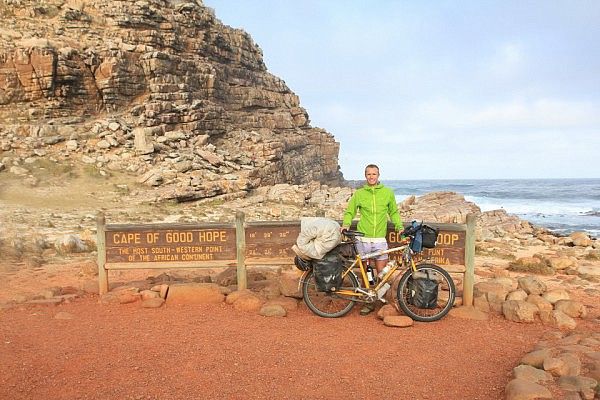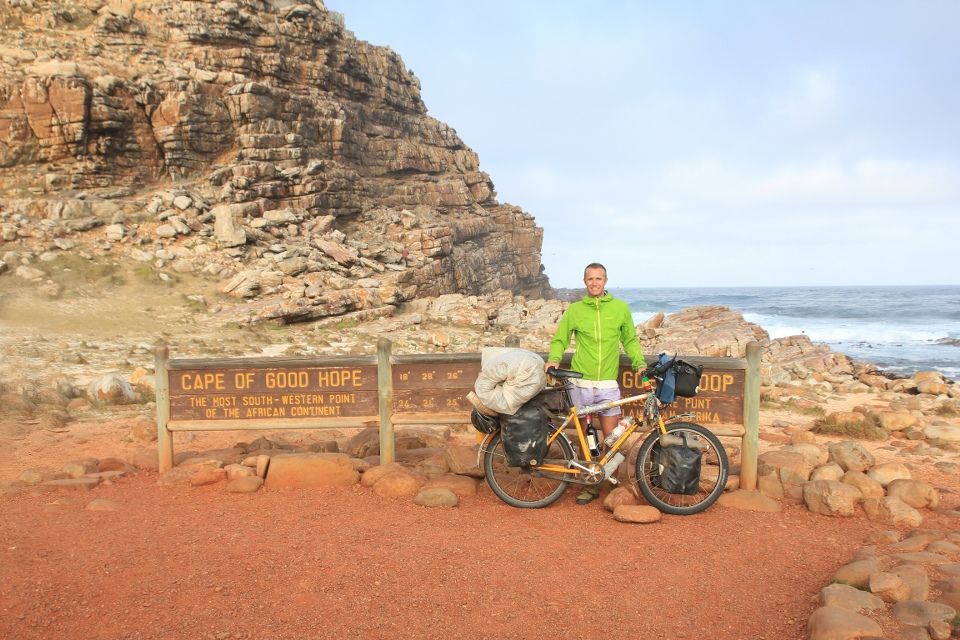 I found myself surrounded by loads of tourists who just like me had come here to see a place that didn't look special at all. I sat down on a rock as close to the water as I could get, and looked out over the Atlantic Ocean for a while. I studied the breaking waves. Watched the birds fly by. I ate a pecan nut pie that I had saved for this very special moment, but I didn't really think about how it tasted.
At one point I had to gather my thoughts and get back in the saddle. I backtracked my way to Simon's Town where I stayed with Gerhard and his family who I met in Rocklands a few weeks earlier. The next day, it was time to enter Cape Town itself and park the bike for this time.
After 686 days and 28,903 km's, I had reached my final destination.
In the beginning of the trip, I thought I would spend a month or so in Cape Town and do a lot of activities etc. But when I got here, I felt somehow indifferent. I didn't feel motivated to do much at all. It was strange, but one part of me would have preferred to be back in the middle of Congo, being surrounded by thick tropical jungle and the primitive lifestyle. The other half of me was mostly confused. I climbed the Table Mountain and went sightseeing like everyone else, but I think I was just not up for a city like Cape Town at that time.
My last night I gave myself a treat and went for a Thai massage, where the masseuse made a funny comment: "slim like lady". Now, when the trip was over, I weighed in on 66 kg's (9 kg's less than when I left Sweden, but 5 kg's more than when I left Congo). It always fascinates me how the body adapts to what you are doing.
When I look back and think about what has made the biggest impression on me, I immediately think of two things: hospitality and befriending strangers. I have spent countless nights in front of bonfires together with people from different cultures who I've known for perhaps only an hour or two – and immediately a level of confidence has been established and the odd constellation of previously unknown people has suddenly felt completely normal.
I know that I will miss many things when I get back home. The exoticism and remoteness of deep jungles and the contagious rhythm of drums in the night, the solitude and quietness of the desert, the interestingness of forest-dwelling pygmies and other tribal people who have such a different lifestyle, the simplicity of the nomadic way of living, the constant presence of children, mama's food on the corner, communicating in new languages, the excitement of being on the move and discovering new things.
I've learnt a lot from this trip. Both hands-on experience like how to make rope from fibers or how to play flute, to more intangible things like language skills, knowing how I behave in odd situations and what it is that makes me happy in life. I've had a fantastic time.
To all of you who have followed me, hosted me, fed me, inspired me or in any other way helped or supported me on this journey:

Thank you so much!
---

Here are some daily cycling statistics, including "half" days. I was in the saddle 367 days out of 686 and averaged 77 km's in 5 hours each cycling day.

Distance
(km)
Speed
(km/h)
Time
(h:mm)
Average speed
(km/h)
Max
202
74
8:11
27.9
Min
13
–
0:45
6.9
Average
77
–
4:58
15.6
And here is information about how I got my visas (2013 – 2015):

| Country | Duration | Price | Where I got it |
| --- | --- | --- | --- |
| Morocco/Western Sahara: | 3 months | Free (no visa) | At the border |
| Mauretania: | 30 days | 340 dirhams | Rabat (Morocco) |
| Senegal: | 3 months | 50 euros | Internet |
| Gambia: | 3 months | Free (no visa) | At the border |
| Guinea-Bissau: | 30 days | 20,000 CFA | Ziguinchor (Senegal) |
| Guinea: | 30 days | 2,900 dalasis | Banjul (Gambia) |
| Sierra Leone: | 3 months | 90 euros | Banjul (Gambia) |
| Liberia: | 3 months | 450,000 leones | Freetown (Sierra Leone) |
| Ivory Coast: | 30 days | 50 euros | Monrovia (Liberia) |
| Ghana: | 30 days | 70 USD | Monrovia (Liberia) |
| Togo: | 7 days | 10,000 CFA | At the border |
| Benin: | 15 days | 10,000 CFA | Lomé (Togo) |
| Nigeria: | 3 months | 40,000 CFA | Bissau (Guinea-Bissau) |
| Cameroon: | 3 months | 50,000 CFA | Calabar (Nigeria) |
| CAR: | 12 days | 32,500 CFA | At the border |
| Congo-Brazzaville: | 3 months | 100,000 CFA | Yaounde (Cameroon) |
| DRC: | 3 months | 170,000 CFA | Yaounde (Cameroon) |
| Angola: | 30 days | 70 USD | Kinshasa (DRC) |
| Namibia: | 3 months | Free (no visa) | At the border |
| South Africa: | 3 months | Free (no visa) | At the border |
For any questions, thoughts, ideas or anything – please e-mail me: carldavid.granback@gmail.com