Desert festival, bad roads and diarrhea
I have done very little maintenance on the bike so far. After 4,000 km's, when I was in Barcelona, I had to remove a chain link because the chain had stretched beyond the current tension cycle of the eccentric bottom bracket. I was surprised how quickly the chain had stretched, but I guess you don't notice this the same way on a classical derailleur geared bike where the chain always keeps its tension. A guy in a bike shop told me that my chain rings were too worn but I ignored his advice of changing them because I felt that this was too early. But after 6,500 km's I started to hear some squeaking noises and realized that I had to do something. Both my front chain ring and rear sprocket are reversible, so I decided to reverse them. I had read some pretty nasty stories about doing this, with sprockets being extremely hard to get off, requiring many people and with tools breaking etc., but I think they had done much bigger distances. I put together a homemade chain whip and fortunately the sprocket came off without much effort. I also installed a chain guard called Chainglider that was recommended by Peter Gostelow from his Africa tour. I haven't noticed any friction/resistance from it so far and I hope it will make my chain and chain rings last longer by keeping the dirt away.
My next destination after Todra was a desert town called M'hamid where I was going to attend a music festival. I decided to continue on small roads over the Sarhro massif. The 2,200 m high pass Tiz n'Tazazert was beautiful and I stayed with a lovely family running a small hotel and restaurant at the top. They had a small puppy named Bruno who they fed with nothing but olive oil, sardines and laughing cow cheese, so his shape was similar to that of a rugby ball.
The life of my cycling shorts was slowly coming to an end, and while I was sitting there trying to stitch a big patch on them with a chubby Bruno admiring the work, a group of Italian mountain bike cyclists appeared and donated a brand new pair!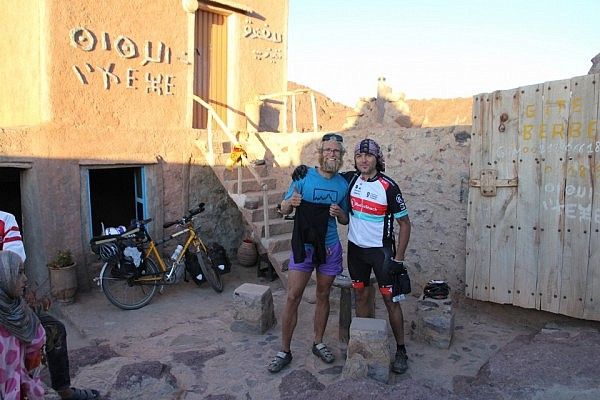 Descending down from the pass the following day was like cycling into a painting! I had to tell myself to cycle slowly and stop to absorb and memorize the scenery, because it was impossible to catch the beauty on a photo. I really love mountain landscapes.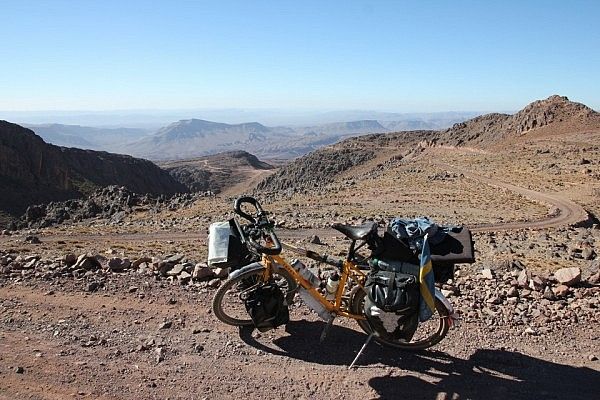 I left the High Atlas behind and entered a more flat and desert like environment with some sand dunes here and there. The presence of flies became notable and after some time I got used to having a bunch on my back. I realized that the less I tried to wave them off, the less disturbing they were. But when I saw a downhill coming up, I went for it to 100% while waving my arms to get rid of as many hitchhikers as possible.
I was amazed to see how green it was when I entered the Drâa valley and Zagora, all thanks to the river bringing water down from the Atlas mountains. Here I met Jeremy, a British cyclist who was in the end of his Spanish/Moroccan tour and also heading to the festival. We continued together the last two days and passed some impressive sand dunes as well as getting our tents filled with sand during a windy night.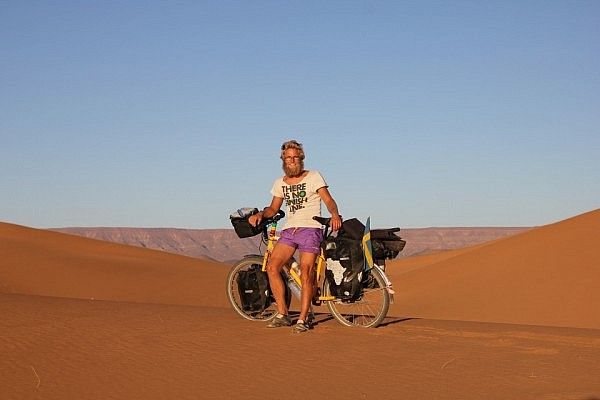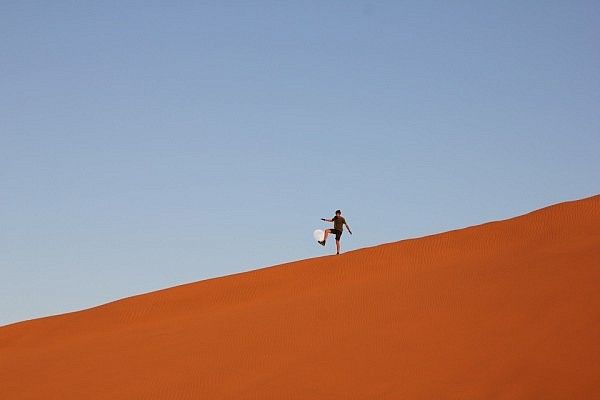 M'hamid is a small desert town located only 25 km's from the border to Algeria and this is where the so called Taragalte festival is held. Here, we met up with Hamza, a Moroccan cyclist who I had met briefly on two earlier occasions. The three of us headed out towards the actual festival site during a sand storm, and I almost thought that we were lost because we cycled on sand tracks in the middle of nowhere with no signs or anything.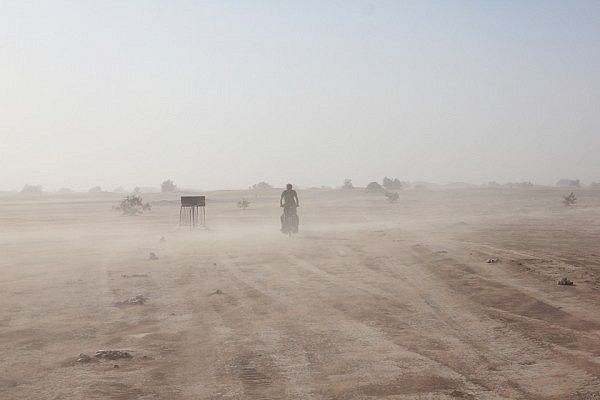 The Taragalte festival is similar to the more well-known Festival au Désert in Timbuktu, Mali. The location is stunning, placed in a small oasis at the edge of the Sahara desert with palm trees surrounded by sand dunes as far as the eye can see.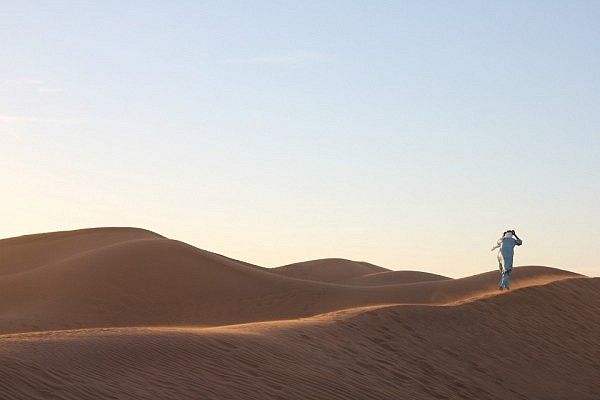 The theme for this year's festival was "Cultural Caravan of Peace", a trans-Saharan Sahel project initiated in order to support peace, solidarity and tolerance in the region. To be honest, and perhaps not surprising by Moroccan standards, the program and timings were a bit random. But apart from the concerts, I attended a tree plantation session organized by Sahara Roots, and some spontaneous jam sessions by local groups. The music was mostly North-African with artists coming from Mali, Morocco, and Europe. The best performance was when Kiran Ahluwalia (India) who has been singing with Tinariwen played some of their songs but with another band from Mali. Really good vibes given the atmosphere in the desert and all!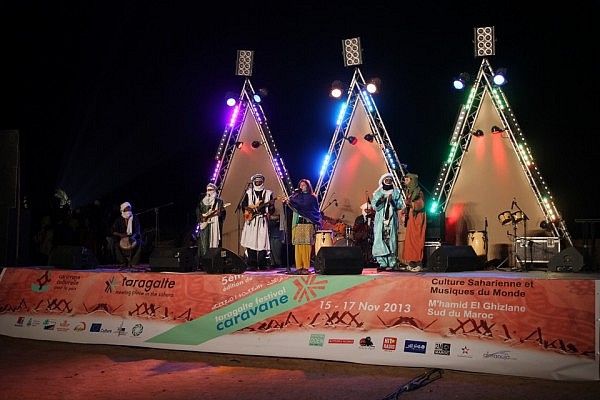 It was mostly local people attending the festival, but some tourists too. During the day when there was no music and the other tourists paid a lot of money to ride camels, we asked some locals if we could ride their donkey. This resulted in many laughs among us, the owners and all neighbors that came out to watch. This is Jeremy showing how it should be done: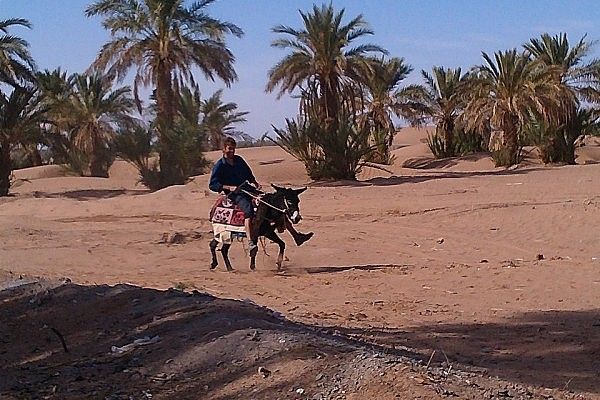 When the festival days were over, Jeremy took the bus back to Europe and me and Hamza continued cycling together. Before hitting the road we stopped at a palm tree to pick 10 kg's or so of delicious dates.
From M'hamid, we cycled back to Tagounite and then aimed for a road of a type that on my map was not even mentioned in the legend. This looked promising! Since we didn't want to return all the way back to Zagora, we decided to stay on this side of the mountains and cycle along the desert instead. It turned out that these 200 km's were in a very bad state. Constant washboard roads with big rocks and sand not only made me fall of the bike twice but also gave me a wryneck, a stiff back and a sore ass. Hamza's bike suffered quite a lot from the three hard days that this road took us. He lost a rack screw, his front rack cracked and finally his whole kickstand welding came off from the frame. At one point, when we were cooking next to the road we prayed to Allah for a car to appear and after five minutes the only car that we saw that day appeared out of nowhere. So we hitchhiked to the small village Zaouïa Sidi Abd en Nebi where we cooked some lentils and fell asleep.
We cycled 2.5 hours in the dark the last day in order to make it to the town Foum Zguid. When we finally came to a military checkpoint and they saw how tired we were, they gave us honey that we ate with a spoon. I was completely exhausted the last day and luckily the hotel we found had a great shower that was both hot and reliable, what a relief!
I wouldn't recommend this road to anyone, but we still had some nice encounters with the few people along the road. I am amazed by the hospitality of people that live in such places. No matter how poor they seemed to be, they always invited us for tea and once also for food and sleep. This stands in interesting contrast to the 4×4 jeeps that we saw some tourists driving in the area, that didn't even stop to ask if we needed water. One day, we met a nomad family with about 10-15 starving goat kids whose mothers didn't have any milk due to the absence of food. So I mixed powder milk in my bicycle bottle and then we started feeding them, incredible how thankful both they and the herder were.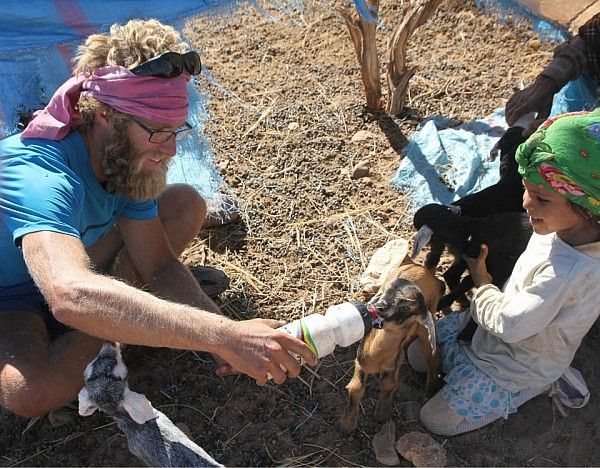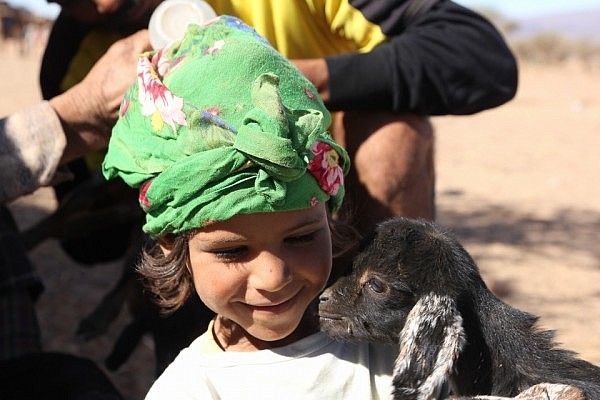 In Foum Zguid, we celebrated three things:
1. The bad road was over
2. A good road lay ahead
3. My 29th birthday
Hamza and I spent a long time in the local hamam, scrubbing each other clean from dirt that we had collected during the past days. I had been having diarrhea for about 2.5 weeks and finally decided to try to treat it. I had a couple of different antibiotics with me but decided to go for the metronidazole and felt a bit better after a few days with the appetite getting back to normal too.
We continued northwest where I had been given the recommendation to cycle around the Siroua mountain via Tizi n'Melloul (2,506 m) and Tizi n'Tleta (2,502 m). This turned out to be beautiful cycling and we passed some abandoned ghost town-like villages on the way, but it was very cold at night (-8 degrees) at only 2,000 m.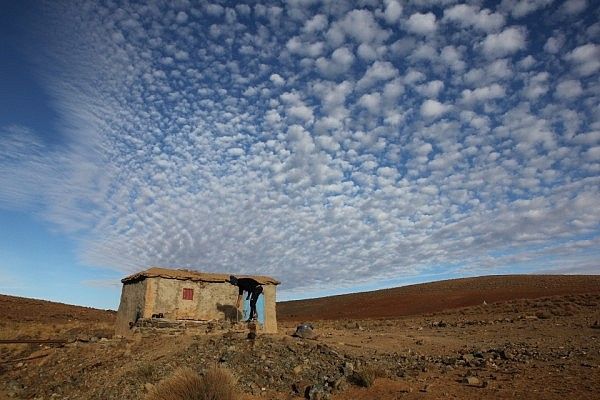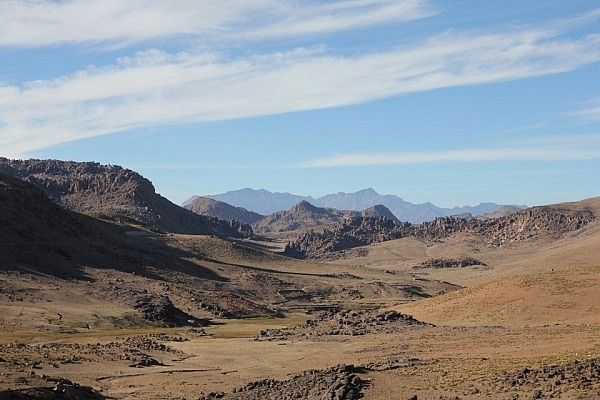 Some time after I had finished the treatment of antibiotics, it almost got worse. Sometimes I felt fine but sometimes I got stomach cramps and had to wake up several times during the night to avoid an accident in the tent. It was like a roller coaster. I found it disturbing that my stomach was bad so early in the trip, but I had stopped drinking the tap water two weeks back. One night I ran out of toilet paper and had to use my €100 "rip-stop" silk sleeping liner, which by now was torn to pieces anyway after about 150 nights of use including the last trip. It's good to use things until their very end, haha! Anyhow, I promised myself that I had to make some tests to find out what was wrong with my stomach when I got to a bigger town.
We were thinking for a moment to cycle towards Morocco's highest mountain Toubkal (4,167 m) but since neither of us had any warm clothes nor warm sleeping bags, we decided that this was not an option, given that Tizi n' Ouanouns which is the pass that reaches closest to the peak has an altitude of 3,600 m. Instead, we headed in the direction of the coast in search for warmer air, and were one day greeted by these acrobatic goats having lunch in an argan tree: