A vacation from the vacation and the last bit of Morocco
In Agadir, I met my friend's grandparents Lennart and Catarina who stayed at the camping in their mobile home. They were very kind and welcomed me with Swedish food, including freshly baked cinnamon buns! Here, I left the bike and took the bus to Marrakech. It was a treat to arrive to this lively city, so much food everywhere and so many people to look at! At the famous square Jemaa el Fna you can find orange juice sellers, snake charmers, henna tattooers, biscuits, snails, musicians and Swedish-speaking barkers. It was also an international film festival with focus on Scandinavian film when I was there, and they screened movies for free at the big square.
One of the first things I did was to go to a laboratory to make some tests in order to find out what was wrong with my stomach. It turned out that I had amoebas, a kind of intestinal parasite. I found this strange though, because the metronidazole I had taken previously was supposed to kill these bastards, but the doctor told me to increase the dosage and the duration of the treatment. So that's what I did.
Then I continued on to Rabat and met up with Hamza who had taken the bus home from Agadir two days after we split. Unfortunately, I was feeling very bad and after having thrown up and only slept for one hour, I reluctantly made my way to the Mauritanian embassy in the early morning rush hour. The visa application process was easier than expected and I got it the same day. I found a cheap hotel inside the medina, ate some bananas and bread and then collapsed of fatigue on the bed at I think five o'clock, too tired to even bother about the loud mosque next door.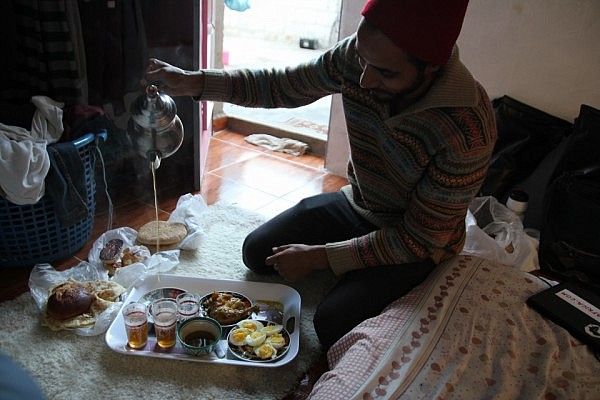 The next day, I was feeling a bit better after the antibiotics had kicked in. And I'm glad for that, because I was heading to Casablanca to catch a flight to…the Canary Islands! My dad and his wife, wife's daughters and their families were going to Tenerife for a holiday and had invited me to come only a few weeks before. It was quite a contrast to arrive on an island ruled by tourists only after a few hours of airtime. Not everyone knew that I was coming so I had decided to surprise them. I bought a Santa Claus-hat to accompany my (authentic) beard, and came playing my flute while entering the restaurant where they were having dinner. Haha, SURPRISE!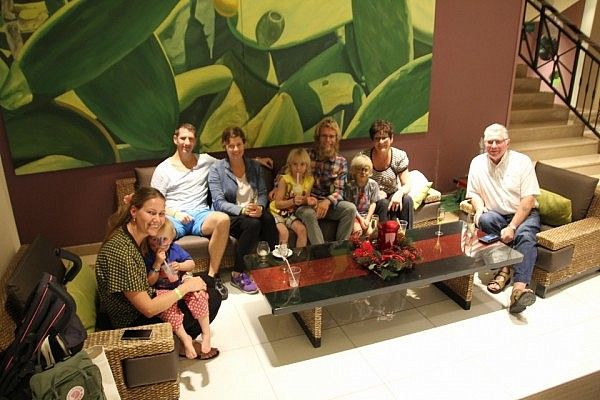 The medication seemed to work this time, and that was good news because we had all-inclusive at the hotel, so I could eat as much as I wanted. What a luxury! Too bad that the antibiotics didn't play nicely with alcohol because the drinks were included as well :-) We spent the days playing with the kids, making road-trips and eating huge amounts of food. Although very touristic, Tenerife is a beautiful island. It's possible to lie on the beach sun-tanning while admiring the snow-capped volcano Teide (3,718 m) further inland. All good things come to an end, whether it's all-inclusive or family reunions, so after about 10 days I went back to Morocco just before Christmas.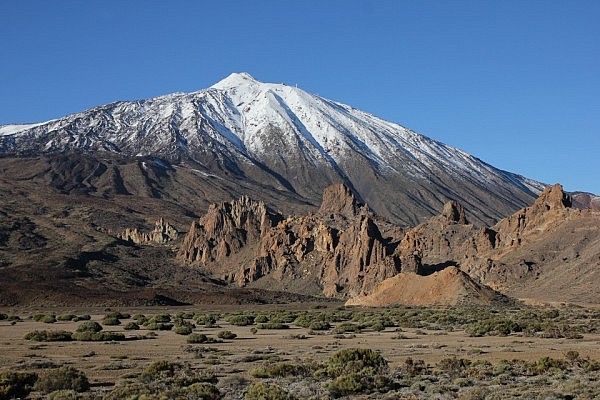 I left the camping and great hospitality in Agadir with the bike loaded with oat meal, homemade bread and jam (thanks L & C!) and cycled south along the coast.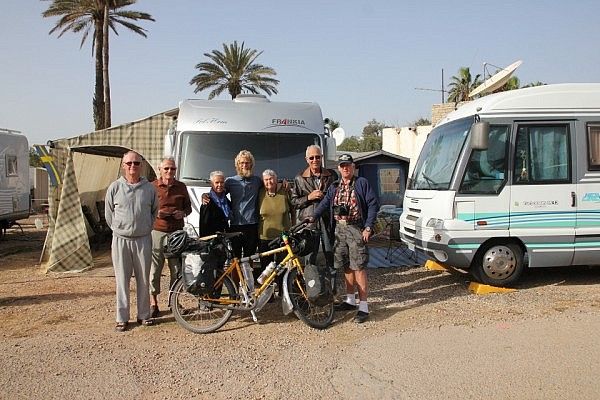 One night I camped near the famous arches of Legzira: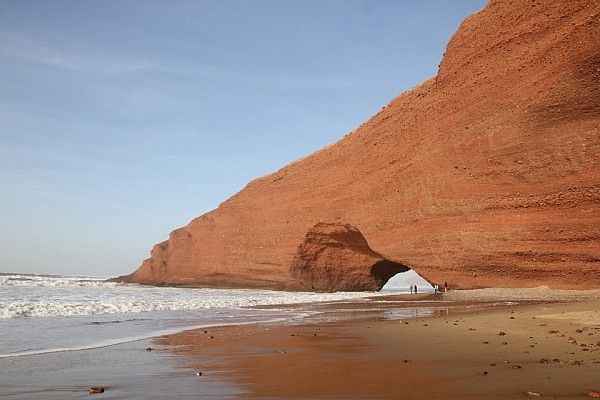 The same night, I also met this lovely couple:
In the old Spanish colony Sidi Ifni, I met the local surfer Hicham and his colleagues who run a surf shop here. On Christmas Eve, I had a lazy day on the beach reading Christopher McDougall's "Born to Run" in between trying to catch some waves at the slightly chaotic beach break. I had some Swedish Christmas food (pickled herring, gingerbread and marzipan) that my dad brought with him to Tenerife, so a small Christmas-feeling was established after all.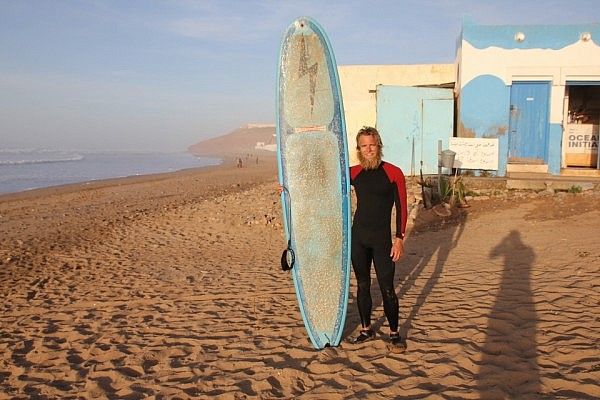 Leaving Sidi Ifni, I met a man who invited me to stay in his house near the hot springs of Abaynou. Before I went there, I had heard about an old Swedish woman called Britta Dancy who used to live here. When I asked the man about her, I was told a remarkable story:
After her retirement in the early 70's, Britta moved to this tiny desert oasis and ended up staying here for over 30 years. She lived here alone and created a small-scale farm where she invited sick, poor and old people from the village to work. She was almost like the region's "Mother Theresa". She fought for women's rights, drove people to the hospital, initiated the donation of two Swedish ambulances and ordered medical equipment and medicines to the local doctors whose clinics where empty. Before she passed away, she had even saved money to invite all of the village's 200 inhabitants on a big lunch. She was apparently a woman with a big heart.
Just outside of Abaynou is the town Guelmim, nicknamed "Gateway to the Desert". And that's what I will write about the next time, cycling through the desert of Western Sahara. Stay tuned!