Where voodoo is for real
Togo and Benin are two generally less known slices of land crammed between Ghana and Nigeria. So narrow are they in the south, that Togo is easily traversed in only one day, and Benin in two. A majority of the population here has animist beliefs; this is the birthplace of voodooism.
In Togo's capital Lomé, almost all overlanders seem to stay at Chez Alice, a hotel run by an old Swiss woman who has spent many years here. It's a funny place full of wooden art and random animals living on the premises, and the restaurant prepares "rösti mit bratwurst" (!) among other things. Here I met the second bicycle traveller since Gambia: Marek from Germany. He had difficulties obtaining the Nigerian visa and was not convinced if it was a good idea to go there at all, considering the security situation.
Lomé has a very nice museum with African art called "Musée International d'art d'Afrique". Hosted in a luxurious villa and initially being a private collection, it is now open for the public and full of mainly West African sculptures made from wood, clay and metal.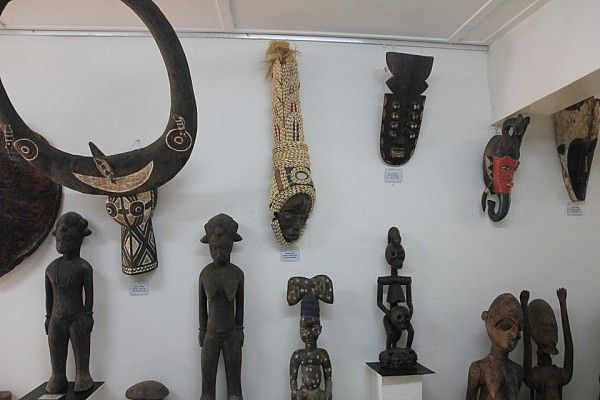 After visiting the museum, I continued to the voodoo fetish market that I think most tourists visit here. This is an open-air market just like the regular one where you buy your daily vegetables, with the difference that here you will only find occult things like fetishes and dried animals. There was everything from monkey heads, dog heads, birds, lizards, turtles, insects, buffalo penises and different types of skin like hippo, leopard and snake. These items are used as ingredients in traditional medicine that voodoo men prepares based on your medical conditions or other problems. For example, drinking tea made from grinded monkey head and honey is believed to enhance your memory. Rabies can be cured by putting grinded dog's head in the wound, and fertility can be increased by smearing a cream made from grinded buffalo penis between your legs. What made the whole visit to this market authentic was to actually see people coming on motorbike taxis, seemingly in a hurry, to buy some of these ingredients.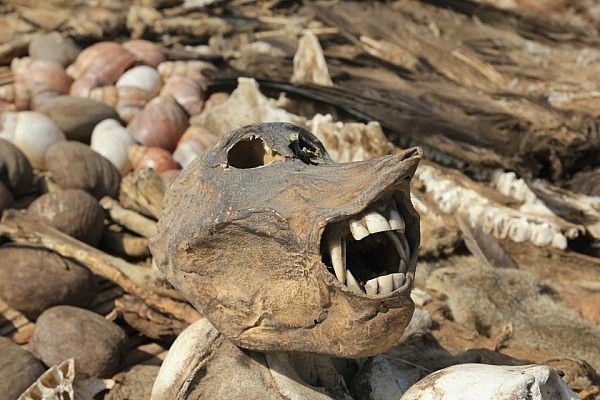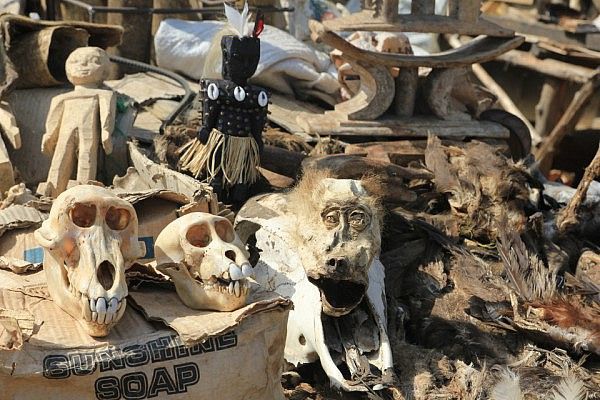 Apart from traditional medicine there were also several fetishes and talismans. A fetish is an object believed to have supernatural powers. I visited a voodoo man at his "clinic" who introduced me to several kinds. One of them, called the "telephone fetish", was specifically meant for travellers (tourist trap alert, I know…). It was made of a small piece of wood that had a small hole in it, and a tiny wooden peg attached with a string. The idea was to say your name three times and then whisper your prayer into the hole. Then you'd put the peg into the hole and this way keep it closed until your travel was over. So I whispered into the fetish that I'd wish to have a smooth journey to South Africa and in particular get through Nigeria without any hassle.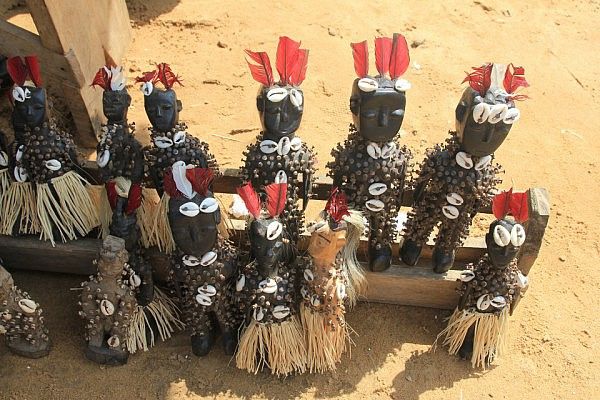 After three days at Chez Alice waiting for the visa to Benin, it was time to move on and take farewell to the baboon outside my room that every morning greeted me with a smile while reaching out with his hand.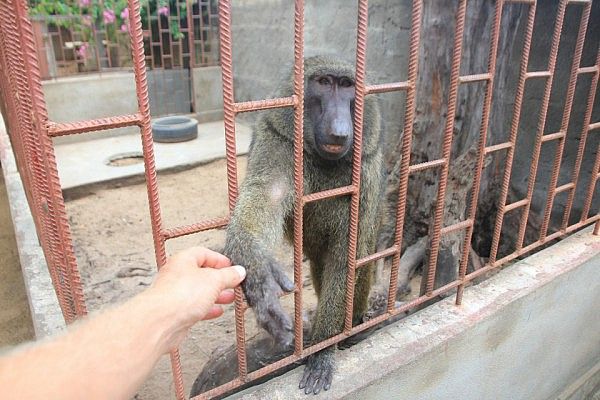 I did a small detour along the lake of Aheme where voodoo beliefs are supposed to be strong and I didn't have to wait long to realize this. I saw a hen's foot hanging in front of a cultivated field, protecting it from thieves. I also heard several drumming and dancing sessions going on in small villages. In Ouidah, I visited the so called sacred forest but this was nothing special. According to traditional beliefs, a king from the village of Savi died on this spot and was transformed into a tree. Several "fetish gods" (sculptures) were scattered throughout the forest that people use for ceremonies.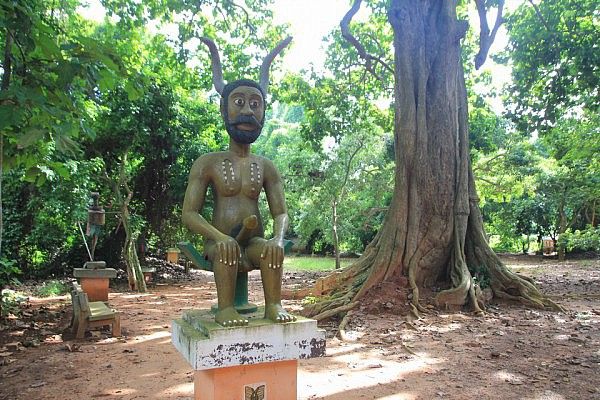 There were many kids wanting their photo taken outside the forest: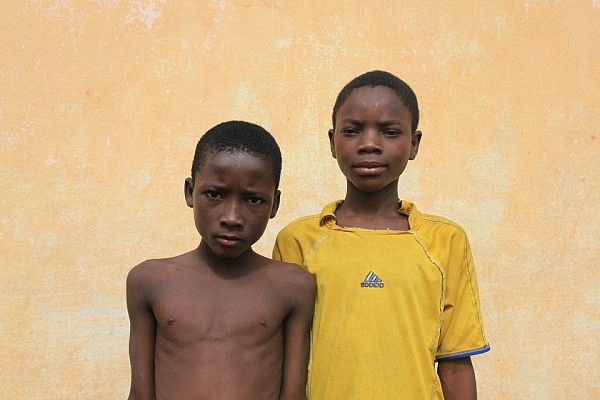 I wanted to try to reach the capital Porto Novo coming from the north and avoiding the busy coastal road, but after having taken a beer for lunch in the hot midday sun, ending up both a bit tipsy and later on dusty bump roads, I changed my mind. Instead I came to Cotonou, best summarized as a giant traffic jam full of thousands of motorbikes, and almost as many prostitutes. I opted for a cheap brothel and plugged in my earplugs before falling asleep, thinking about the next morning's border-crossing into Nigeria.