Ivory Coast and Ghana
Finally, after nearly 30,000 km's, my beloved Brooks saddle fell apart. The nose broke off from the rest of the leather, so I was basically riding on two iron bars (in other words, not very comfortably). I did so for several days until I arrived to Ivory Coast and what felt like civilization.
Although I really enjoyed Liberia, it felt like a relief to come here. Electricity, paved roads, loads of plantations and much more fruit and vegetables to buy along the side of the road. In other words, a more developed country. Many people used bicycles too, meaning I would definitely find a new saddle. I found a Chinese one for 3 euros, but it would only come to last 2,500 km's until I had to buy a new (Chinese) one.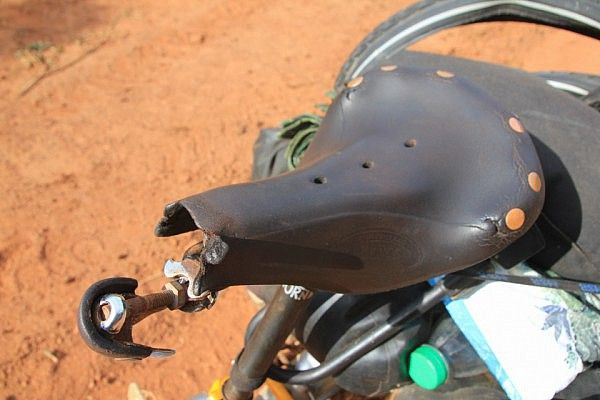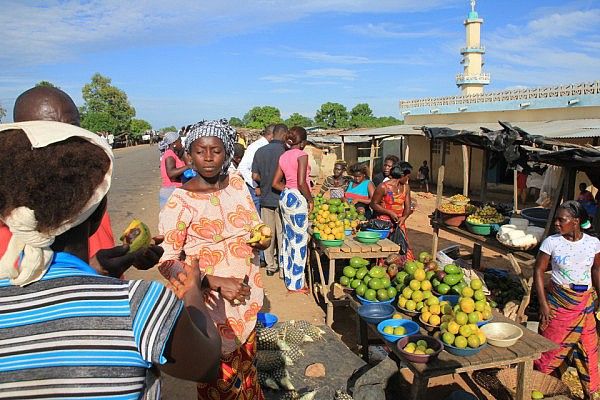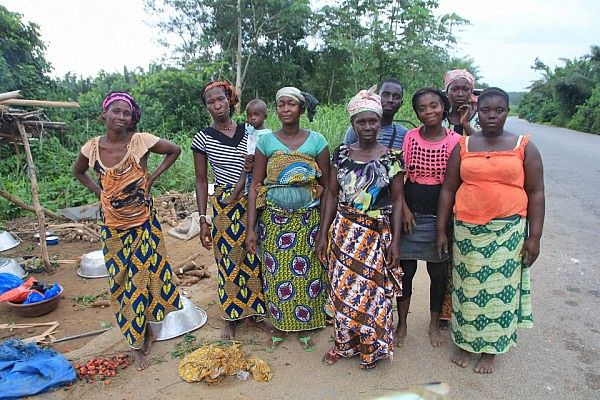 The city and important harbor of San Pedro was a nice place that reminded me a little bit about my home town, with MAERSK containers stacked upon each other and placed in perfectly straight rows waiting to be shipped somewhere. People were more polite, asked more intelligent questions about my journey and showed more understanding of why I'm doing what I'm doing. I found a nicely located little hotel close to restaurants, supermarkets and cyber cafés.
The main road along the coast was lined with oil palm plantations, so many and so big that I couldn't find anywhere else to camp one night.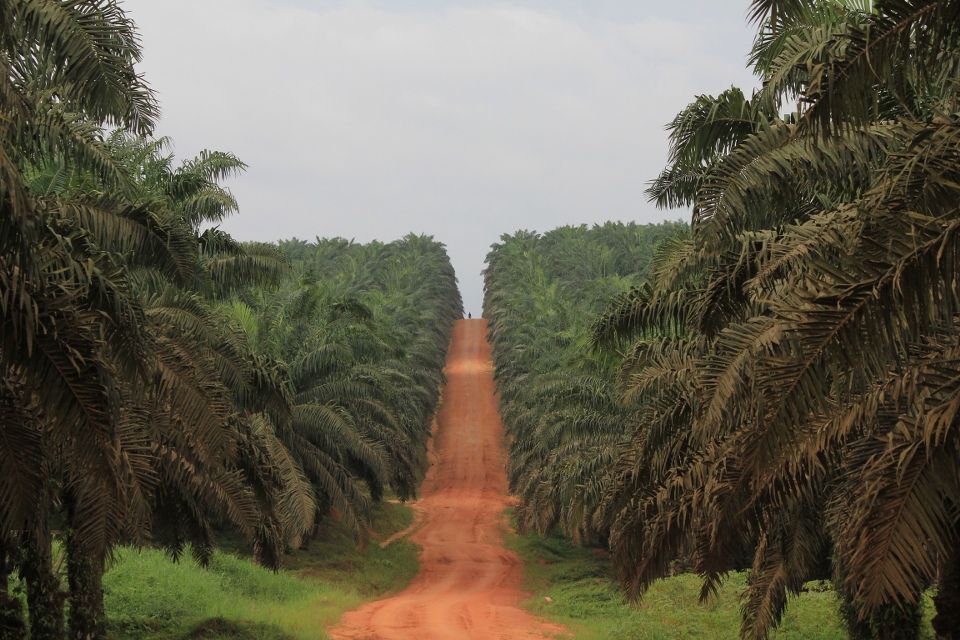 Let's briefly talk a bit about the oil palm and palm oil, because this is something that is seen everywhere in tropical Africa. The oil extracted from the this palm is the most used vegetable oil all over the world, and not only used in cooking but also shampoo, ice cream, margarine, lipstick etc. The biggest producers of palm oil are Indonesia and Malaysia, and here in Africa it's Nigeria, then followed by Ivory Coast. Oil palm plantations are a big reason for deforestation in the tropics, apart from logging of course. Everywhere in the villages, you can feel the special smell of palm oil, used for all types of cooking. This oil is red due to the natural colors of the fruits, but most commercially sold oil has been refined and hence lost all its vitamin E that the red color is a proof of (beta-carotene). The oil palm has clusters of fruits hanging at the crown. In the non-industrial way of producing palm oil for home use or local sales, this is the method everyone uses:
1. Remove the fruits from the cluster
2. Boil them
3. Pound them
4. Boil them again
5. Press them (the most basic variant here is to pour everything into an empty rice bag with an attached stick, that when rotated compresses the bag like when drying a sock by twisting it)
6. Boil the oil in an oil drum using water (water sets at the bottom, so that the oil doesn't get burned)
7. Use the dried fruit husks to light fires
8. Sell the kernels (they in turn contain another, more pure oil used for soap and cosmetics, but it's harder to extract)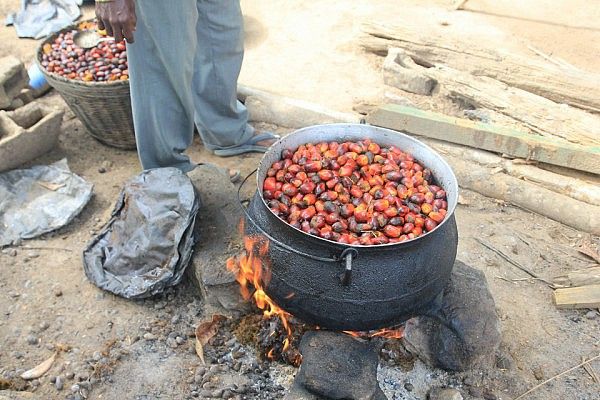 One day I visited a rubber and cacao plantation: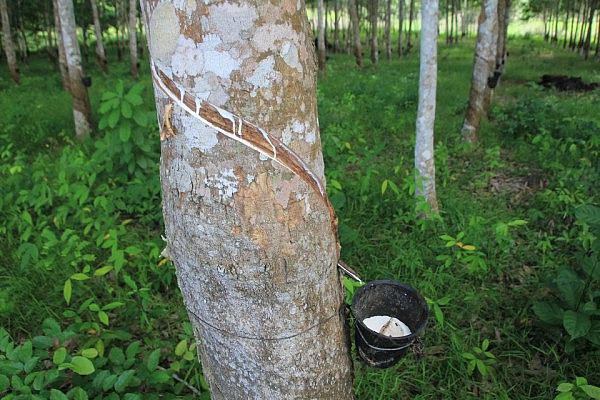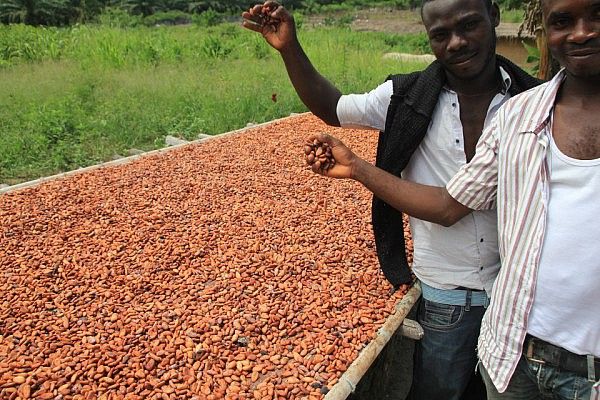 A few days later I arrived to the commercial capital Abidjan. A relatively modern city, but I didn't get a very good vibe (I stayed in a cheap hotel mainly used by prostitutes and their clients, so maybe that's why). I cycled quickly through Ivory Coast because I stayed along the flat and paved coastal road, which cycling-wise was nothing special, but I felt like speeding up a bit. I would have liked to explore the north, but realized that I cannot see everything in each country that I pass. Instead I pushed on towards Ghana.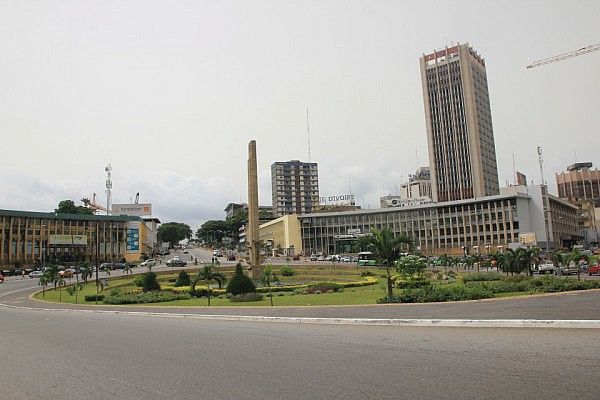 The first impression of Ghana was that it was touristic – and I loved it! Having spent a lot of time in non-touristic areas, it was actually nice with a break and some comfort. I had the best lunch in a long time at a big hotel in Axim – chicken stew with ginger and a variety of vegetables, served with jollof rice.
The village of Busua was next up, and I took a longer rest here. This little surfing/vacation destination has a South-East Asian feeling to it. I found a great place to stay, met other travellers and ate good food. Gazpacho, lobster, crepe with ice cream, cheese and bacon burger – what a difference tourism can make to the local cuisine. I tried the surf but the cold water in combination with stiff cycling legs resulted in cramp, so I returned the board and opted for a massage on the beach instead.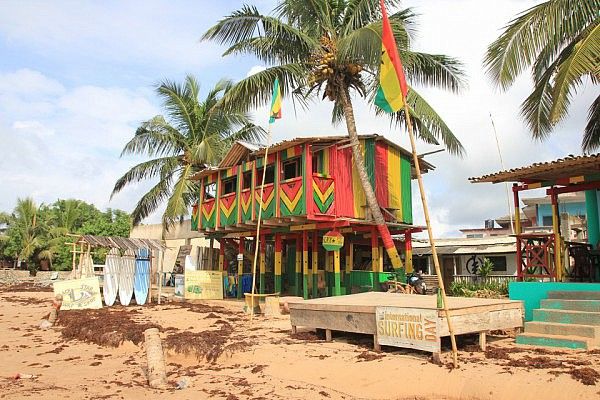 Almost all businesses in Ghana have names that contain a religious message. For example, it's common to see signs saying things like: "IN GOD WE TRUST funeral & wedding services" or "PRAISE THE LORD barber shop". Another interesting discovery was the coffins being sold along the road, with the idea being that the coffin should reflect the dead person's life or profession. For example, a fisherman could accurately be buried in a lobster, and someone whose passion is music could be recommended a guitar. Very funny and creative – why not!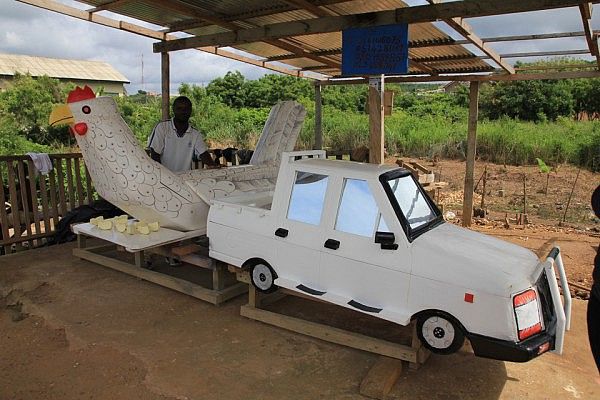 In the south, Christianity is everywhere and churches seem to compete with each other all the time. The preacher can be scarily loud and intensive, for the untrained ear on the verge of being fanatic, trying to turn the audience into a state of trance. I don't know how many times I was woken up by people coming outside in the middle of the night and walking back and forth while shouting, screaming and hitting themselves, in order to get rid of evil spirits. It sounds like a big fight! I remember thinking that I almost missed the Moroccan minarets when these "rituals" occured. The worst thing was that they sometimes fell quiet for several minutes, just enough time for me to fall asleep again, only to wake up and hear the whole thing being repeated.
The so called Gold Coast of Ghana is dotted with many well-preserved slave forts. In Cape Coast, I visited Cape Coast Castle. This was once upon a time West-Africa's biggest slave trading site. I took a guided tour and it was very interesting and touching to learn more about the slave trade, and see where it actually took place. I was surprised to hear that the fort was actually built by the Swedes in the 1650's for trading timber and gold, back then called "Carolusborg Castle".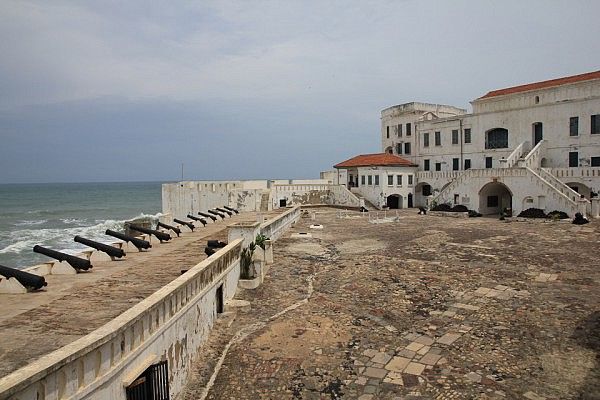 I visited the rooms where the slaves had to wait weeks or even months before being shipped overseas. These small rooms, with poor ventilation and little light, could host up to 200 people at the same time. People ate, urinated and pooped at the same place, and obviously many suffered until death here. From these rooms, tunnels took the slaves to the so called door of no return, from which they accessed the slave ships for further transport to Europe and the Americas. Just like cattle, the slaves where marked using hot iron with a symbol saying who they belonged to and where they were going. The slave trade continued for several hundred years. Not only did it speed up the development of the Western world, but also to a great extent affect the culture of for example Brazil, the West Indies and the USA.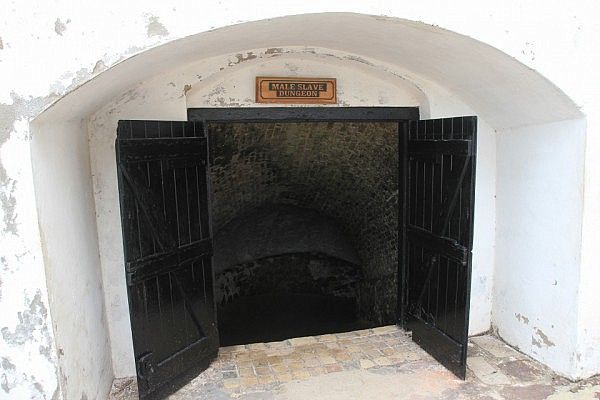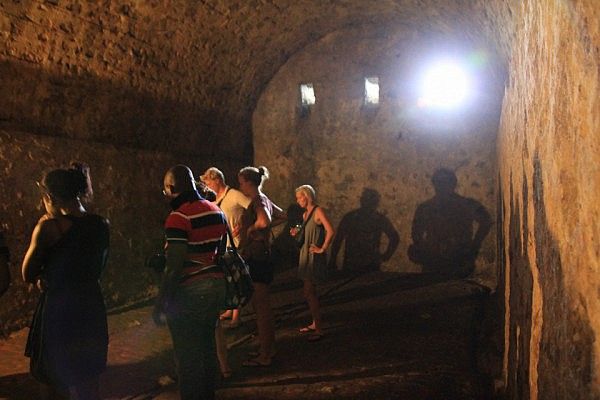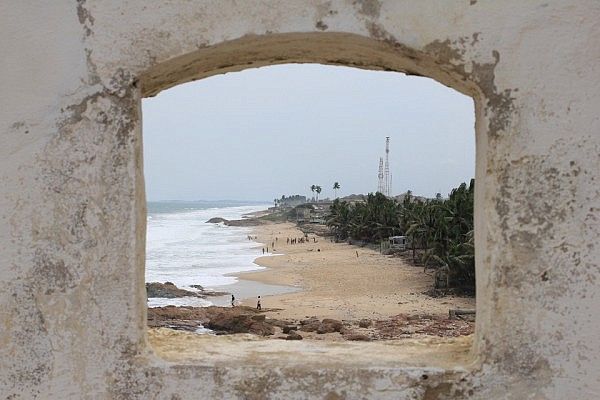 Already before I started the trip, I had decided to visit a school in Ghana that was run by Emelie Kanter who is coming from the same neighborhood as me. Great Andoh International School is located in Kasoa near Accra. Emelie started this school together with Jacques from Ivory Coast six years ago. They take care of 75 children that have been abandoned or in one way or the other lost their parents. Today they have a bigger school where other children are educated as well. Emelie has collected all the money needed for this project on her own by giving talks and receiving donations, what a woman! They have a policy not to physically punish the children here, which otherwise is common practice. She told me that some parents have expressed their disappointment regarding this and even threatened to take their child to another school where the teachers do punish them.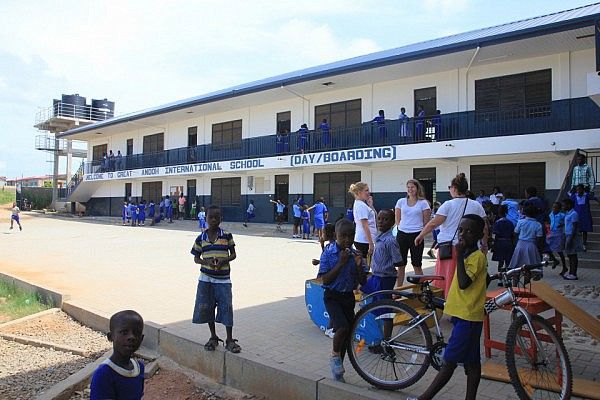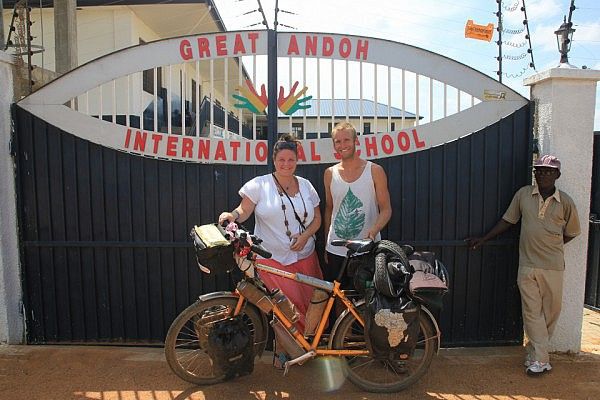 The capital Accra felt even more modern than Abidjan and I had a rest here to enjoy the commodities. I stayed at a guest house run by the Salvation Army – $3 per night! For the first time in Africa I went to the cinema. I watched Edge of Tomorrow and thought it was sooo cool – probably a bit biased by the luxury of having a cinematic experience after almost one year on the road. I also ate loads of frozen yoghurt – what a treat! I met some Nigerians staying at the guest house who I went out with. Accra had pretty decent bars and clubs, I can recommend the bissap cocktails at Republica. I also met a fashion designer who was kind enough to make a traditional shirt for me. He and his friend invited me to a birthday party where the local music style hiplife (mix between hiphop, reggae and dancehall) created a good atmosphere.
After Accra, the landscape changed a bit and became more dry (from deforestation I reckon), and my beloved baobab trees came back into view. Two days later I crossed the Volta River and then it was time To go to Togo!
To get a feeling of what local songs are popular at the moment in West-Africa, listen to these two Nigerian tunes. I haven't watched the actual videos but I'm sure it's the standard stuff, i.e. a cool-looking guy in shades surrounded by booty-shaking women.
Iyanya – Kukere
Kcee – Limpopo