The beginning of Sub-Saharan Africa
As soon as we crossed the border into Senegal and entered Sub-Saharan Africa, we noticed that things were different compared to the Arab countries in the north. All of a sudden we saw more women than men outside, and more smiling people wearing colorful clothes. We started to hear a lot of music too. Positive vibes!
The first city we arrived to is called Saint-Louis. This colonial city is very pretty, with an architecture reminding us a bit of Cuba. After all the drought in the desert we were looking forward to some beer culture as people had said Senegal was very open with alcohol etc. But we couldn't really find street-side bars, drinking seemed to be limited to a few expensive tourist restaurants, with even fewer guests.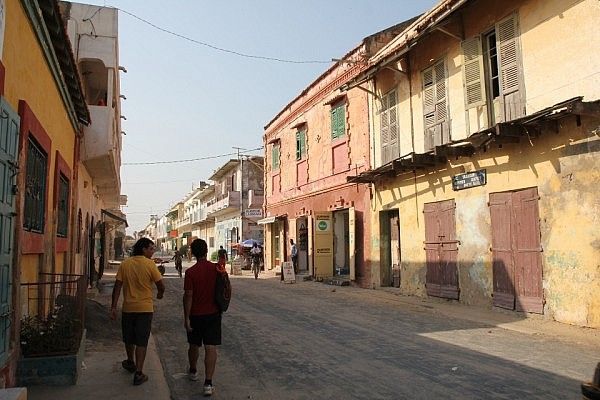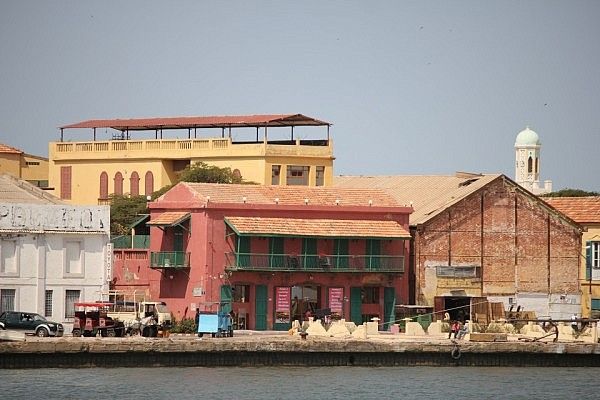 When we first arrived, a random rastafari-guy appeared and asked what we were looking for. Beer and cheap food we said. He told us that he would be happy to show us a place. We came to a restaurant and I joined him to buy beer elsewhere. He told me that the beer was 1,000 CFA a bottle and I bought five of them, handing the money to the girl at the cashier who received 5,000. The following day, we got to know that the beer was actually 700 per bottle, meaning that the guy/girl had cheated me and gained 1,500 (the bottle deposit involved is irrelevant to the story). Angry and stubborn, we returned to the store and I managed to get the money back. However, the girl in the store claimed to not know the guy, and seemed slightly offended. Later the same day, the rastafari-guy appeared and acted as a "brother" again and I told him that he owed the store 1,500 and ignored him.
Later the same night, a woman and her 3-year old son moves into the private residence where we ended up staying. The next morning, she gives us some apples out of what seems like pure kindness. She turns out to be very talkative and kind of interested in me. She asks for our names and contacts. Later during the day, I meet her on the street and we chat away for a while before she invites me and the other guys for some tea back at the residence. Enrico, who had promised her to drink tea, had to go to the Internet café, and she questions me and Carlos why he had left given that he had said that he wanted to drink tea. Anyway, Carlos and I drink a couple of glasses of tea with her and all is good. Later, Enrico comes back and is also given a glass of tea.
I had decided to go to a barber shop and shave off my beard and the woman told me that she wanted to join me. She was just going to take a "quick shower" so in the meantime, the other guys left in search for food for the following days. The shower takes a long time, and so do the guys, and I'm sitting in the room and feeling a sense of restlessness, slightly shaky and wondering what is happening but cannot determine what's wrong. Just before we are about to leave to the barber shop, the rastafari-guy appears from nowhere and enters the residence, together with a French guy without any bags who he is helping to push a motorbike through the entrance. I tell the guys about this before we leave, and the words coming from my mouth feels kind of wrong but I ignore it.
When we get back, Carlos is feeling sick and goes to bed, so Enrico and I start to prepare some dinner. The French guy now appears again, acting very weird and pushy and directly starts asking me about my trip and itinerary, if I carry a mobile phone and if he can join me for a bit in Senegal. I had only talked to him for like 2 mins and now he wants to join me cycling? Hmm… I said that it's hard to say when and where I will be and then asked him a few questions. He said that he was in Senegal on holiday because his sister is married to a Senegalese man, and when I asked if he knew anyone in Saint-Louis he said no and that he had just arrived and met the rastafari-guy who took him here. Without me asking he pointed out that he did not know this guy nor had his phone number. Ok… I ignored him and returned to the cooking. After a while he enters our room without knocking and directly asks me about my e-mail and persists on joining me. What the hell? I get annoyed and tell him that I want to travel alone and he says that he understands and excuses himself before leaving the room. He barely greeted or said anything to the other guys, just asked these kinds of questions without any prior chitchat. By now I'm sensing that something is just wrong and tell the others that tonight we bring the bikes into the room.
The woman had been flirting a bit with me during the evening, and at one point tells me that she wants me to spend the night with her in her room. Hmm… We invited her to eat with us and when we sit there, I can feel my heart racing and my words again coming off my tongue in an unnatural way. I'm losing my appetite, feel shaky and wonder what is going on. Then suddenly it all appears to me: the tea! All three of us must have been drugged from the tea, DAMN! We gather in the room and briefly discuss it and suddenly all the pieces in the puzzle seem to fall into place, at least it felt like it. We brought the bikes into the room and locked the door and felt amazed about how the whole story unfolded, how "planned" everything was. There were still a few loose ends but it felt obvious that these people worked together with the only purpose being stealing our belongings.
The next morning, my head felt a bit heavy and when we started talking about last night, the others were not so sure anymore and thought that maybe we were just nervous and made it all up. But when I thought more about it, I was given 3 cups of tea, Carlos and Enrico 2 and 1, respectively, and I can tell for sure that I was not myself during a few hours the previous night.
But… A few days later we met a Dutch cyclist couple who had experienced the side effects of the anti-malaria medication that I am taking (Lariam), and Carlos directly indicated that this must have been the reason for my paranoid behavior at the residence. And he was right. After this, I have noticed on at least a couple of more occasions that my heart has been racing, I've had minor problems breathing, nightmares, paranoia, feeling shaky etc. Lariam is supposed to be the best anti-malaria treatment but it's also the worst in terms of side effects.
Anyway, that was quite a story. Now it's time for the final beard shot! If you hover or click on the picture below, you can see that behind the 10,000-km's-beard is a boy not looking a day older than 17 (if you ask me):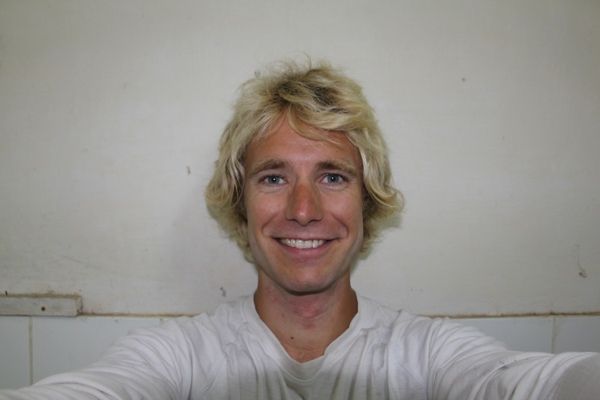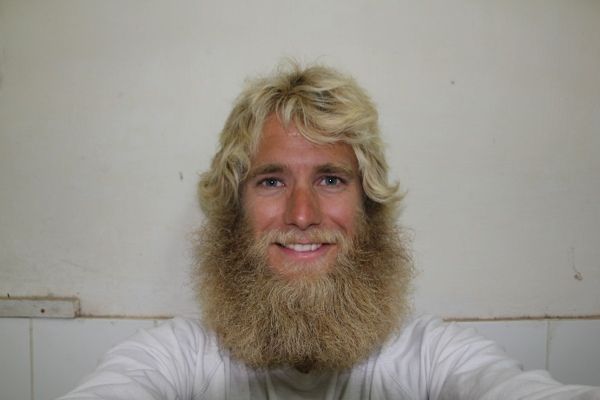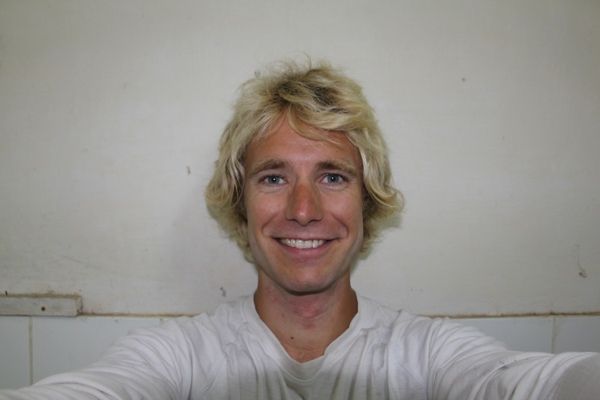 Before leaving Saint-Louis I paid a visit to a place called Jokkolabs. This is a kind of coworking space where young African entrepreneurs, innovators and technologists are encouraged to work together and share ideas. I was surprised to find such a creative environment in Senegal and meet people working with the same things within IT as I do myself. It was also very interesting to hear about the different challenges they face here, since the conditions and demands are so different from Europe.
20 km's south of the city is a lovely camping/restaurant called Zebra Bar. It's a very quiet and relaxing place owned by a couple from Switzerland. We spent three days there kayaking, slacklining, beer-drinking and hammock-reading, before we continued on towards the capital Dakar.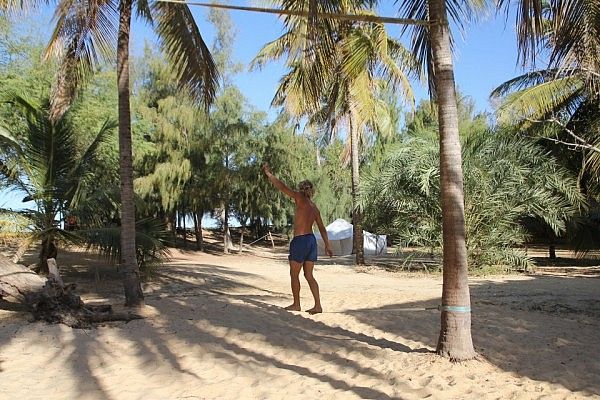 The road to Dakar went pretty smooth except for that I almost got run over by a car and that Carlos almost got fined by a corrupt police officer for not wearing a helmet. On the way, we passed by Lac Rose which is supposed to be a pink salt lake judging by the name, but it was gray. With 400 g salt per liter of water, it made us float like corks!
When we reached Dakar, we did some practical things like purchasing spare parts and doing maintenance on the bikes. At night, we went to have dinner downtown and the first thing that happens is that a guy tries to mug Enrico just before entering the restaurant. We cooled down with a beer and later went to "Le Viking Bar" where we met a real character. This old sailor from Nicaragua, whose passport expired many years ago, had been stuck in Senegal ever since the owner of the ship ran out of money. Only four out of the initial fourteen crew members were left: the Nicaraguan, two Colombians and one Panamanian. The man was like a dictionary when it comes to good ol' sailor stories and we shared many laughs.
I only stayed one night in the capital and almost got thrown out of the hostel because I left my luggage there after having checked out. After a quick but emotional farewell with Enrico and Carlos who I had spent many weeks with on the road, I made my way through the busy city in the afternoon sun with my mind set on finding a calm place on the countryside to pitch the tent.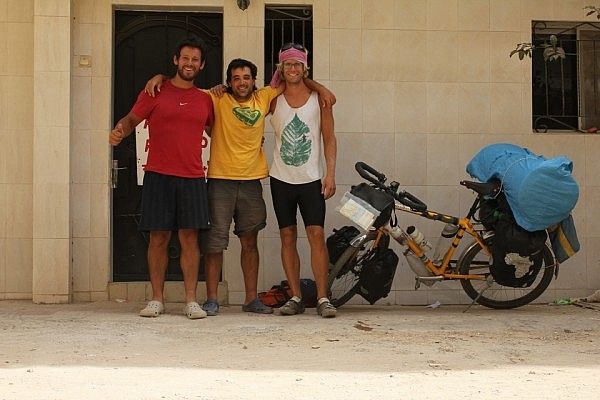 Let me introduce you to an amazing tree that I first saw when entering this country: the baobab. Some of you might have seen them in photos from Madagascar, where several species can be found. They have a special characteristic with a massive trunk and crooked branches that usually start at the top. It almost looks like the roots are in the air, hence its nickname "upside-down tree". The wood itself is soft, spongy and completely useless. That's why on the Senegalese savanna most baobabs are left alone while other vegetation is long since gone for use as firewood. Some of them have scars that look like a kind of tree circumcision from when the drought forced farmers to feed the animals with baobab bark. The fruit can be dissolved into a very tasty juice that is three times more rich in vitamin C than orange juice!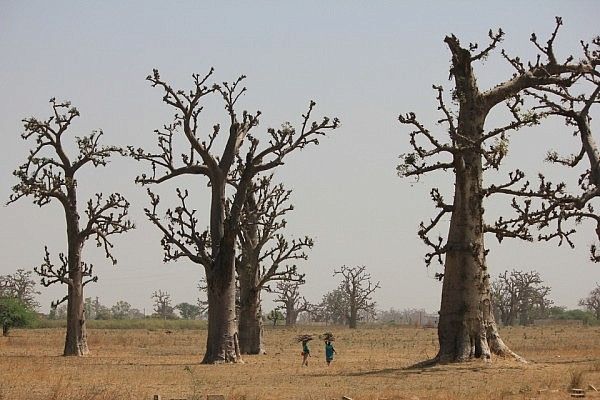 After a couple of hours of pedaling out of chaotic Dakar, I found a beautiful forest of baobabs with small trails disappearing into the distance, perfect! I pitched the tent and put up a slackline that I had bought in Dakar between two mango trees. No cars around, only trails, trees and curious but polite kids. What a wonderful evening!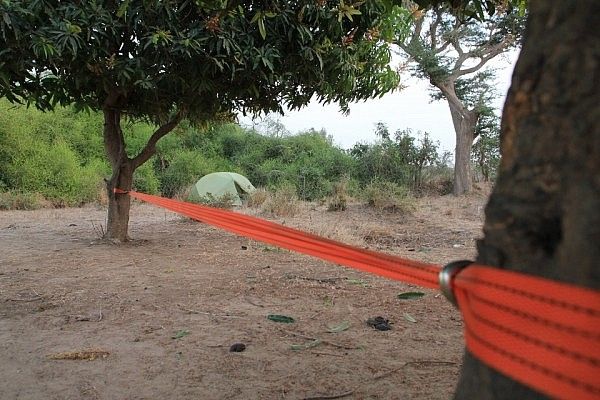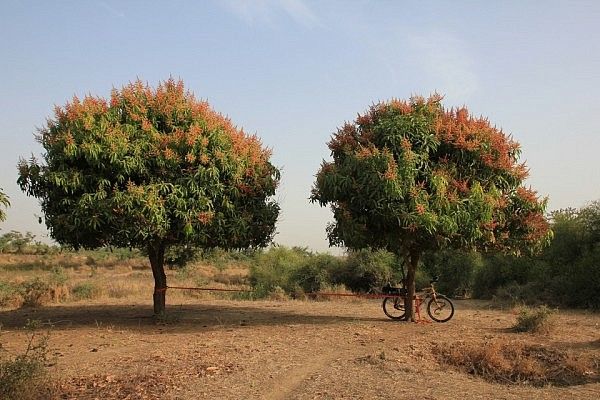 Around lunch the following day, I was stopped by a car whose driver invited me to visit their wildlife reserve "Bandia". Christopher, whose father founded this private reserve in the 80's, was extremely kind and said that the pizza was on the house! While I was eating and watching the monkeys trying to steal food from the guests of the restaurant, he told me that one of their animals, a cape eland, was injured and had to be put down. I decided to join him in trying to locate the animal. This search turned into a safari! I saw almost all animals in the park (most of them come from South Africa): impalas, elands, roan antelopes, greater kudus, gazelles, zebras, warthogs, giraffes, rhinos, crocodiles and ostriches. We saw everything except for the animal we were looking for. We even spotted a poacher!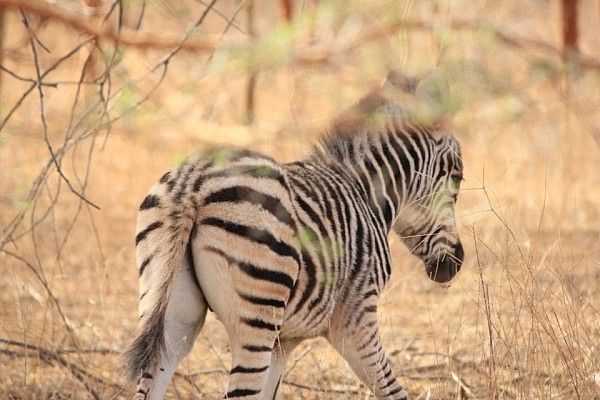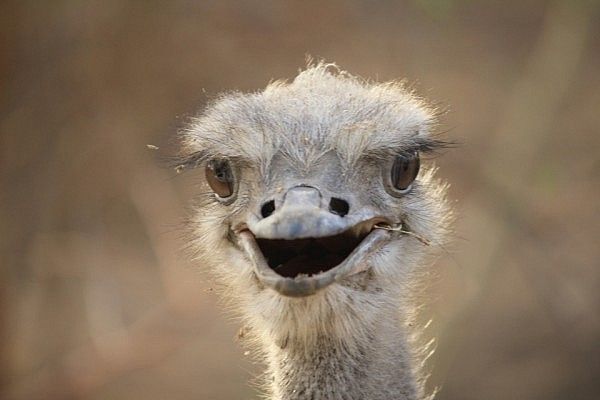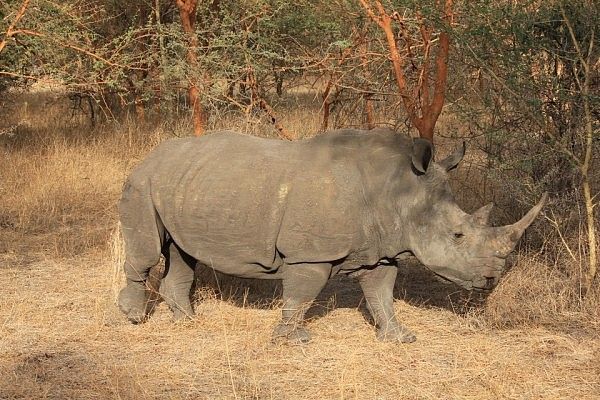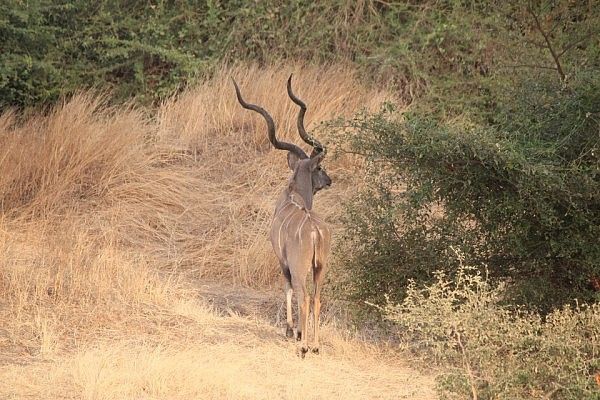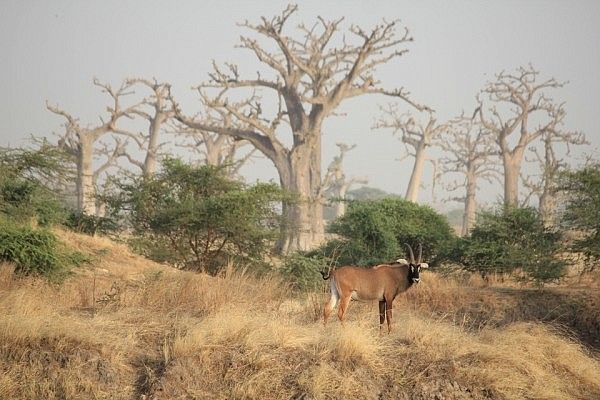 I continued to follow the coast "La Petite Côte" to Mbour and the restaurant Colibri, where I had a reunion with Touty who I met at KM25 in Dakhla. I stayed for a couple of days and did some blogging before venturing south and crossing the Saloum River in a pirogue.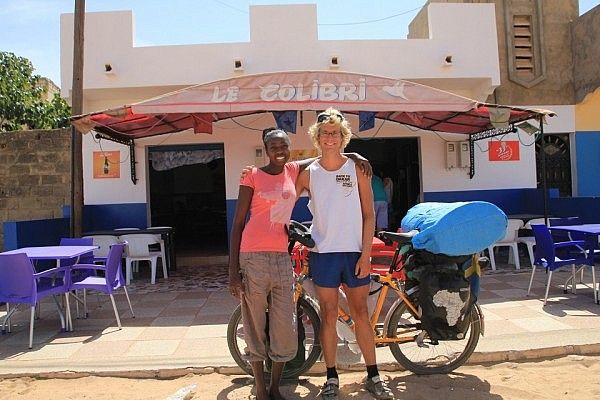 As a tourist in Senegal, you often hear kids shouting "toubab", which means "white man" in the local language Wolof. This became more notable the further away from the main road I got. After Passy, I decided to try to reach Gambia on smaller roads since I was interested in the less travelled areas. I found great cycling on these sandy roads and passed forests of baobab trees and small villages with round huts covered with grass roofs. Every time I stopped, a whole bunch of curious kids came to see me. Many of the smallest ones had never seen a white man before, some of them even touched my blonde hairy legs to see if it was for real. Later at night I camped with a family of about twenty members and screened Avatar on the house wall using my portable projector. This was a highly appreciated entertainment!