Congo-Brazzaville
I travelled down the Sangha River in a motorized pirogue together with men from the Tri-Nacional, a collaborative unit that Cameroon, CAR and Congo-Brazzaville jointly have established in order to prevent poaching and secure conservation in the region. It was a peaceful ride that gave me time for reflection while watching the forest slide by and isolated settlements appear and then disappear at the edge of the riverbank. I was listening to music and remember thinking about what would happen after my big journey, but I didn't get anywhere so I let the thought pass away, just like the surrounding jungle. We travelled the last hour in the dark before arriving to Bomassa and the country called Congo, Congo-Brazzaville, or Republic of the Congo, depending on who you ask.
It's not often that "survival mode" kicks in, but just like when I met the gorilla in Cameroon, it happened again when I now left Bomassa, the entry-point to Nouabalé-Ndoki National Park. There were animal paths and tracks everywhere on the road! Especially elephant tracks. In many places they were so fresh that I could see them on top of the most recent car track, meaning they were only about 30 minutes old. This caused all my senses to be alert, vision, hearing and even smell. I made sure to cycle on the outside of the curves, even leaning a bit further, to be able to spot animals as early as possible. My heart was beating fast and I was nervous and excited at the same time. My eyes flicked between the road ahead and the sides, scanning for potential escape paths through the thick vegetation, in case an aggressive elephant would appear and suddenly charge at me. I kept on mentally rehearsing what to do if that happened. But it never did. I never encountered one although I was kind of hoping for it. On the other hand, I saw a gorilla and heard another one beating his chest in the jungle. I saw leopard tracks on the road too. Wow… being surrounded by wild animals like this is a new experience for me and again, I can't think of anything that makes me so nervous and excited at the same time – it's an awesome feeling!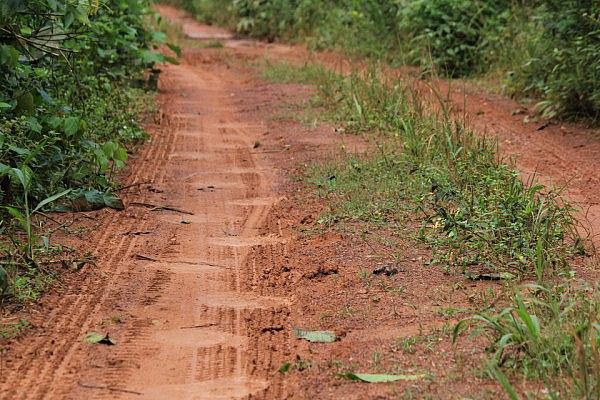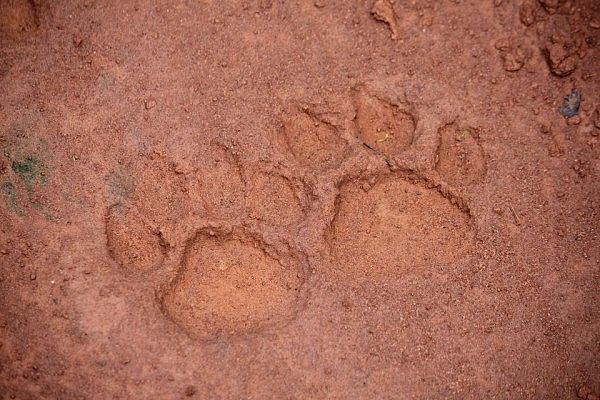 When reaching the immigration post in Kabo and officially entering Congo-Brazzaville, I suddenly noticed that I was running out of empty passport pages. The visit to CAR and re-entry to Cameroon using small borders had resulted in several unnecessarily big stamps, and I realized that I would need to get a new passport before reaching South Africa. I didn't like the idea at all, but I had to reconsider my route. I was planning to leave Congo-Brazzaville in only a few days in favor for the big brother DRC, by crossing the Congo River at Lukolela and then traversing the whole country without visiting the capital. But now, since getting a new passport could take up to 6 weeks, I didn't want to spend them waiting in one place, so instead I opted for heading straight to DRC's capital Kinshasa to get the process started, meaning I first had to reach Brazzaville.
The first bigger town I came to, Ouesso, surprised me by its nice buildings and general cleanliness. I was also surprised by the high temperature. Being more open and having had a lot of trees cut down around it, there was a big difference from the actually chilly nights inside the rainforest. The heat made it harder to fall asleep, and I had been sleeping quite badly for a long time. The borderland between dreaming and thinking had lately become blurred, most likely because of the anti-malaria medication I'm taking. I could sometimes kind of consciously think that I didn't know if I was sleeping or not, a weird feeling that bothered me because I didn't get a proper sleep. It especially affected me when I slept in hotels, but less so in my tent where I could hear the sounds of the jungle and get fresh air, since this is what I've become used to. I could only hope that this would stop once I left the malaria zone and stopped the medication.
There is basically just one road heading south through the country, and the Chinese road builders have 20-30 km's of work left until the whole length is paved. Talking about Chinese, instead of greeting me with a French "bonjour", the kids here say "ni hao" and scream "chinois" in a choir – oblivious to the difference in look between a European and an Asian. Apparently those road workers generously give candy to the kids so they love them, but when I pass their compounds getting excited about the thought of a big plate with noodles and ask if I can camp there, I always get turned down. I wonder how hospitality is like when cycling through China.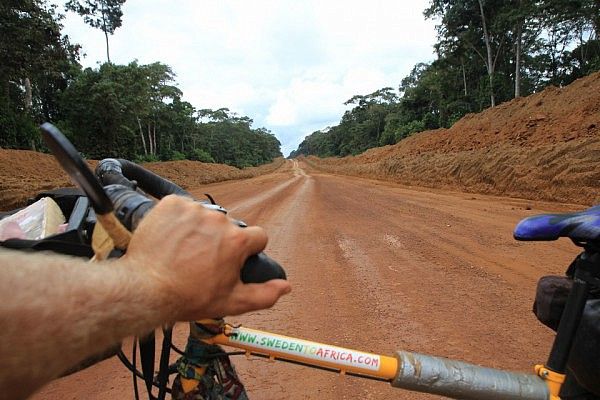 Together with a not too exciting landscape, a rather straight road and not much food to buy, it quickly made the cycling boring. One night I wrote the following line in my diary: "unbelievably uneventful day", and this kind of summarizes how I felt about this road. Sometimes the distances between places where I could buy food were actually longer than those in Western Sahara! So I started daydreaming about food like I often did during the long distances in South America (but less so on this trip): liver paté & pickled salted cucumber, smoked eel on crispbread, kebab pizza/roll/plate, salmon, guacamole, semlor, lingonberry jam, black currant jelly, aged cheese, gingerbread biscuits… mmm!
Before I left CAR, I got a gift from one of the Bayaka pygmies: a piece of ebony wood. I had broken four plastic sporks already and was now on my last one, so I needed to carve my own fork for eating from my coated cooking pots. Ebony wood is black and heavy, traditionally being the material used for piano keys and chess pieces because of its hardness and shiny finish. It is the only wood that is sold per kilo instead of volume. So I figured it would make a pretty solid and long-lasting tool for eating, and here's the result, a functional souvenir: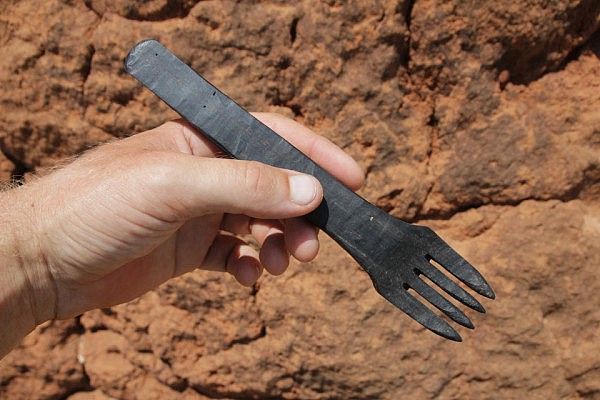 When I was approaching the equator, I was surprised to be surrounded by dry savanna (and even bushfires during the night, at distance!). I found it remarkable because I was expecting this to be the most humid and densely forested area. In fact, when looking at satellite photos and comparing to neighboring Gabon and DRC, it doesn't look natural so my first thought was that this landscape was formed by extensive logging. But I was wrong, so I guess there are local differences even on this latitude. The same goes for the rainy season. A few degrees north of the equator, the rains had been going on for a month already, but here, the bush was dry as a bone.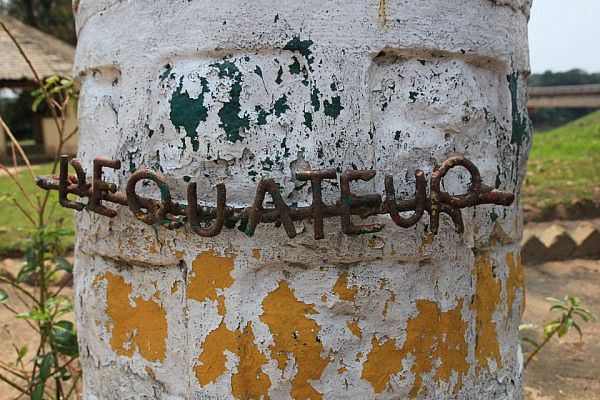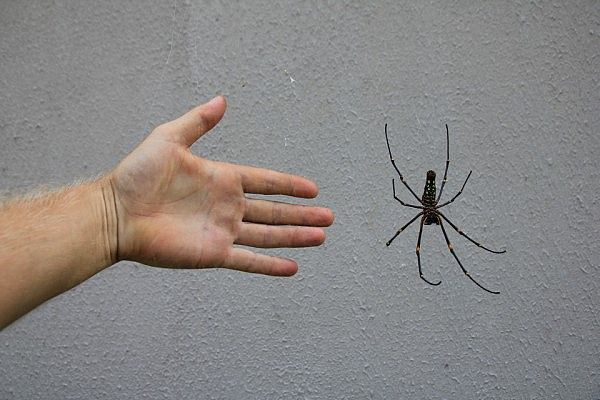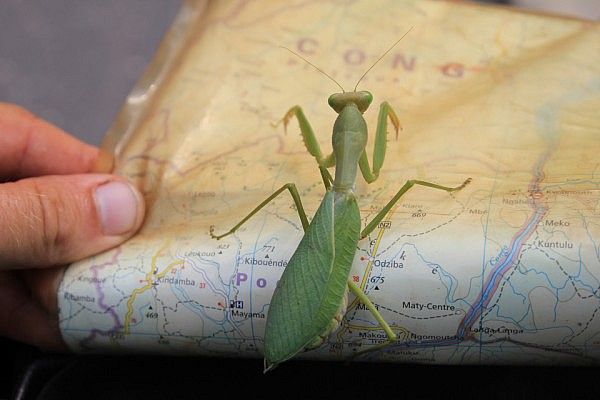 In Brazzaville, there's a conveniently located hotel where touring cyclists and overlanders are welcome to stay for free (camping in the backyard). The place, called Hippocampe, is run by Olivier and his wife who he met in Vietnam while cycle touring the world. I have no clue why they decided to settle down in Congo-Brazzaville, but they are very friendly and serve yummy Vietnamese food in the attached restaurant, where I enjoyed my first Primus beer while planning my route through the DRC.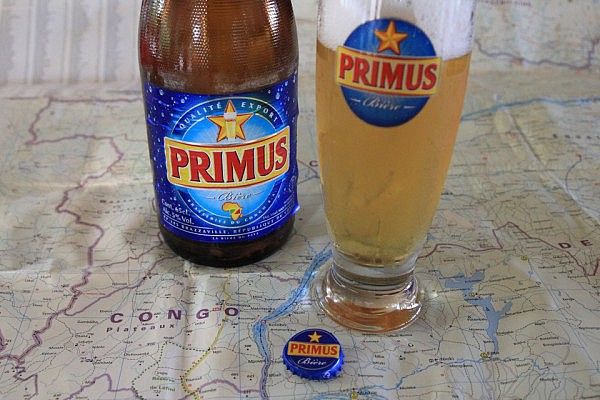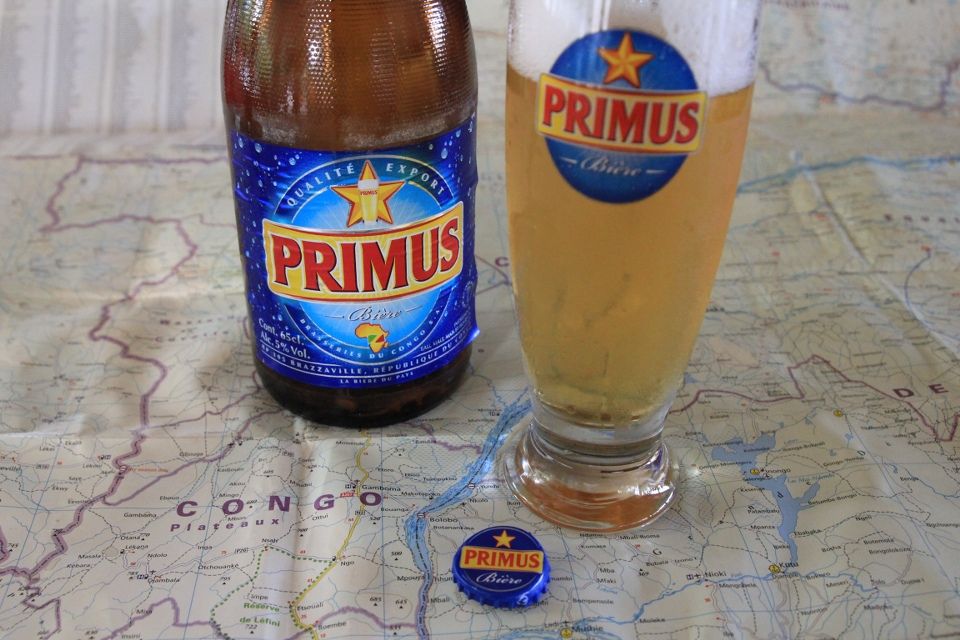 I found Congolese people extremely nice. One night, I was having dinner at a restaurant downtown and suddenly a man orders me a beer through the bartender. We started talking and it turns out he is the "chef barman" at the five-star Olympic Palace Hotel, the best hotel in the whole city. He invited me to come there the following morning to have breakfast and I couldn't believe what he just told me. 8am sharp, I parked my bike outside of the entrance and got a guided tour on the premises, including stories behind locally produced drink ingredients and accompaniments. Then it was time for the breakfast I had been waiting for. In company with smart-looking men in suites, I tried not to look too greedy and excited while piling up delicacies from the elegant buffet onto my plate. What a treat for a hungry cyclist!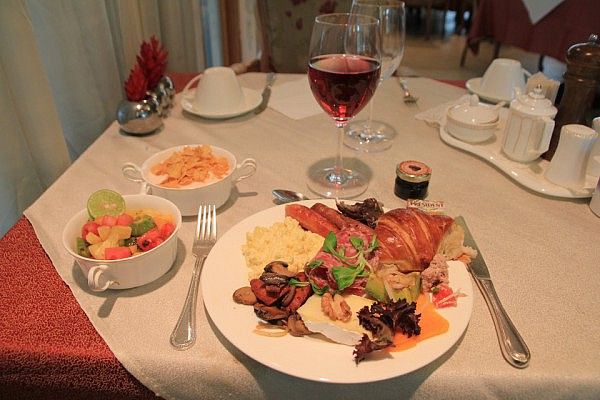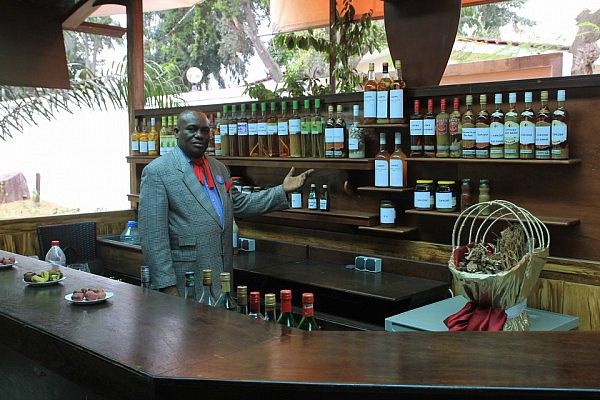 As I one day was sitting on the bank of the Congo River, I finished Tim Butcher's book "Blood River" that tells his story of re-tracing H. M. Stanley's expedition back in the 1870's, from Lake Tanginyaka in the east to the Atlantic Ocean in the west. During my days before approaching Brazzaville, an idea had started to grow inside my head about building a raft and drifting down this great river from Mbandaka to Kinshasa. I even started to make drawings of the construction: I was going to build a frame made of bamboo and then using 36 plastic containers (25L) divided into three sections for flotation. I found it highly entertaining while riding to think about the pros and cons of design and potential hazards I would have to overcome etc.!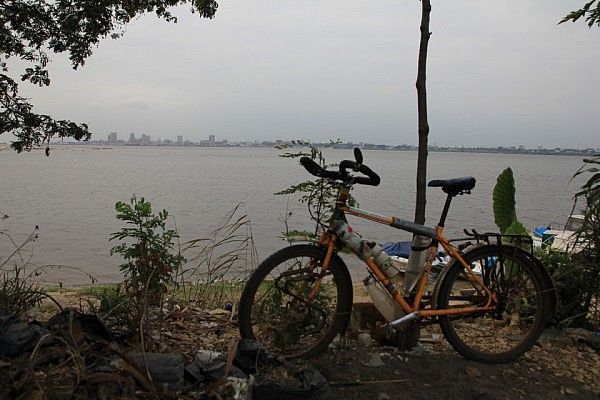 On the other side of the river, a couple of kilometers away, I could see the skyline of Kinshasa. I had heard so many bad corruption stories about making the crossing straight over that I instead decided to make a 5-day detour heading south. I left Brazzaville excited about having found a Mexican spice mix that would take my daily standard pasta to a new culinary level. The road south-west towards the next border-crossing into the DRC turned out to be very hilly. I thought about how Stanley and the few people that remained from his team must have had a hard time traversing these hills as the final leg on their journey, when his expedition encountered the numerous rapids between Kinshasa and Matadi that forced them to continue on foot with almost nothing left to eat. I decided that I was a lucky man to be on a gravel road with my bicycle, but perhaps most important of all, having that Mexican spice mix waiting for me.