Eating sand (and camel) in Mauretania
After two weeks in Dakhla, I continued south along the coast together with another cyclist, Carlos from Spain. It was sad to leave the rather special place KM25 but as always after a long rest it felt good to be back in the saddle. I didn't know that we were so close to the Tropic of Cancer after a short while on the main road we came across the signpost.
The further south we got, the military seemed more and more concerned about us camping in the desert because of mines in the area. On the third day we arrived to the border to Mauretania and it took a long time to go through all controls and get all papers looked through by various different people. I had heard many things about the no man's land between the two countries, a 5 km long stretch through the stony desert with a network of sandy "roads" filled with car wrecks and garbage. Let's just say that it was not a place that I would like to end up at in the middle of the night.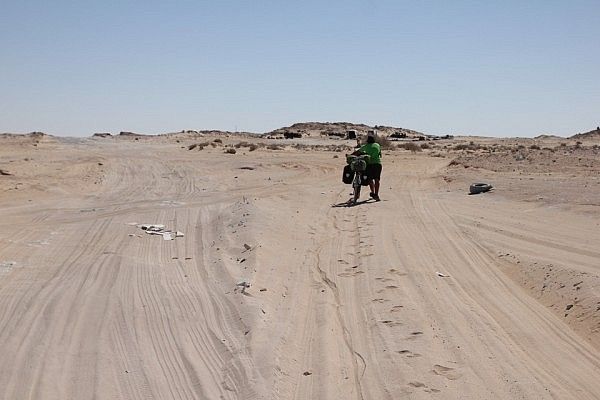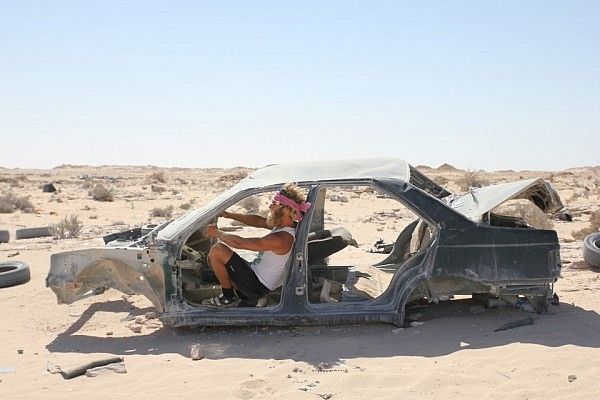 We continued on to the city of Nouadhibou on the northern peninsula. Here, we saw surprisingly big differences from Morocco. Many black people, many smiles and not many pushy salesmen. The women were slightly less reserved than in Morocco and greeted and welcomed us. The city was extremely dirty with garbage all over the street, goats everywhere, car wrecks, half-finished houses, donkeys pulling carts and sand. All the shops seemed to have Arabic owners but black people working in them. There is a big fishing industry in the city and many foreign countries sweep the Mauretanian coast for fish. We saw many Chinese, Spanish and Russian people working here.
One day we rode the bikes down to Cap Blanc, the southernmost tip of the peninsula. On the way there we passed what is supposed to be the world's biggest ship graveyard. Approximately 300 ships are estimated to have been left to rust in this bay. When we tried to approach one of the areas to take a closer look, we were immediately asked to leave by people who occupy the area in order to scavenge and sell metal parts that they get from the ships. This peninsula is also home to one of the longest trains in the world, a train that transports iron ore from a mine some 400 km's inland to the port of Nouadhibou. Sometimes these trains can be up to 2.5 km's long. I should mention that it is possible to travel for free with this train inside one of the ore wagons. Probably a unique and dirty experience, but we decided not to try it.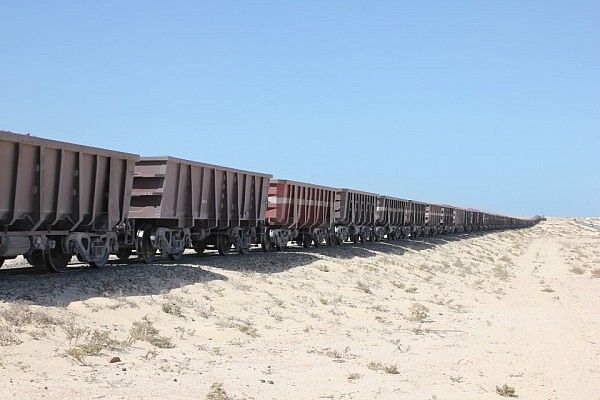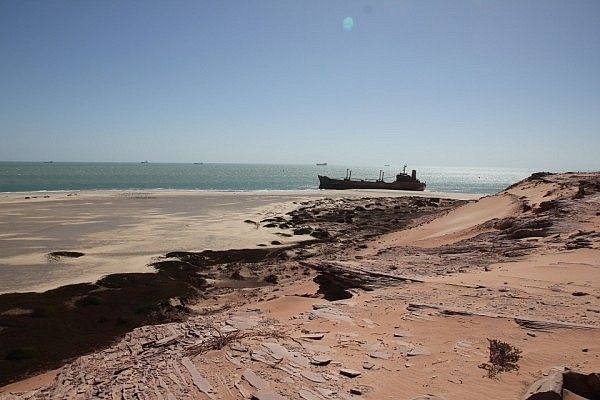 The feeling we got the first days was that Mauretania and this particular city were quite weird. It was hard to put words on what exactly caused this feeling, but we both agreed that something was weird compared to Morocco. Almost nothing seems to be produced locally in this harsh and hot desert climate, which means that everything is imported. We found food items from all over the world, but since it's imported it was very expensive, and we couldn't get our heads around who could afford to buy some of these items.
After two rest days we continued and worked our way back up along the peninsula through powerful headwinds. We didn't see much hospitality from the people living in the desert, most people always wanted something in exchange (like money) for the things we asked for. But when we asked a group of women for some water, they invited us for tea. After a while of basic conversations in the little French all of us knew, it seemed like the oldest woman was saying that her knee was paining and wondered if I could massage it. So I went there and started to gently massage it but stopped when she managed to explain that it was medicine that she was wondering about. Anyway, she thanked me and expressed a respectful appreciation for my beard.
We said goodbye to the women and only got to the other side of the road when Carlos disc brake pads started to squeak. While we were trying to fix it, we suddenly saw that another touring bike had stopped outside the women's house! So we naturally teamed up with the new fellow, Enrico from Argentina, and found a cozy and abandoned hut, half buried in the sand, where we spent the night and shared stories from the road.
The Spanish-speaking peloton trio slowly worked their way south-east facing a very tough day through raging headwinds and sandstorms caused by the famous desert wind harmattan. The sand in the wind reduced the visibility to not more than one hundred meters. We ate a lot of sand during the day and got very tired. My lips cracked in the dry wind. My eyes got red and burned from all the sand blowing in my face. Of course I wanted to catch all this with my camera, but I should have known better. Only a short time of exposure to the elements and the autofocus stopped working because of the sand. Smart… Although tough, I still enjoyed the cycling because I find something meditative about seeing the sand dance over the road ahead. I felt happy to spend these days with the other guys Carlos and Enrico.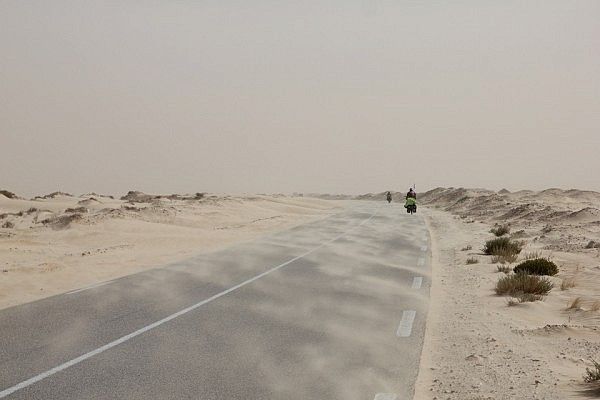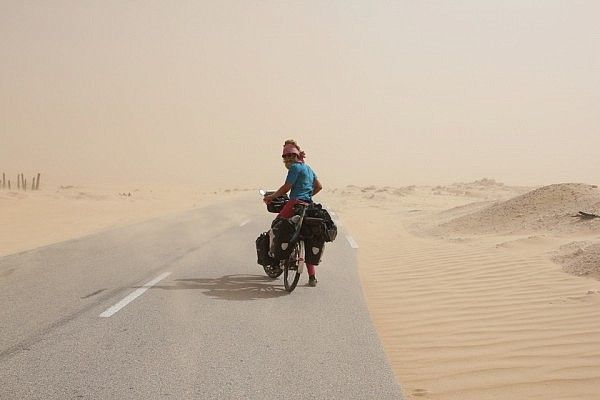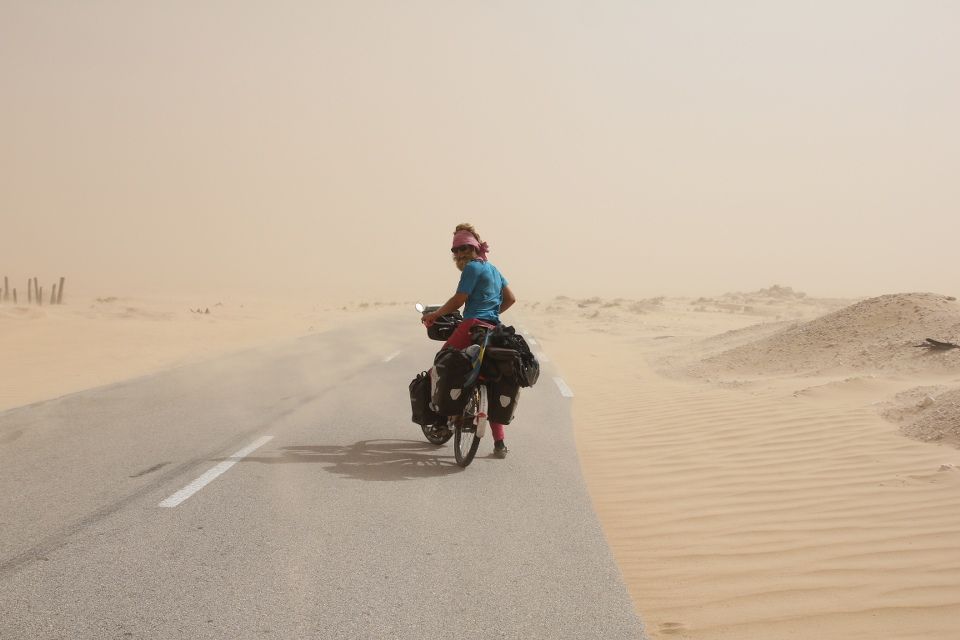 Even if all the bags are properly closed, the sand will find its way in for sure. And not to mention the tent, this is how it can look like after a windy night: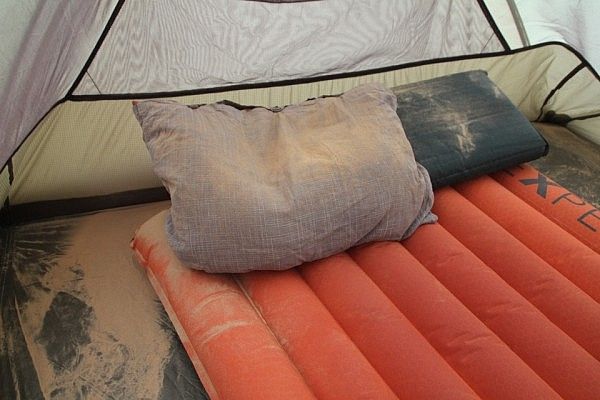 In the beginning, the desert was arid and stony like in Western Sahara, but later on we saw a lot more sand and sand dunes. It was also surprisingly greener with trees, low bushes and some grass starting to appear. Close to the capital of Nouakchott it felt more like a savanna – very beautiful! We also saw plenty of camels and fresh camel milk was sold a lot along the road. We tried it once but I didn't like it at all because it is actually salty and a bit sour! The camel meat was better.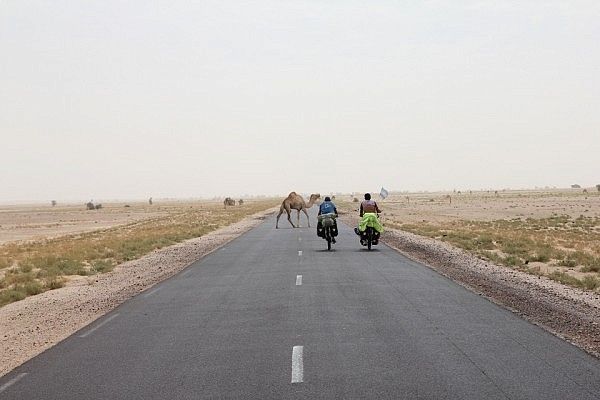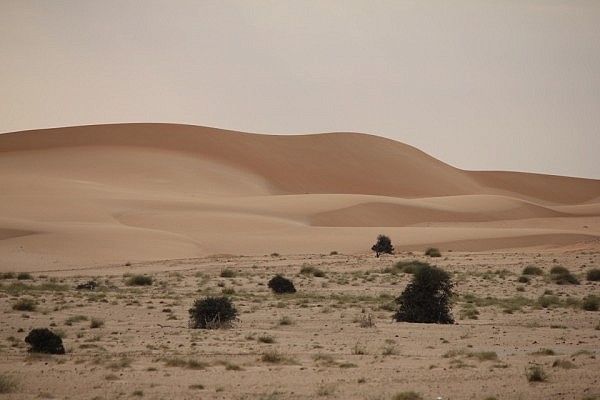 The temperatures increased, we all drank a lot but didn't pee much. I noticed that the nocturnal fauna had changed too with new insects trying to attack my headlamp while cooking dinner. After five hard days we finally arrived to the capital and checked in at Auberge Sahara. We spent a few days showering, resting, rehydrating and filling our bellies with food. We sorted out the biometrical visa to Senegal that could be ordered online and cleaned the bikes from all the sand.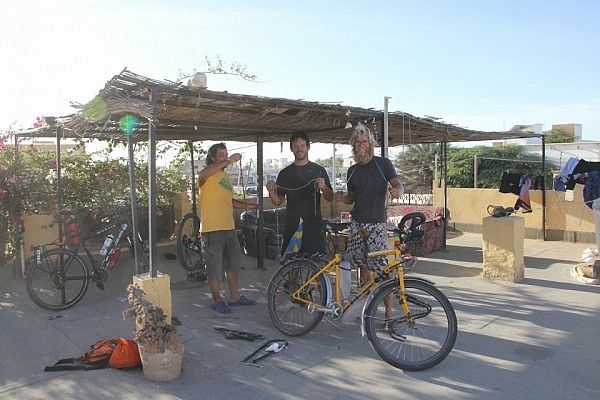 I haven't had much luck with my equipment lately. In Dakhla the dogs smelled the sweet biscuits in my tent and tore a big hole in it. Someone stole my flip-flops. A pair of underwear disappeared (second time this happens). And now in Mauretania as I mentioned, the autofocus of my camera lens stopped working because of all the sandstorms. My sleeping mattress finally sort of exploded. And I have started to break spokes on the rear wheel – that's bad news. But a guy donated a pair of flip-flops to me, I duct-taped my tent, bought a foam mattress and realized that I can double and twist 28″ spokes after I ran out of spare spokes for the rear wheel. Things always have a solution! At the time of writing though, the tent floor has been eaten away by I don't know how many ants and termites, my laptop is broken and the camera recently broke too, one of my tires has a big hole in it, one of the panniers is punctured and one tent pole is cracked. I don't know whether to laugh or cry, but I try to keep the mood up and most importantly – stay healthy!
Anyway, back to Nouakchott (and the fact that there is absolutely nothing to do in this capital in the middle of the desert). The three of us set off towards Senegal accompanied by the German recumbent cyclist Alexander who we unfortunately lost on the way. My love for the little things in this world made me discover two new and for me exotic insects on the road: a dung beetle that was skillfully rolling a ball of excrement over the road, and a mantis that was hunting flies on my tent.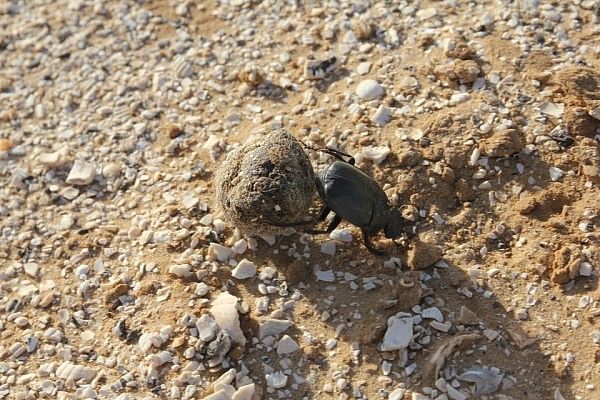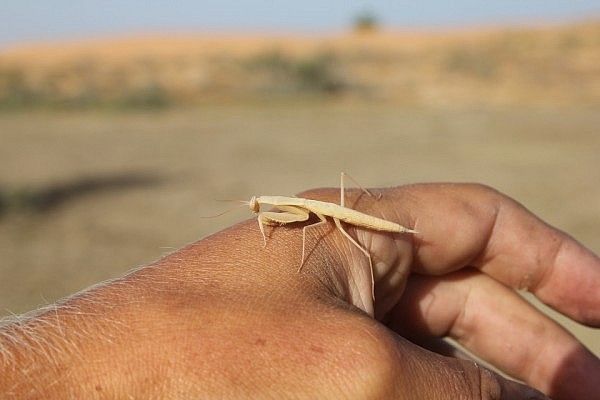 The Mauretanian landscape continued to change and offered beautiful sand dunes, green trees and even some palm trees. We came to the infamous border crossing Rosso not to cross the border, but to buy a fake international yellow-fever certificate to Enrico who was afraid that his national certificate from Argentina might be a reason for the supposedly corrupt border officials to try to get some money further on. Instead of crossing the Senegal River, we followed it west towards the coast. At the first possible moment, we dropped our clothes and jumped in the water – how nice after thousands of kilometers of dry desert! About halfway to the other border crossing called Diama, we entered a national park. It was much greener here and we spotted some animals including monkeys, warthogs and many different birds. We spent the night in a birdwatcher's house and fell asleep to the sound of crickets and frogs.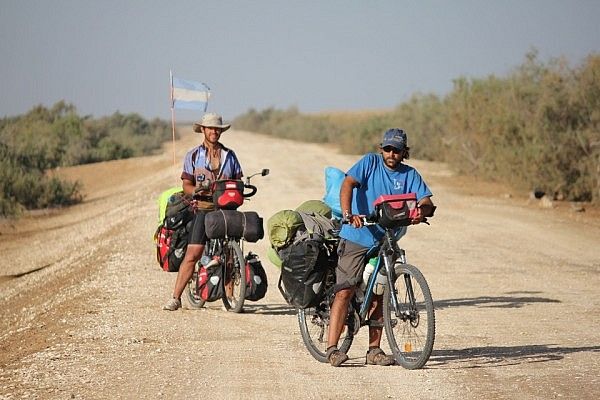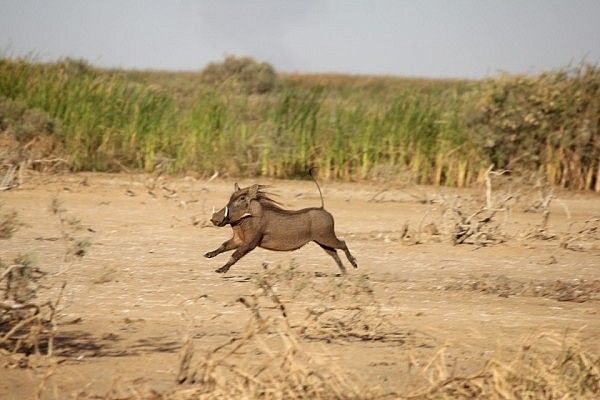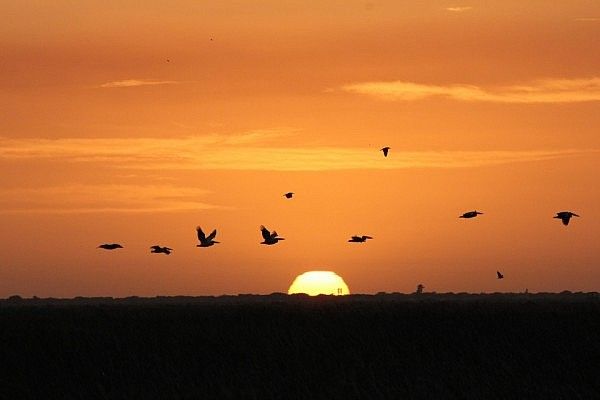 The border crossing went smooth as European tarmac. We only met one police officer on the road who asked for a cadeau (gift in French) and I was thinking that the next time an official asks for this, I will hand him a handpicked flower.
Close to the border, I crossed the 10,000 km's mark and felt proud of having saved my beard for so long.